Editor's Note: The following reflection is excerpted from the posts Embracing The Wild Hospitality of God and Meditation Monday – Planning to Store. The accompanying recipes are from the posts Curried Pumpkin and Blackbean Soup and My Favourite Apple/Blackberry Crisp. We hope you enjoy this series of seasonal hospitality reflections and recipes!
Part of the fun of autumn for me is getting fruit and vegetables that will see us through the winter ready to store. I hold apple processing parties and make apple pies, pesto and chocolate zucchini bread that go in the freezer for winter hospitality. I dry apples and tomatoes and sometimes figs. I harvest the dried beans and winter squash and store them away to help provide for our winter diet. What we need is food that will last through the long winter months without spoiling.
~  ~  ~
A couple of weeks ago, I spoke at a seminary class about spirituality and gardening. It was a fun class, but one question asked by a student keeps intruding in my mind. Didn't God curse the creation after the fall? he asked, implying that it no longer reflected the glory of God and that we no longer needed to respect and look after it.
As I read through Genesis 3 which is the basis for this belief, I am struck by God's amazing care for the humans who disobeyed him. Yes the ground was cursed (Gen 3:17-19), but it was not God who cursed it, it was the consequence of Adam's sin. The natural created world was somehow affected by the human fall into sin and is therefore no longer paradise. Brambles and weeds grew. Human toil to produce food and care for creation increased. Nowhere however is there any implication that we are absolved from our responsibility to care for creation.
What has fascinated me in the last few weeks is a contemplation of the thorns, the thistles, and the weeds that seem to be a part of the consequences of the human fall. Some of them produce the most delicious and nutritious food we can eat, as we can see in this video
Take the humble dandelion for instance. Its leaves are often used in salads. Its root for medicinal tea and its flowers in jams and jelly. It helps break up the soil and draws nutrients up from deep within the soil. It is an amazing and valuable plant. Read more about dandelions and links to recipes here
Then there is the blackberry which grows wild prolifically throughout the Pacific NW. Its fruit blesses us with delicious pies and jams. Every year in August Tom and I travel to Mayne Island Canada with our Canadian friends Tom and Kim Balke, for a few days holiday. One of the delights of our trip is picking blackberries and wild apples to make blackberry apple crumble…
It seems to me that part of the curse we suffer from is our inability to recognize the abundance and hospitality of God in the garden that is our earth. God is a generous God who invites us to a banquet feast, not just in the eternal world to come but here in this world too. Often all we need to do is reach out and recognize the gift and accept God's amazing hospitality.
~  ~  ~
Apple and Blackberry Crisp
INGREDIENTS:
– 4 cups Apples,Peeled & Sliced
– 2 cup Blackberries
– 1/2 cup Sugar
– 1/2 cup All Purpose Flour
– 1 cup Wheat Flour
– 1 cup Granola Or Rolled Oats
– 1/2 cup Butter,Melted
– 1 teaspoon Cinnamon
– 2 tablespoons Lemon Juice
– 1/2 cup Brown Sugar
METHOD:
Preheat oven to 350℉ .  Mix in a greased 9″ deep baking pan – apples, blackberries, sugar, all purpose flour.  Combine remaining dry ingredients in a bowl, add melted butter and sprinkle mixture over apples & blackberries.  Bake 30-45 mins.  Serve warm or cold with ice cream or custard
Curried Pumpkin and Black Bean Soup
INGREDIENTS:
– 2 each garlic, peeled
– 1 onion, peeled and quartered
– 2 tablespoons olive oil
– 4-5 lbs pumpkin
– 4 cups chicken or vegetable stock
– 2 teaspoons hot curry powder
– 1 teaspoon turmeric
– Pinch of cayenne or chipotle
– Pepper
– 1 1/2 teaspoons salt
– Freshly ground pepper
– 1/4 cup pumpkin seeds, shelled raw
– 2 tablespoons chopped flat-leaf parsley
– 1 teaspoon ground cumin
– 2 cans lite coconut milk
– 1 1/2 cup dry white wine
– 2 cups dry black beans, cooked for 1 hour
METHOD:
1. Soak beans overnight in large saucepan. Cook until soft (about 1 hour). Set aside.
2. Place garlic in a food processor and pulse until finely chopped. Set aside. Place jalapeno in food processor and pulse until finely chopped.
3. Slice pumpkin in large wedges, remove seeds & string. Place on a lightly oiled baking sheet cut side down. Bake at 350 until the flesh is fork tender (about 1 1/2 hours). Peel pumpkin and puree half pumpkin. Cut remainder into small chunks. At the same time, cut onions into wedges, coat with oil and bake until brown and soft – about 1 1/2 hours. Set aside. Add onion to food processor. Pulse until fine. Alternatively, dice onion and cook in large stock pan until translucent.
4. Add all remaining ingredients except pumpkin seeds & parsley to the stock pan. Bring to boil, reduce heat and cook about 8 minutes.
5. Meanwhile, in a small sauté pan, heat remaining tbsp. of olive oil over medium-high heat. Add pumpkin seeds and remaining 1/2 t salt and cook for about 30 seconds, shaking pan constantly to prevent burning, until all the seeds have popped. Remove from heat and add parsley.
6. Stir puree back into the soup. Adjust seasonings, and stir in the cream or yoghurt, if desired. We love to serve it with a big dollop of Greek yoghurt. Garnish with roasted pumpkin seeds.
SERVINGS: 12
---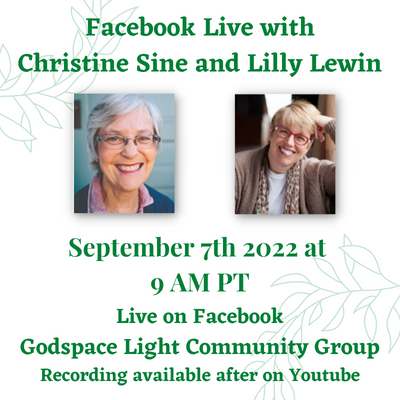 Next Facebook Live!
Are you Celebrating the Gift of Life? Join Christine Sine and Lilly Lewin for this discussion on Wednesday, September 7th at 9 am PT. Happening live in the Godspace Light Community Group on Facebook – but if you can't catch the live discussion, you can catch up later on YouTube!