by Melissa Taft
Editor's Note: This is now CLOSED for submissions. Thank you to those who contributed, and stay tuned for more information!
You may have heard by now that Godspace is putting together a cookbook, and we are looking for submissions. You might know about our fabulous Hospitality Resource Page and the many recipes therein – wouldn't it be lovely to have it all at the tip of your fingers? Plus recipes from our authors and Godspace family – and maybe even YOU!
We are hoping to gather this resource over the next two months as part of our theme Embracing the Wild Hospitality of God and have it available for purchase in time for Christmas!
Over the years Christine has generously shared many of her famous recipes, and is excited to gather them together in one spot and support the work that Godspace is doing at the same time. What a lovely gift it would make for so many situations -newlyweds, new cooks, new adults, old friends, that one aunt who always brings the same thing and it doesn't get eaten except for polite bites at the family potlucks but maybe if they could just find some better recipes it would work out better for them and this could help, your college buddy, the sky is the limit.
So how can you help your aunt AND Godspace at the same time? Send in some recipes! For those who contribute three or more recipes, you will receive a FREE downloadable copy. We truly want this to be a Godspace community effort, embracing the wild hospitality of our community and thusly God's hospitality as we share a virtual smörgåsbord. As Christine has said, "Do you have a favourite recipe or two you would like to contribute? We really do want this to be representative of the Godspacelight community and would love it if some of our readers are able to contribute too. We are particularly interested in original recipes or those passed down from family members, like my grandmother's shortbread recipe." There's something wonderful about a recipe that has love and meaning behind it; a history. With that in mind, here are the guidelines:
Send your recipes to godspacelight@gmail.com by September 30th
The directions must be in your own words, no matter where you got it from.
If your recipe has an origin other than your own creativity, be sure to attribute it correctly – tell us where it comes from! (See below for more on recipe attribution)
Tell us why this recipe is important to you. How do you use it? When do you use it? Is it special because it's a family heirloom? Is it good for feeding a crowd? Just a few sentences please – a paragraph will usually do, though a sentence or two is fine!
As you can see we want this to be more than just a set of ingredients and instructions – we want to get a flavor of our global community and make it something truly special, something we can all be proud of and turn to time and again for encouragement and ideas. As Christine said, "This is an invitation to all our readers so please consider inviting your friends to contribute too. Are you a vegetarian, a vegan or a meat eater? What decisions shape your life and the food you eat? How do you incorporate seasonal foods? How do these decisions impact your life? These are all aspects of the wild hospitality of God that we would love to draw together in this book."
As far as being able to publish and use the recipe, what we basically need is for you to give us the instructions in your own words and to tell us where it's adapted from. That's all it boils down to! The ingredients and measurements can obviously stay the same, and there's only so many ways you can say "pulse the dough", but both to publish and because we want to hear this recipe from YOU, from your heart to our stomachs, we want to know how you make what it is you make. So tell us in your own words. And tell us where it came from: "recipe adapted from my mom," "recipe adapted from this website," "original recipe in this cookbook, adapted here" etc. David Lebovitz elucidates more here:
The answer is that you cannot cut and paste content directly from one website onto another (yours) unless you have their permission. If you wish to republish someone else's recipe, you should do what newspapers and magazines do and "adapt" the recipe, which means that you're not just changing a few words around, but actually completely rewriting the recipe in your own words, explaining how you made the recipe.
And that is what we want – how YOU made the recipe. You, our treasured Godspace readers, authors, community. One of the recipes I'll be including is our family's lemon bar recipe, which comes from a cookbook that was hand-typed and hand-bound at some point in the 1920's or 1930's as a fundraiser for my great-grandma's church ministry. Hand-drawn illustrations, poems, and the like adorned the pages along with stories and no-nonsense no-context recipes. My great-grandma passed it to my grandma, who passed it to my mother, who passed it to my sister. But we all have a copy of those lemon bars, as they have long been a family staple! And that's what this cookbook reminds me of. Family treasures and community, embracing hospitality with wild abandon. Cheers!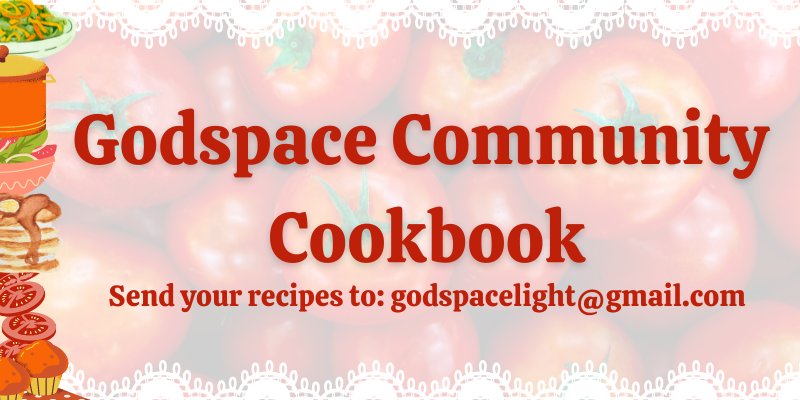 Photo by Brett Jordan on Unsplash
---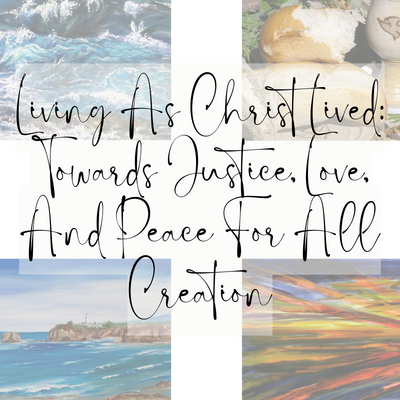 Enjoy this FREE download – a compilation of all the beautiful art, poetry, stories and more that made up our Artful Julybilee. Explore what it means to live as Christ lived through the lens of art – with contributions by many of our authors. All in one beautiful booklet – visit our shop for more info!