As many of you already know Tom and I celebrated our 30th wedding anniversary a couple of weeks ago and last week were able to go away to Anacortes for several days. It is only 1 1/2 hours from Seattle but it is a perfect sanctuary, a place we have retreated to regularly for the last 20 years. Our latest hideaway place is right on the bluff looking over the Salish Sea, a perfect place to watch the changing patterns of sun and sea.  This time we took a much longer break, with our dog Goldie of course, and so I did not have time to write my usual Meditation Monday, so I decided to re-post about one of my favourite getaway by the sea pastimes – beach combing.
————————————————————————————————————————-
When I walk the seashore, I meet in that one sacred space, both the immanent and the transcendent God. The ocean stretches out as far as my eye can see, and way beyond, just as the sense of the divine lies far beyond any human understanding. And yet that same ocean laps at my feet and deposits all kinds of very ordinary objects on the shore for me to discover as I do my beachcombing – objects that may have stories to tell me about who I am and who God is for me, and how our realities embrace in this ordinary-extraordinary space where the water meets the land. (Landscapes of Prayer: Finding God in Your World and Your Life – Margaret Silf (24,25)
Tom and I have just returned from one of our quarterly prayer retreats. One of the things I always like to do on these retreats is to take a book with me to help me focus and Margaret Silf's delightful book Landscapes of Prayer was my choice for this retreat. As I sat on the beach after a beachcombing forage along the pebbled sand, I read the quote above. It is followed by the story of Jesus making breakfast on the beach for his friends and in her narrative she likens this to a beach BBQ where the aroma wafts across the shore to them inviting them to breakfast and a new beginning.
She suggests that beachcombing is a wonderful way to pray and adapts the Prayer of Examen to fit into this context but as I sat there on Friday holding my very ordinary treasures of rocks and shells, I found myself wanting to create my own process of discernment so I have adapted her questions and added some of my own. Here are the questions and reflections that came to me that you might like to adapt for your own use. They became even more important for me when I created a Beach Coming Meditation Garden a couple of years ago and so I talk about them in my newest book Digging Deeper  
Beachcombing As Discernment
What treasures have you discovered in the ordinary landscape of the last few months that caught your attention with delight and joy, bringing you new life as they connected you to God, to yourself and to others? For me the gifts of wonder that have been birthed come to mind – first my book The Gift of Wonder  now three years old, but also the gifts of grandkids in Australia and adopted grandkids  Texas that are special gifts of wonder for me. These are the treasures that have transformed what could have been very ordinary time into extraordinary, shaping both my faith and life in unexpected and precious ways.
Who or what has nourished and enriched your life helping you to find new depths of faith, healing the hurts that still shape you? My husband Tom's supportiveness and encouragement is the most sustaining and wonderful gift that has built my confidence as I stretch myself beyond my comfort zones. As well as that the garden, both its beauty and its productivity nourish my spirit and my soul relaxing and growing not just me but all who enter it.
What are the waves that lap at the boundaries of your life sometimes gently bringing rest and calm from stress ago other times crashing like storm waves with tumult and destruction to your well-ordered plans? My contemplative practices and my breathing prayers are the gentle waves that calm my soul and nourish my spirit helping me to relax and also find relief from the facial pain that still plagues me. The waves that crash like storm waves are the stories of those at the margins – refugees, houseless people; migrants at the border; LBGTQ community all rejected because of their "risky" lifestyles and poverty-filled deprived lives. Yet I realize as I think about this that it is these storm waves, not the gentle ones that both uncover and deposit new treasures – maybe new understanding, deeper compassion and generosity' stronger cries for justice welling up from within.
As you look back over your beach today have you left a trail of footprints that need to be washed away by the loving presence of God – things you wish you had handled differently that have left you with regrets, guilt, anxiety? I always feel that I should be doing more than I am – speaking out more strongly for justice or being more generous and compassionate. This can paralyze me and immobile me. I sit this morning watching as the cleansing flow of the rising tide washes away these regrets and feelings of guilt and I feel refreshed and made new again.

As you bring your prayer to a close gather up your treasures. How will you display them for future remembrances or where will you store them? As I look at my collection I wonder what new creative practices they could stir within me. I hold the rocks in my hand – an ordinary collection of different colored stones – I shape them first into a question mark and then into a circle  reminded that questions help bring wholeness and completeness.  When I get home they will be shaped into a more permanent remembrance for me, how about you?
Now as I look to the future I wonder what does God want me to learn from my beachcombing experience that will help shape the months to come?  First I realize the importance of my contemplative and creative practices. I need to make are that I protect the time that I dedicate to these every day, no matter how busy I get. Second I need to protect the relational time Tom and I have together and not allow my vocation and travel to distract me from this. Third I must not be too hard on myself when I fell I have messed up, remembering that God forgives no matter what mistakes I make. Discernment comes in many shapes and forms I realize. Usually I expect to come out of a time like this with clearly defined goals, but on this retreat I have also learned the need to relax and allow the waves to shape who I am becoming, even if there are no clear goals that come out of the process.
---
NOTE: As an Amazon Affiliate I receive a small amount for purchases made through the appropriate link. Thank you for supporting Godspace in this way.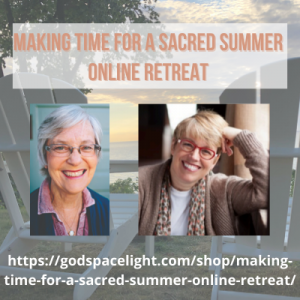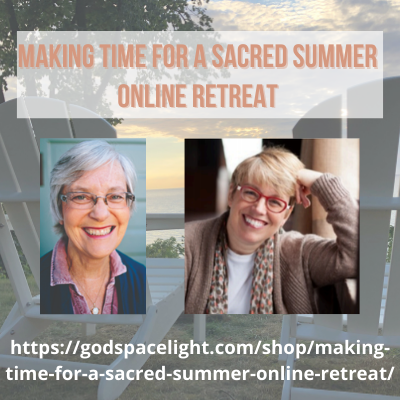 Enjoy A Sacred Summer
Summer is here! Let Christine Sine and Lilly Lewin guide you through the symbols of summer into sacred refreshment. Enjoy 180 days of access to retreat at your own pace. All the details can be found in our shop!