One thing following the lectionary does for a teacher, preacher, and the individual is to force us to look at passages that we might not like, or ones that make us feel uncomfortable. This week's lectionary gospel passage is one of those,  Luke 12: 13-21. In this passage, Jesus talks to us about our stuff! About our tendency to want to hold on to stuff tightly and or store it up in bigger barns rather than sharing or even being grateful for it!
I have a love /hate relationship with stuff. I'm known for my piles and my bins filled with art supplies and worship gear. Currently my garage is filled with clutter that is just waiting for a week of cooler days and motivation for someone to help me organize it. After two years of not doing in person sacred space gigs, all the gear has just been stuck in storage with random stuff thrown in on top of it all! I come from a long line of hoarders of various degrees, and I definitely get panicky when Marie Conde takes EVERYTHING out of the closet all at once! How will it ever get finished before someone interrupts?
I've needed the help of the FlyLady to bring any kind of order to my stuff and give me a framework for household cleaning.
Jesus wants us to look at our relationship with stuff…things, money, and even emotional stuff that we tend to store up.
READ THE GOSPEL …What do you notice?
 Someone in the crowd said to him, "Teacher, tell my brother to divide the inheritance with me."
Jesus replied, "Man, who appointed me a judge or an arbiter between you?" 15 Then he said to them, "Watch out! Be on your guard against all kinds of greed; life does not consist in an abundance of possessions."
And he told them this parable: "The ground of a certain rich man yielded an abundant harvest. 17 He thought to himself, 'What shall I do? I have no place to store my crops.'
"Then he said, 'This is what I'll do. I will tear down my barns and build bigger ones, and there I will store my surplus grain.  And I'll say to myself, "You have plenty of grain laid up for many years. Take life easy; eat, drink and be merry."'
"But God said to him, 'You fool! This very night your life will be demanded from you. Then who will get what you have prepared for yourself?'
"This is how it will be with whoever stores up things for themselves but is not rich toward God."

Luke 12: 13-21 NIV
NOW READ it in THE MESSAGE version
 Someone out of the crowd said, "Teacher, order my brother to give me a fair share of the family inheritance."
He replied, "Mister, what makes you think it's any of my business to be a judge or mediator for you?"
Speaking to the people, he went on, "Take care! Protect yourself against the least bit of greed. Life is not defined by what you have, even when you have a lot."
Then he told them this story: "The farm of a certain rich man produced a terrific crop. He talked to himself: 'What can I do? My barn isn't big enough for this harvest.' Then he said, 'Here's what I'll do: I'll tear down my barns and build bigger ones. Then I'll gather in all my grain and goods, and I'll say to myself, Self, you've done well! You've got it made and can now retire. Take it easy and have the time of your life!'
"Just then God showed up and said, 'Fool! Tonight you die. And your barnful of goods—who gets it?'
"That's what happens when you fill your barn with Self and not with God." Luke 12: 13-21 THE MESSAGE
Imagine the Scene in Luke…where are you ? What do you notice? Imagine the responses of the people listening to Jesus.
What bothers you about this passage? What does the Holy Spirit want to say to you through it?
Jesus doesn't answer the man's question…why not? What does Jesus know about this guy? What does Jesus do instead?
When you think of GREED what do you picture? Do you imagine a person or a tv show or something in culture? We definitely don't like to think of ourselves as greedy people. Yet we can be just like the farmer in the story.
What would the opposite of GREED be for you?
What are you storing up for yourself these days? Fear, anger, joy, peace, resentment, bitterness, hope, love? What else?
What do you want to store up in your relationship with Jesus? Talk to Jesus about this.
What do you tend to hoard or hold on to that you might want to consider letting go of or holding more loosely? Talk to Jesus about this.
READ: "God gave us Abundance why do People Go Hungry"  
LISTEN :
Father Richard Rohr can say more in seven minutes that some folks can say in 7 hours! Listen to his sermon on this passage.
Eric Bibb is my favorite bluesman! He has a great song about " Too Much Stuff"
PRACTICE:
●  5-minute Gratitude Practice: Being grateful and generous are the opposite of being greedy and letting stuff get in the way! Each day this week, write down three things for which you are grateful. Nothing is off-limits. Something might seem trivial, like, "I'm grateful for spoons." But if you really are grateful for spoons, then you are grateful for spoons. It might be someone in your life: "I am grateful for my children." It might be something that happened that day: "I am grateful for being able to stop before getting in an accident." It might be something beautiful you saw. Remember, nothing is off-limits. Each day…write those down. Don't just think about them. Write them. Each day, look back at the days before. By the end of the week, you are looking back at seven days worth of gratitude.
I've often wondered what it would be like to have lots and lots of money, like if I won the lottery….How generous would I be? Would I be afraid of losing it all or would I be looking for ways to bless other people? I love to share what I have now, and I hope that if I had more, I would give more!  I started a practice of praying for folks who have ABUNDANCE!
Take time to pray for the top 10 richest people in our world…What would happen if they didn't store up all their wealth? Pray that they see how to give more to solve problems like homelessness and world hunger.

FIND A CONTAINER with a LID     HOLD ON TO IT  and Consider the things you have been holding on to too tightly, the things you've been storing up that you need to let go of….greed, anger, despair, bitterness, comparison, hate, fear, stuff….. Give this to Jesus. Ask him to help you!

Now OPEN THE CONTAINER   Consider the things that you'd like to store up in yourself and in your relationship with Jesus….HOPE, LOVE, COMPASSION…What else? Talk to Jesus about this!   Use this container as visual reminder this week to store up the things that matter, not things that you cannot take with you. You might even add notes or images to the container as reminders….

"Don't store up treasures here on earth, where moths eat them and rust destroys them, and where thieves break in and steal. Store your treasures in heaven, where moths and rust cannot destroy, and thieves do not break in and steal. Wherever your treasure is, there the desires of your heart will also be.

Matthew 6: 19-20

©lillylewin and freerangeworship.com
---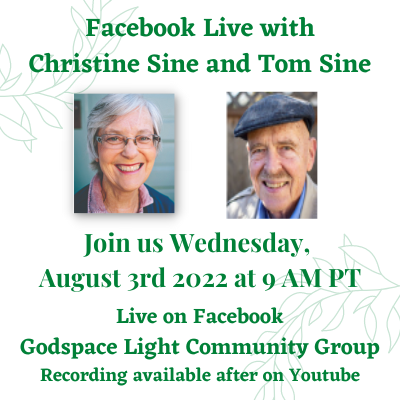 FB Live!
Join Christine Sine and Tom Sine for a lively discussion on Hospitality as the doorway to the kingdom –  Wednesday August 3rd at 9 am PT. Happening live in the Godspace Light Community Group on Facebook – but if you can't catch the live discussion, you can catch up later on YouTube!