Over the last few weeks we have enjoyed several posts on the story of Good Samaritan. They focused on seeing strangers as neighbours and the need to reach out to people suffering around us. Such important messages from the story. I wonder about another rarely noticed element. All of the people in this story are strangers to each other and it is a great lesson in the benefit of strangers.
In fact there are many benefits of strangers. Evidently, numerous studies show that talking with strangers can make us happier, more connected to our communities, mentally sharper, healthier, less lonely, and more trustful and optimistic. Actually for some people, including myself, one of the joys of travelling is the delight of meeting new people, having experiences not planned for and ending up with wonderful stories to tell.
"Strangers stir wonder and are waiting to be known" – Sue Duby said this in a recent newsletter and it is true. Each encounter with a stranger has so much potential hidden in it. Might this person become a friend? Will they give me a different perspective on the world? Will they help me understand a problem I am struggling with? Could they provide an opportunity to show compassion? Or will they show me compassion and generosity?
I really identify with Jane Brody's New York Times article The Benefits Of Talking to Strangers.  Like her I am an extrovert and relish talking to strangers as I walk, shop and travel. One of the delights of COVID isolation for me was walking our dog and greeting fellow walkers on the way. It strengthened my bonds to the neighbourhood in which Tom and I live making me aware every day that I am surrounded by a community and am never really alone.
Ms Brody's article mainly focuses on the book Consequential Strangers: The Power of People Who Don't Seem to Matter … but Really Do, by Melina Blau and Karen Fingerman. Quoting from the book she says,
consequential strangers "are as vital to our well-being, growth, and day-to-day existence as family and close friends. Consequential strangers anchor us in the world and give us a sense of being plugged into something larger. They also enhance and enrich our lives and offer us opportunities for novel experiences and information that is beyond the purview of our inner circles. They are vital social connections — people who help you get through the day and make life more interesting."
Once upon a time I took the generosity and compassion of strangers for granted and I assumed I needed to show compassion to strangers in need. When I started wandering the world as a 25-year-old I was often invited into the houses of strangers for meals and hospitality. Yes some of them were friends of friends or were also involved in missionary work, but they were still strangers. Others I met on trains and buses and aeroplanes. Total strangers with no common connections who invited me to visit and greeted me with generous hospitality. Tom and I have extended the same kind of hospitality to strangers throughout our marriage and our lives are constantly enriched by these interactions. We gained friends and acquaintances around the world, saw our worldview stretched and reshaped, and experienced the stirring of wonder and delight at all these "consequential strangers" shared with us.
Today many of us feel threatened by strangers. COVID and the growing threat of violence in our world makes us afraid of people we do not know. Our busy schedules increase the distance. We no longer talk to strangers as we travel or at conferences and other large events, taking advantage of breaks in the schedule to make phone calls, check our social media and isolate ourselves in a cocoon of self-involvement. Some of us don't even know our next-door neighbours, some of the most consequential strangers we could ever interact with.
In another fascinating sounding book The Power of Strangers: The Benefits of Connecting in a Suspicious World, Joe Keohane suggests that we have become lazy in our curiosity about each other. In Robert Scheffler's review of the book he comments: "Joe Keohane demonstrated that when we do connect with strangers, we like it, we value it, and want to do it again. And it turns out there are many people and groups that can't wait to sit with just about anyone (who knew?) and have a good chat—on a street corner, in a classroom, at a convention–about your life, your worldview, even (gulp) your political ideas, all free of agenda and free of conflict. Given the state we find ourselves in, talks like these can't happen soon enough."
Every stranger around us is a neighbour waiting to be known. So my invitation for you this week is to get out and interact with some of the consequential strangers you meet. Say hello to the person who serves you at the supermarket, or wave to all the neighbours you see as you walk. Or mask up, take a bus or train ride and say hello to people who sit with you. On longer trips you might get to know quite a bit about the person next to you. Suggest they mask up too. Let them know your ongoing concerns about the spread of COVID. Encourage them to stay safe. Who knows, you might save them from a nasty reinfection, be able to offer advice, learn something new or find a new friend through the conversation.
As an Amazon Associate I receive a small amount for purchases made through appropriate links. Thank you for supporting Godspace in this way.
---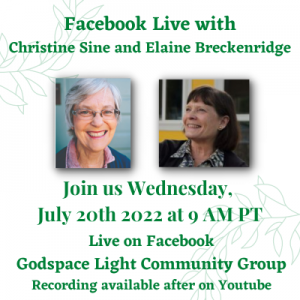 Next Facebook Live!
Join Christine Sine and Elaine Breckenridge for a discussion on Celtic Spirituality and Rhythms of Life – Wednesday, July 20th at 9 am PT. Happening live in the Godspace Light Community Group on Facebook – but if you can't catch the live discussion, you can catch up later on YouTube!