By Lilly Lewin
What would you serve if Jesus came over for dinner? Would it be a casual cookout or BBQ, or would you call in a caterer? Would you have multiple courses, or take away/carry out from your favorite restaurant?
I'd never seen the story of Mary and Martha in the light of hospitality until this week! Read the story and imagine the scene. What does it look like? Feel like? Are the disciples there too? Are there lots of other people? Or is it a more intimate group?
As Jesus and his disciples were on their way, he came to a village where a woman named Martha opened her home to him. She had a sister called Mary, who sat at the Lord's feet listening to what he said. 40 But Martha was distracted by all the preparations that had to be made. She came to him and asked, "Lord, don't you care that my sister has left me to do the work by myself? Tell her to help me!"
"Martha, Martha," the Lord answered, "you are worried and upset about many things, 42 but few things are needed—or indeed only one.[a] Mary has chosen what is better, and it will not be taken away from her." LUKE 10:38-42 NIV

As they continued their journey, Jesus came to a village and a woman called Martha welcomed him to her house. She had a sister by the name of Mary who settled down at the Lord's feet and was listening to what he said. But Martha was very worried about her elaborate preparations and she burst in, saying, "Lord, don't you mind that my sister has left me to do everything by myself? Tell her to get up and help me!"
But the Lord answered her, "Martha, my dear, you are worried and bothered about providing so many things. Only a few things are really needed, perhaps only one. Mary has chosen the best part and you must not tear it away from her!" LUKE 10:38-42 J.B. Phillips New Testament

READ Passage one more time….
As they continued their travel, Jesus entered a village. A woman by the name of Martha welcomed him and made him feel quite at home. She had a sister, Mary, who sat before the Master, hanging on every word he said. But Martha was pulled away by all she had to do in the kitchen. Later, she stepped in, interrupting them. "Master, don't you care that my sister has abandoned the kitchen to me? Tell her to lend me a hand."
The Master said, "Martha, dear Martha, you're fussing far too much and getting yourself worked up over nothing. One thing only is essential, and Mary has chosen it—it's the main course, and won't be taken from her." LUKE 10:38-42 THE MESSAGE
What do you notice? What stands out to you?
I noticed that I also like to interrupt Jesus … just like Martha did … I talk and too often whine rather than stopping and listening to what Jesus has to say.
Imagine the Scene, where are you in the story?
Are you feeling more like Martha or Mary these days? Why?
One interpretation of this passage finds that Jesus might be saying to Martha "don't overdo it … you don't have to work so hard or go overboard with trying to please. Simple is just fine." What do you think about that? How does this give YOU freedom or permission to live or serve or be more simply in your life with Jesus and others?
I am totally guilty of doing too much for a gathering, even a small gathering. It's not easy for me to make things simple. And I have been trained that the house should be "perfect" in order to have someone over.
What if Jesus doesn't mind if things are messy or if things aren't complex? What if Jesus is inviting us to keep it simple? How does that free you and me up to have more peace? And more possibilities for hosting others and practicing hospitality?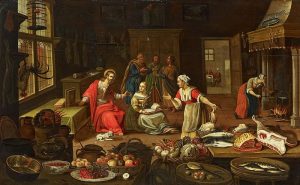 Check out this painting by Georg Friedrich Stettner: Christ at the home of Martha and Mary and the other art on this site….what do you notice?
READ Meditation by Father Richard Rohr on Mary and Martha
PRACTICE:
How can you plan to be more PRESENT with Jesus this week? What do you need to do to remind yourself to be more present?
Martha was frustrated by lack of help and being stuck in the kitchen with "all the things" of hosting a dinner party. Jesus invites her to be present with him! NOT LATER that night, NOT THE NEXT DAY, BUT RIGHT NOW! We all have to wash dishes. So this week, make dishwashing your prayer practice. Let it be the time you are present to Jesus and with Jesus. Pray and talk to Jesus while you wash or load the dishwasher. Take time to listen too!

How can you Practice Hospitality this week?
PRINT OUT THE COLORING SHEET and do it as a family or on your own or with some friends. Sit Down at the Table with Jesus! Who do you want to invite to sit with you?
TABLE with Jesus coloring Sheet
When we have people around our table, Jesus is there with us! In Spirit and in each person present so let's relax a bit more and enjoy!
Help us Jesus to keep it simple. Help us to relax in your love so we can love others. Help us to be present with you so we can be present with others. In your Name! Amen
©lillylewin and freerangeworship@gmail.com
Check out AT THE TABLE with JESUS Sacred Space Prayer Experience where the Martha and Mary Table is all about REST
---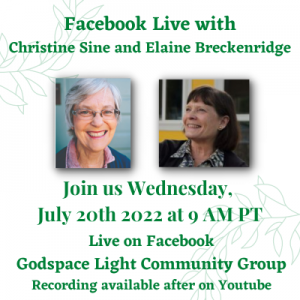 Next Facebook Live!
Join Christine Sine and Elaine Breckenridge for a discussion on Celtic Spirituality and Rhythms of Life – Wednesday, July 20th at 9 am PT. Happening live in the Godspace Light Community Group on Facebook – but if you can't catch the live discussion, you can catch up later on YouTube!