Hospitality means primarily the creation of a free space where the stranger can enter and become a friend instead of an enemy. Hospitality is not to change people but to offer them space where change can take place. It is not to bring men and women over to our side, but to offer freedom not disturbed by dividing lines …. The paradox of hospitality is that it wants to create emptiness, not a fearful emptiness, but a friendly emptiness where strangers can enter and discover them sever as created free; free to sing their own songs, speak their own languages, dance their own dances; free also to leave and follow their own vocations. Hospitality is not a subtle invitation to adore the lifestyle of the host but the gift of a chance for the guest to find his own. (Henri Nouwen: Reaching Out)
In our recent Facebook live discussion on hospitality Lilly Lewin and I talked about the necessity for radical hospitality at this season in the history of our world. She began by reading this quote from Henri Nowen which made me realize that hospitality and justice go hand in hand. Living as Christ lived has at its centre a commitment to hospitality, not just to friends and family but to strangers as well.
Interestingly as we look back over the history of the human race we see that it was hospitality to wanderers, pilgrims and strangers that held society together. We see it, and often take it for granted as we read the Bible. In Genesis 18, Abraham offers lavish hospitality to three strangers that turn out to be messengers from God, but he did not know that when he invited them to stay for a meal. Jesus of course is constantly sitting down to eat with strangers that become friends, and he seems to delight in mixing city leaders with outcasts. He encourages them to sit down and eat together and often they become friends just by this example.
When we speak of hospitality we are always addressing issues of inclusion and exclusion. Each of us makes choices about who will and will not be included in our lives…. Hospitality has an inescapable moral dimension to it. It is not a mere social grace; it is a spiritual and ethical issueIt is an issue involving what it means to be human. (Radical Hospitality Lonni Collins Pratt with Father Daniel Homan)
We have become cultures of exclusion. We exclude the disabled, the old, people of color, the poor, the homeless, those of different religions. Sometimes we see those of us who look differently and think differently as less than human.
Tragically these last couple of years have not just disconnected us from others they have made all of us distrust those around us and think that the lack of hospitality, even in something as simple as smiling at a stranger or talking to the person who sits next to you on the train, is one of the reasons. Now is the time to venture out however and what we need to pay attention to is our need to socialize with strangers as well as family and neighbours.
This morning I read an article about a book by Joe Keohane called The Power of Strangers. In his review of the book Robert Shaeffler comments:
Keohane examines these issues within the context of overwhelming psychological research demonstrating that when we do connect with strangers, we like it, we value it, and want to do it again. And it turns out there are many people and groups that can't wait to sit with just about anyone (who knew?) and have a good chat—on a street corner, in a classroom, at a convention–about your life, your worldview, even (gulp) your political ideas, all free of agenda and free of conflict. (The Power of Strangers by Joe Koehane)
I think it's true. No wonder radical hospitality was so important for early Christians. The Rule of St Benedict affirms "All guests who present themselves are to be welcomed as Christ, for he himself will say: 'I was a stranger and you welcomed me'" and of course, as I often remind us Celtic Christians held the same view, seeing hospitality as a doorway to the kingdom of God.
When was the last time you talked to a stranger in a way that gave them the potential to become a friend, maybe not a long-term friend but at least a friend for a season?  And when was the last time you sat down and had a meal with a stranger who was very different from you in appearance or behaviour?
Part of what I have missed in our social isolation over the last few years was the opportunities to sit down and share a meal with people from different cultures and perspectives. Hospitality is an incredibly enriching practice at many levels and I look forward to doing more of it in the coming months. How about you?
If you have time I hope you will watch or listen to, the video from Lilly and my last Facebook live session.
---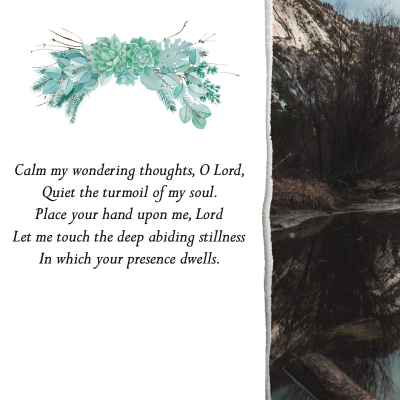 These beautiful prayer cards available for download include 11 prayers by Christine Sine and watercolor succulent design with contemplative imagery crafted by Hilary Horn. Each card provides a prayer on the front with a photo for reflection as well as scripture and suggested meditative response to the prayer. Allow yourself to relax, refresh, and commune with God through each prayer. Immerse yourself in the reflection as you give yourself space to enter into God's presence. You can find Prayers for the Day in our shop, as well as Pause for the Day – a sister set of prayer cards with morning, evening, and general prayers to pause and contemplate.