by Carol Dixon
God has boundless treasures to give us, and a moment's sense of devotion is enough for us.  We are blind who so bind the hands of God, and we stem the abundance of his grace.  When he finds a soul imbued with living faith, into it he pours grace on grace, a flowing stream, which, when it finds a new outlet, spreads wide, abundantly.' (Br Lawrence Day Conversation)
Rivers have always fascinated me.  I grew up in Alnwick and often played by the river Aln from which the town takes its name – trying to catch tiddlers in a jar, running across the stepping stones or lying on my back in the sun on the grass opposite the ancient castle imagining knights in armour and great ladies in all their finery. 
In the summer our parents would take us to the beach at Alnmouth where the same river met the sea.  We travelled by bus (not many folk had cars in the 1950s). I could see over the hedges and glimpsed the river from time to time wending its way to the sea, bubbling over stones under the bridges and opening out into the estuary full of sea birds. It was good to ponder its journey.
Prayer: (taken from David Adam's Love the World)

Blessed are you, God of all creation, Creator 

Of the great deeps, Lord of heaven and earth.

We give you thanks for the wonders around us.

We thank you for the rains that water the earth, 

For sparkling burns and running streams, 

For mighty rivers and reservoirs, 

For clear refreshing water,

For sunlight that brings warmth and life to our world;

Blessed are you, God, giver of light and love,

Teach us to love and care for all living creatures 

And for all green and growing things.

Show us we pray, how to cherish the land, 

The air, the waters,

So future generations may enjoy their beauty 

With wonder and awe.  Amen.
One of my favourite writers, Margaret Silf in her book Landscapes of Prayer has written a wonderful reflection on the river in our spiritual lives:   
You can keep on going to the same river, and even the same spot on the riverbank, but you will never see the same water twice. Rivers are wonderful teachers of how the continuum of our being can be perfectly balanced with the immediate present moment.

 What does the image of the river mean to you? 

You might like to look at the course of your own life in terms of the flow of a river. Where was its source and what or who were its early tributaries — those people, family or strangers, contemporary or long-dead, who influenced your way of seeing? 

How has the river flowed, through the years of your life?

Times of quiet flow, and  "white water" times when our lives hit the rapids. Sometimes the flow will have been brisk, clear and healthy, and at other times your life may have felt stagnant sluggish, or even polluted.

Through what kinds of landscape has your river flowed? 

You may recall wilderness times, and times of great fruitfulness. Perhaps your river may has brought life to others' deserts. Where is your river now, and how is its flow? How do you feel about its meanderings so far, and what are your hopes and dreams for its future course?

An ancient mystic tells a story about a river that could offer us a picture of our spiritual journey. This is how he describes his vision (Ezekiel 47 v1-12) (adapted by Margaret Silf) 

My guide showed me a stream that had its origin in the sanctuary, but flowed out from there, under the threshold, all round the outside of the building, and finally found its course in the wider world. A man was trying to measure the river. Using a measuring rod he calculated a certain distance of the river's flow and asked me to wade across the stream at this point. I did so and the water came up to my ankles. He measured a further span downstream and asked me to cross again. Now the water came up to my knees. A third time he measured off a span of the river, even further downstream, and at this point the water reached my waist. When he made his final measurement, and asked me to wade across again, it was impossible.  By this point the river had become so deep and fast flowing that I couldn't have crossed it.  I was out of my depth.

Only when I realized that I couldn't measure the flow of this river of life, and nor could he, did I see the river from a different perspective. Now it was no longer about how we could measure it out or cross it. Now the focus was entirely upon the river itself. I saw what the river was really about.  I saw the fish swimming in it, healthy and full of life and fishermen on the riverbanks.  I noticed that the marshes and salty lagoons along the course of the river came to fresh life when the living stream flowed through them, but that where this flow was blocked or denied or resisted, they remained lifeless and stagnant.  I saw that the riverbanks were lined with many different trees, each bearing fruit in its season and with leaves that provided medicinal cures.  And all this life, I came to understand, was sustained because the flow of the river of life had its source in the very heart of God, the life-giver.  
When we allow the Holy Spirit to flow through our lives we often find that our times of prayer can flow like a river, following a sometimes winding course.  At other times it is good to remember those times when God has refreshed and renewed us, leading us to sit by still waters with him and feel at peace.
One of the people who often walked with me along the river Aln during my childhood was my granny, whose faith had a profound affect on me and helped me to draw close to God.  One of the hymns she taught me was about a river:
HYMN: Like a river glorious [Frances R Havergal] See it Performed Here by A Virtual Choir – Holy Trinity Church Dubai
1.Like a river, glorious is God's perfect peace,
Over all victorious in its bright increase;
Perfect, yet it floweth fuller every day,
Perfect, yet it groweth deeper all the way.
      (Chor:) Stayed upon Christ Jesus, hearts are fully blest;
                   Finding, as He promised, perfect peace and rest.
Hidden in the hollow of His blessed hand,




Never foe can follow, never traitor stand;




Not a surge of worry, not a shade of care,




Not a blast of hurry touch the Spirit there. (

Chor

)

Every joy or trial falling from above,




Traced upon our dial by the Son of Love.




We may trust Him fully all for us to do;




They who trust Him wholly find Him wholly true. (

Chor

) 
A Blessing for today:  (from Christian Aid The river of prayer)

May justice roll down like a river, 

may righteousness flow like a never-ending stream 

and may the joy of creation fill you anew 

as you pray, act, and live 

for the restoration of creation and flourishing of all people. 
May the grace of the Lord Jesus Christ, the love of God,  And the companionship of the Holy Spirit flow into us and through us each day. Amen.
Featured photo by Carol Dixon, 'Towards Cannongate" – youtube republished with permission. As an Amazon Associate I receive a small amount for purchases made through appropriate links. Thank you for supporting Godspace in this way.
---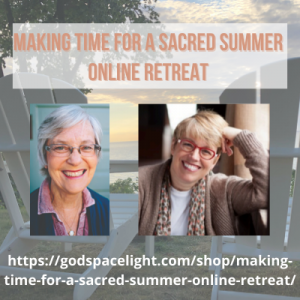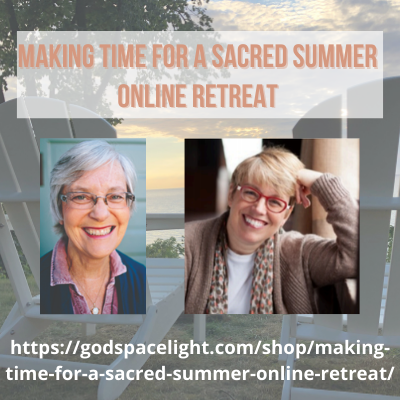 Enjoy A Sacred Summer
Summer is here! Let Christine Sine and Lilly Lewin guide you through the symbols of summer into sacred refreshment. Enjoy 180 days of access to retreat at your own pace. All the details can be found in our shop!