Editor's Note: Each Thursday this month we will be featuring art centered around our current theme Living as Christ Lived: Towards Justice, Love, and Peace For All Creation. Please enjoy these creative reflections offered by our authors!
Part Two: Towards Love For All Creation Part Three: Towards Justice For All Creation Part Four: Living As Christ Lived Compilation Booklet: Free download!
Featured photo: Multimedia Painting by Keren Dibbens-Wyatt, Turquoise Tide
Doves
Doves alight on the tips of the waves
Bubbled, cooing petticoats rolling into shore
Proclaiming them well-loved with foaming wings
And we remember Him in the water.
Doves sat in baskets, on the Temple tables
Waiting in wicker for the death of innocence
His hand stays these tables, turning others
And we remember His gentle wrath.
Doves of peace come rolling into shore now
Riding the momentum of justice
With righteousness as undertow
And we remember His words to Amos
Doves cresting, crashing into shore
Washing away the stench of tepid praise
Crashing over the music become noise
And we remember His snowy silence
Doves' wings could be called for now
To carry him to shelter, take him to safety
Far, far away from Golgotha's storm
And we remember his Sorrows
Doves sent out now from the Ark
Of this New Covenant, this Crossroads
Offering olive branches to every sinner
And we remember His Sacred, trembling Heart,
His precious love-blood that will flood the world,
With Mercy and with Grace.
A Morning Prayer
This prayerful observance comes to us from Jenneth Graser, originally posted here. Photo is by Christine Sine, "Winter Sunrise"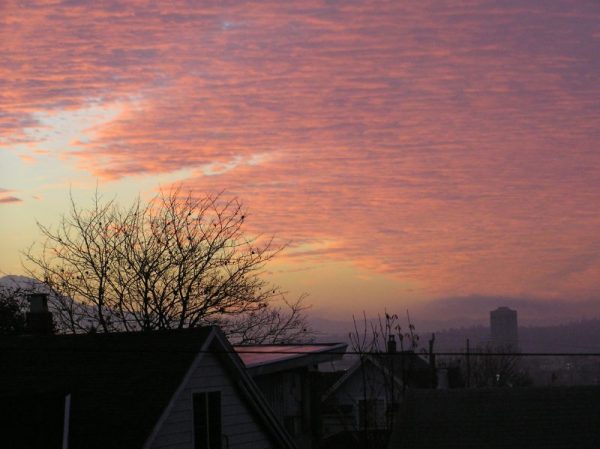 A Morning Prayer
You will need: a bowl, some small stones and a candle with matches.
Place these before you as you find a comfortable place to encounter God in silence.

Opening reading:
"You lead me with your secret wisdom.
And following you brings me into your brightness and glory!"
Psalm 73:24 TPT
Meditations:
Father I give you my mind, as clouds on the horizon
bending over to wake up the sun from her slumber,
reminding the ocean that under her covers
a parallel world is waking up.
Place into the bowl a stone of intention. The intention of interior silence.
Spirit, I give you my body, as a temple on a high mountain
where worship comes naturally surrounded by
winds blowing straight out of Heaven
and into my inner court.
Place into the bowl a stone of worship. Your sound of worship.
Jesus, I bring you the energy in me, as lava in a dormant volcano
currently steaming with vapours and potential,
allowing the heat of your deep-inside love to build new lands
and restore the broken ground.
Place into the bowl a stone of your dreams. The dreams buried inside of you.
Father I give you my heart, as an orchid ready to open
like a bird swooping
into the holy Trinity of you, always eager
to see and greet me.
Place into the bowl of stone of your heart. As stone turned to flesh.
Poetry reading:
Walking softly on the surface of the earth,
each step holy.
Breathing together with the breath of
humming birds about their breakfast.
Taking in the dew-drop necklaces on flowers
shining with praise and prayer.
Being to you a friend on days opening wide
with wonder happening within us again.
It is too easy to rush by these gifts,
too easy for a day to sleep before the sun goes down.
Let us wake into your presence,
in one accord with all life is.
Let us create a moment by moment fellowship,
the sharing of what brings joy or pain.
Your hand rests on our temple
with lavish rest in time and place.
We will be kind to ourselves as well,
generous grace is meant for the sharing.
Closing reading and practice:
"Nothing is more appealing than speaking beautiful, life-giving words.
For they release sweetness to our souls and inner healing to our spirits."
Proverbs 16:24 TPT
Light a candle in closing as you listen to (47) Requiem: The Lord is my Shepherd – John Rutter, Cambridge Singers, Aurora Orchestra, Thomas Barber – YouTube
Peace to You
Carol Dixon offers this sung version of "Peace To You" – a song written by the Monks of Weston Priory, and used here with permission. Listen to the MP3 Below
Peace to you and every good that life can bring. Evening's song is calling us to wonder. The night has come and all is quiet now to end the day in listening… Shadows fall and linger long 'till morning. In life's hands today becomes a memory. Look up and see the vast and endless sky: who knows how far and wide the stars intensely shine… Calm again are hearts so weary from the day. Life gives peace and peace will bring the morning's song, and peace will bring the morning's song.
"Peace to You" © 1974 The Benedictine Foundation of the State of Vermont, Inc – used with permission
---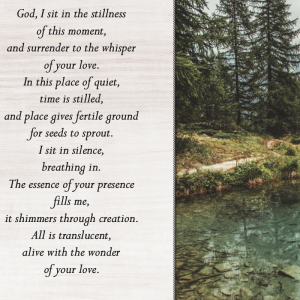 Pause for the Day – find a pleasant focus in this downloadable set of prayer cards inviting you to pause and restore. This set of ten prayers include three morning, three evening and four general prayers for the day. Each prayer is paired with a photo to help you focus and enter into that still place where you can hear God's voice. On the back of each card is a short reflection or activity to deepen the impact of the prayer. This is a downloadable pdf. You may also enjoy its companion set of Prayers for the Day – 11 more prayers by Christine Sine paired with beautiful imagery by Hilary Horn.