Editor's Note: We are pleased to present this guest post by Kendall Vanderslice from Edible Theology. Kendall is the author of We Will Feast: Rethinking Dinner, Worship, and the Community of God. You can find more about Kendall here. 
I sipped my glass of wine under a string of lights on an outdoor patio with friends last week. The table was spread with roasted lamb, arugula salad, and an elaborate cheese board. It was the first time this group had been together in two years, since cross-country moves had separated us all. And yet between the laughter and the storytelling, it felt as though no time had passed. We had much to celebrate: birthdays, a baby, multiple ordinations. Our friendship had been built together around the table through a regular meal share in seminary—we each took a night of the week to cook for the crowd, allowing us rest from cooking the other nights and ensuring a break from our studies to eat with friends. So formative were these rhythms to our friendship, it only felt natural to slip right back in.
Almost everyone can share of a similar event, a meal that made them feel grounded, loved, known—I imagine you're conjuring up the memory of one right now. You feel your shoulders and jaw relax as you remember what it felt like to belong. Your stomach growls as the faint scent of the food hits your nose.
I also imagine you can just as easily think of a meal where you felt out of place. Perhaps a tense family thanksgiving or an awkward coffee hour at church. You feel yourself gripping your mug of coffee a bit tighter, just as you did that day.
Our senses have a powerful ability to hold onto memories. Oftentimes we view sight and sound as superior in the hierarchy of senses, treating taste, touch, and smell as less reliable, less important, more basic. But these basic senses, especially taste and smell, are actually spectacular at helping us locate memories. The location in the brain that processes smell sends information immediately to the limbic system, which processes memory and emotion. It's why a smell can transport you back to a place or an event, and why you can so easily conjure up the taste and smell of the meal you just brought to mind.
This close connection between memory, taste, and smell, is the reason meals can be powerful places of storytelling and remembering, as well as a meaningful platform for social bonding—a fancy way of saying they help us forge relationships.
It's also, I believe, why so many stories in Scripture are told through meals: the meal of forbidden fruit that brought death into the world in Genesis 3, to the meal of bread and wine that marks a death which brought the world back to life. Meals of miraculous provision, from manna in the desert to loaves and fish for an audience of 5,000. Meals that mark God's presence, from the showbread held in the ark of the covenant to the bread broken on the path to Emmaus.
And it's why Jesus offered a meal to us as the cornerstone of Christian worship—a bite of bread and a sip of wine to tell the story of Christ's death and resurrection, to sustain us as we wait for the full redemption of all things, to teach us to hunger for the meal to come: what Revelation describes as a marriage supper of the Lamb.
As a food scholar who studies the social dynamics of eating together, as well as a student of theology, I'm fascinated by the ways that meals can shape our understanding of God, of community, of worship, and more. And I'm convinced that around the table, as we probe our relationships to food, eating, and the table, we can find healing in relationship to our own bodies and the Body of Christ as well. 
Enter: Worship at the Table, a six-lesson curriculum for churches, Sunday schools, small groups, and groups of friends that traces the story of God, as well as our own stories, through meals. 
Developed out of my research in the fields of both food studies and theology, in collaboration with expert curriculum builders, I believe this program is just what is needed as we grapple with the impact of Covid isolation on our communities. Each week, a group gathers together around the table—an elaborate spread of lamb and salad, or simply a box of doughnuts and steaming mug of coffee—to study the meals contained in Scripture, to probe their own relationships to food and the table, and to imagine together how to use the table as a place for spiritual formation and for healing.
Worship at the Table is built on a fundamental tenet of Christian practice: the table set with bread and wine — a simple setting that tells the most profound story of all time. The story of Christ's broken body and our fragmented humanity, of God's presence, provision, and promise to heal.
By the end of this program, participants will understand the role of meals in the story of Scripture, be able to reflect on the positive and negative aspects of their relationship to food, be aware of their gifts and limitations in hosting meals for others, and have a plan for building community in their own homes and church.
I hope that, through it, you and your friends, family, community, or congregation will sense more deeply God's healing presence and ongoing provision in your own lives too.
Learn more about Worship at the Table, which we will pilot in 25 churches this fall, by visiting www.edibletheology.com/worship-at-the-table
Photo by Stefan Vladimirov on Unsplash As an Amazon Associate I receive a small amount for purchases made through appropriate links. Thank you for supporting Godspace in this way.
---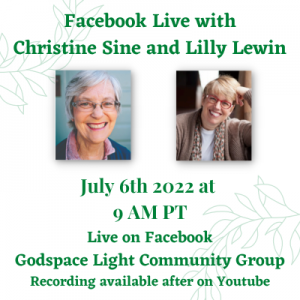 Tomorrow – Next Facebook Live!
Join Christine Sine and Lilly Lewin for a lively discussion on hospitality – happening TOMORROW! Wednesday, July 6th at 9 am PT. Happening live in the Godspace Light Community Group on Facebook – but if you can't catch the live discussion, you can catch up later on YouTube!