by Christine Sine Editor's Note: This Giveaway is Now Closed! Thanks to all who participated!
It's a hard season  We're all tired, feeling drained, full of grief, stressed out and overwhelmed by our anxiety and fear for the future. The recent school shooting in Texas means kids here in the U.S. are afraid to go to school. The war in Ukraine and other hotspots around the world battle for resolution and it seems as though the pandemic will never let go. How do we cope? How do we find the resilience we need to keep moving forward with joy in our hearts and God's vision of peace and justice as our focus?
One creative practice I discovered really helps me in the midst of all the turmoil and chaos of our world is the creation and use of my contemplative gardens. And to my delight I am discovering some of you are finding that same joy after reading Digging Deeper. So it's time for all of us to dig deeper and get our hands dirty in my new book. If you haven't got your copy of Digging Deeper: The Contemplative Art of Gardening yet no worries. I enjoyed writing this so much and am so encouraged by the early responses, that I have decided to give away a couple of copies.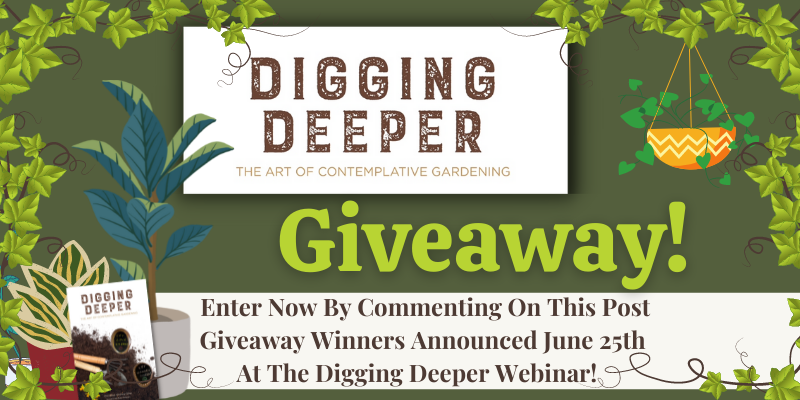 This is your invitation to a fun experiment: an opportunity to win a copy of Digging Deeper: The Art of Contemplative Gardening. To enter, simply comment on this post! You may choose instead to reply to this email, if you received this post via your subscription. However, that's not all – we are giving you more opportunities to enter!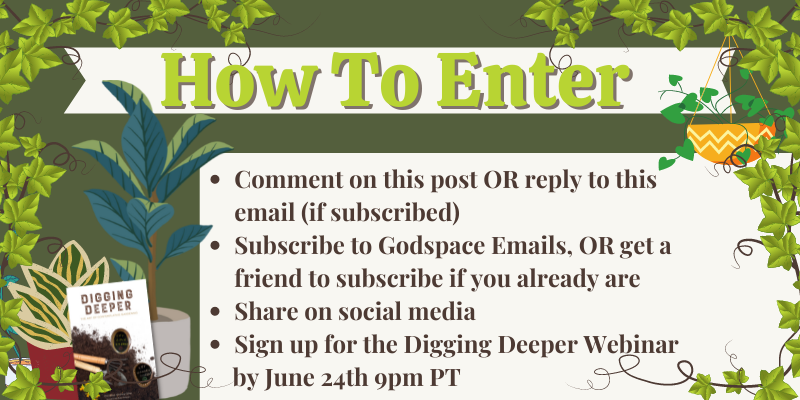 We really want to help you win a book, so there are other ways to enter too. Subscribe to Godspace Light and get a delivery of posts to your email. To subscribe, simply scroll to the bottom of this post and fill out the form. You may also visit our homepage and scroll to the bottom. If you are already a subscriber, never fear – get a friend to sign up for the Godspace email and get another chance to win.
Share on social media! Use the hashtag #godspacediggingdeepergiveaway so we can find your post OR tag Christine/Godspace if possible. If you share somewhere privately or you are concerned we will miss you, you can send a screenshot of your entry to our email. That will give you a third entry and chance to win. When you share, you can link to this post, or use this tinyurl: tinyurl.com/diggingdeepergiveaway
And to make it easier we have even designed a graphic for you to share: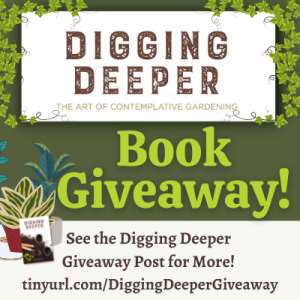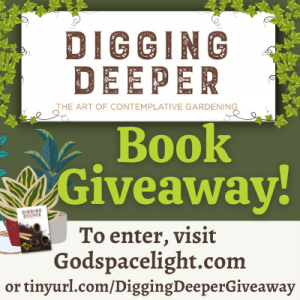 Finally, join us for the Digging Deeper Webinar. If you sign up by June 24th 9pm PT, it will count as an entry! Whether you enter the contest or not, consider coming to our Digging Deeper Webinar on Saturday, June 25th at 9:30 AM PT. It is free and I will be discussing the book along with announcing the winners and facilitating a fun discussion! Bring along one item you would like to incorporate in a contemplative garden or a photo of your already created contemplative garden and join the fun discussion. Click here for more information, or click here to sign up.
The contest will be open until June 24th 9pm PT. We will announce the winners at the webinar. Unfortunately, physical books can only be sent within the U.S. But we don't want our readers in other countries to miss out so will give 2 further pdf copies of Digging Deeper: The Art of Contemplative Gardening ONLY for those who live outside the U.S.
If you don't want to wait, purchase your own copy now and pass on the blessing. Gift your prize to a friend. Don't know much about the book? Listen to this video to excite your imagination:
To Subscribe, simply fill out this form!