by Carol Dixon
(Photo: Whittingham Vale looking towards the Cheviot Hills ©. GT Photos Alnwick Used with permission) 
I recently discovered to my surprise that in the Northern Hemisphere summer officially starts on 1st May!  Perhaps where I live the seasons haven't realised it – as my grandmother used to say 'Ner cast a clout afore May is out' (Never change into summer clothes until after the end of May). 
Until the Industrial Revolution and its inauguration of Workers Day, May Day was always celebrated as an Earth festival, and people tried to give creation a helping hand by marking the beginning of the month as a turning point in the changing seasons. Early May was originally a time of celebration of Flora, the Roman goddess of flowers heralding in the summer. The early Celtic peoples linked it to Beltane when domestic animals were driven through fires built with old wood taken from trees to encourage new growth (known as greening) before being taken to the summer pastures. The Germanic settlers added aspects of St  Walpurga's night on 30 April which was also celebrated with bonfires and dancing and the Roman Catholic church linked it to the Virgin Mary whose statues were often decorated with a crown of flowers on 1 May.  
I find that early May is a good time to enjoy the beauties of the natural world and to praise our Creator God who has entrusted us with the stewardship of our Earth. Living in the county of Northumberland in North East England with its beautiful coastline, wild moorlands and rolling hills makes it a wonderful place to experience the wonders of God's creation. I was brought up in Alnwick from where it was easy to look across to the Cheviot Hills which form part of the border between England and Scotland. On the top of one of the Cheviots – Yeavering Bell – are the remains of an old hill fort and in Anglo Saxon times it was the summer palace of the kings of Northumbria including King Oswald who later became a saint. 
One Sunday morning as I was driving to take a service at the church I had attended as a child, I stopped to look at the wonderful view across Whittingham Vale towards the hills (a favourite view of my Scottish father) and was inspired to write a hymn based on his favourite metrical Psalm (121) 'I to the hills will lift my eyes.'  I like to raise my eyes to the hills from time to time – to those summer pastures which remind me of the ancient landscape which has been watched over by our Creator even before the earliest Celtic Christians came to spread the Word of God in Northumberland. I invite you to join with me in praising God in word and song as we welcome the coming summer. 
Hymn: Towards the hills 
Towards the hills my eyes I raise, 
The Lord my God comes to my aid, 
He gives me strength, I give him praise, 
And I shall never be afraid.
Towards the sea I lift my voice, 
Above the rolling breakers' roar, 
Proclaiming God shall be my choice, 
And with the gulls my spirits' soar. 
To God alone I give my heart, 
In verdant pastures with him rest, 
And he and I shall never part, 
In him I am forever blest. © Carol Dixon 
*   *   *
Prayer: In sun and shade 
Glory be to God in the world around us; 
In sun and shade, day and night,  
And the rhythms of the seasons. 
*   *   *
Glory be to God! 
Glory be to God 
In the community in which we live; 
In love and laughter, sorrow and joy, 
And the patterns of human living. 
Glory be to God! 
Glory be to God in the way we live our lives; 
In giving and sharing, thanking and knowing, 
And in all that makes us Jesus' disciples. 
Glory be to God! 
Glory be to God in the world; 
In the search for justice and peace, 
In all that makes us one human family, 
Glory be to God! 
Glory be to God In the smallest of things; 
In tiny creatures, fleeting moments, 
The smallest seed of faith new-growing, 
Glory be to God! 
Glory be to God in greatness and majesty; 
In the tallest mountains, the highest cloud, 
The awesome dance of the whole cosmos, 
Glory be to God! 
Glory be to you, God 
Father, Son and Holy Spirit, 
Now and forever. Amen. © Richard Sharples 
One of my favourite Bible readings tells of Jesus love of the natural world (Matthew 6 v 25-30 JB Phillips) 25-30 "That is why I say to you, don't worry about living—wondering what you are going to eat or drink, or what you are going to wear. Surely life is more important than food, and the body more important than the clothes you wear. Look at the birds in the sky. They never sow nor reap nor store away in barns, and yet your Heavenly Father feeds them. Aren't you much more valuable to him than they are? Can any of you,  however much he worries, make himself an inch taller? And why do you worry about clothes? Consider how the wild flowers grow. They neither work nor weave, but I tell you that even Solomon in all his glory was never arrayed like one of these! Now if God so clothes the flowers of the field, which are alive today and burnt in the stove tomorrow, is he not much more likely to clothe you, you 'little-faiths'?
Poem: 'Consider the lilies' 
To walk in silence  
Is to walk with God,  
To see the smallest flower  
Is to see with God's eyes.  
To revel in the glory of the sky  
Is to share God's joy in creation.  
To love the unlovely  
Is to hold others in God's heart. © Carol Dixon  
As a youngster in church I remember an old lay preacher telling us 'The Easter season comes every day as we savour the gifts of our God who gave us this beautiful Earth. All he asks is that we take care of it for him'. 
Hymn: Praise God for Easter flowers (Tune Rhosymedre; Organ played by Rob Charles, used with permission) https://youtu.be/HIA5G-3mNCU 
Praise God for Easter flowers 
that cover all the earth, 
their vibrant glowing colours  
a promise of new birth. 
Praise God for all his love and care, 
His glory displayed everywhere, 
His glory displayed everywhere. 
Praise God for morning dew 
that sparkles all around, 
with myriad shimmering hues 
refreshing thirsty ground. 
Praise God for all his love and care, 
His glory displayed everywhere, 
His glory displayed everywhere. 
Praise God for risen life 
with each and every breath; 
and praise the living Christ 
who conquers fear and death. 
Praise God for all his love and care, 
His glory displayed everywhere, 
His glory displayed everywhere. © Carol Dixon 
Blessing: 
The blessing of the quiet earth, 
Upholding you, strengthening you. 
The blessing of the wind that blows, 
Inspiring you, strengthening you. 
The blessing of the fire that burns, 
Warming you, refining you. 
The blessing of the water that flows, 
Delighting you, refining you. 
The blessing of the God of life, 
Whom we come to know in Christ, 
And who lives in us through the Spirit, 
Be yours this day, and always. Amen. © Richard Sharples 
(Prayers by Richard Sharples and Easter Flowers hymn from Summer publ. by the Iona Community Wild Goose publications.  copyright © WGRG, Iona Community, Glasgow, Scotland. www.wildgoose.scot. Reproduced by permission.)
---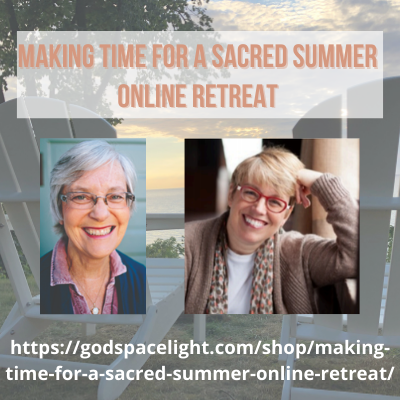 How will you make space for God this summer? We all need to refuel after a crazy year. What if we plan to make this year into a Sacred Summer?
Available as an online course, sign up here to gain 180 days of access while you work through this retreat at your own pace. Join Lilly Lewin and Christine Sine in the awe of the broad array of summer symbols that can gain spiritual significance for us when we stop and think about them. Everything from beachcombing to putting on suntan lotion can be the inspiration for practices that draw us closer to God.
Ground yourself in the earth and its summer season where you live and find the ways that God is speaking through it – all the details can be found here!