by Melissa Taft
#ICYMI – a handy acronym for In Case You Missed It. There has been plenty going on here on Godspace – here are some highlights!
With nearly 2k members and growing, our little spot of community on Facebook is a lively place to be! Whether joining us for a Facebook Live, for a daily reflection from one of our members, or for a welcoming community sharing a wide variety of interesting topics, there is a little something for everyone. It's a good way to keep up with all things Godspace and Christine Sine – events and upcoming releases, news from Christine and others, and even giveaways! You can find us at Godspace Light Community under groups on Facebook.
#ICYMI…the latest FB Live can be found uploaded a day or two later on Christine's YouTube Channel as well as the group. The most recent one with Tom Sine on the topic of Earth Day was quite popular!
Socials
Of course, Facebook is not the only place you can find Christine. As I mentioned, if you'd like to watch the current Facebook Live but can't participate live (or don't have a Facebook account), you can always keep an eye on Christine's YouTube channel. You can also find Godspace on Instagram, and Christine on LinkedIn, Twitter, Pinterest, and Instagram.
#ICYMI: Christine posted a hint at something very exciting on her Instagram!
Resources
Godspace continues to be a resource for many of you. Our Stations of the Cross post was one of the most popular over the past month – we pray it brought inspiration and blessing. Understandably, Ukraine is on our hearts and lips. Many of you found your way to this beautiful visual liturgy for Ukraine. In the past week, this Litany for Mother's Day has captured attention. Just over a week away in the US – now is a good time to reflect and prepare.
ICYMI: Another popular post this week, Christine's Meditation Monday: A Well Watered Garden hints of our current theme on Godspace Light and of things to come!
---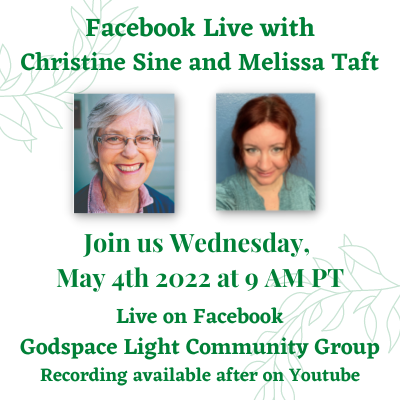 On Wednesday, May 4th at our regular time of 9 am PT, join Christine Sine and Melissa Taft for a discussion on Restoring Rhythms and Seasons. Live on Facebook in the Godspace Light Community Group. Can't join us live? Catch it later on youtube!