Last week was both Earth week and Easter week, a convergence that held great significance for me as I grapple with the seeds of a new book planted but not yet birthed in my soul. It is a book about restoring the rhythms and seasons and our connection to the earth that God intends for me.
As I begin my journey I have chosen three books to guide me. Each is very different, but already they have inspired me and stretched my thinking.
The first is A Watered Garden: Christian Worship and Earth's Ecology where Benjamin Stewart points out that Christians in the Southern Hemisphere talked about the disconnect between the cycles of the liturgical year and the ecological year in the southern hemisphere, which in turn reminded Northern Hemisphere Christians of the deep connection that there should be. Yes that's it, I thought. Even though I live in the northern hemisphere and can delight in the wonder of spring bursting forth all around me at Easter, I still struggle with those who do not live with these symbols – be it in the Southern Hemisphere, at the equator or in urban areas with little if any greenery. They too need symbols of hope and resurrection that connect them to the earth and to the rhythms of their lives. How do we help others connect the story of Easter to the story of creation in the same way my first spring in the northern hemisphere did for me?
The second book is Worshiping in Season – Ecology and Christ Through the Liturgical Year by Joseph E Bush Jr., a fascinating book that walks readers through the liturgical seasons, helping us make connections to our worship and creation that most of us are unaware of.
Liturgically, Ash Wednesday launches us on a Lenten journey that concludes in many churches with baptismal waters on Easter, waters of renewal and of rebirth. We see Earth walks with us, walks in us, on this journey. Worshiping in Season – Ecology and Christ Through the Liturgical Year 25.
As I thought about this today, I was reminded of what I wrote a few years ago in my book Return to Our Senses: Reimagining How We Pray :
Blessing of water is symbolic, not just of life, but of transformation. Every use of water transforms and renews. When we drink it we rehydrate dry and thirsty cells, we cleanse toxins from our bodies and we revitalize our energy. When we sprinkle it on our gardens it renews the dry and thirsty ground and gives life to every plant. When it rains from the clouds it refreshes and renews the very air we breathe.
Maybe a vial of water would be a more appropriate Easter symbol than an empty cross.
My third guide is The Book of Hope: A Survival Guide for Trying Times by Jane Goodall and Douglas Abrams. I am enthralled by her stories of the resilience of trees that survived the devastation of the atomic blast to Hiroshima at the end of WWII .  I wept as I read about the 2 five-hundred-year-old camphor trees that survived.  Not a single leaf survived but they were alive and every spring the tree puts out new leaves. Many Japanese regard them as holy monuments of peace and survival.
As I read about these trees I realize how desperately we all need these kinds of symbols to help us connect more intimately to earth symbols, which are often far more powerful than the symbols we use.
I experienced that this year as I celebrated Lent by using my theme "Beauty out of Ashes." My Beauty sign – created out of the ashes of one of my masks, still sits on my desk. It has been a wonderful seasonal symbol that could also be used by those recovering from fires, war or drought. We all need these kinds of connections to remind us that there is always hope in the ashes.
So how do we find them? Some of us do not connect strongly to the traditional liturgical themes but unfortunately have not found other themes to replace them. In fact some of the worship songs we use disconnect us even further from creation and our responsibility to it. Others have never integrated their liturgical worship to creation. That is one theme I will explore in my new book and as I do so I am very grateful for my friend Lilly Lewin and her ability to connect everyday items to the seasons, not just the liturgical seasons, but also the seasons of world events we are impacted by. Her most recent Freeerange Friday: Easter Prayers for Ukraine and Russia, where she uses sunflowers, the national flower of Ukraine, and chamomile flowers, the national flower of Russia, as a focus for prayer.
What symbols help you maintain your connections between worship and creation? What other suggestions do you have?
NOTE: As an Amazon Associate I receive a small amount for purchases made through links above. Thank you for supporting Godspace in this way. 
---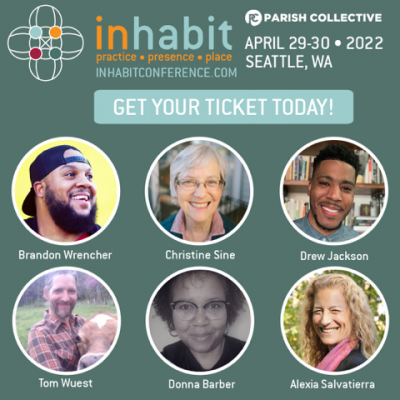 Join Christine Sine, Tom Sine, and others for Inhabit 2022 on April 29-30th in Seattle- a live conference by Parish Collective. Explore stories of hope and be encouraged to be the church in your neighborhood. You are not alone – the everyday realities are carried by us all. Click here for more info!