Holy Week is almost here.
And if you are in shock that the Calendar has sped through March and is already deep into April, you are not alone!
As one friend said … I can't believe it's Palm Sunday THIS Sunday! And as another friend said at the beginning  of Lent, "I'm not doing Lent this year, we've been living Lent for the past two years!" This is so true! The layers of Lent, the layers of trauma and exhaustion are many! Thanks pandemic, thanks politics, thanks 24/7 news! And it still grows for some of us daily. We really do need to baby step into Holy Week.
Originally Lent started now … living into the last week of the life of Jesus rather than a whole 40-day fasting experience.
Tradition says that Mary, Jesus's mom was the first to walk the Way… what became the stations of the cross to remember the suffering of her son.
How can we remember and engage in the Story this week?
You might find some stations of the cross to pray with at your local Catholic Church.
Start with Palm Sunday…
Start by reading Luke 19:28-48
 After telling this story, Jesus went on toward Jerusalem, walking ahead of his disciples. 29 As he came to the towns of Bethphage and Bethany on the Mount of Olives, he sent two disciples ahead. 30 "Go into that village over there," he told them. "As you enter it, you will see a young donkey tied there that no one has ever ridden. Untie it and bring it here. 31 If anyone asks, 'Why are you untying that colt?' just say, 'The Lord needs it.'"

32 So they went and found the colt, just as Jesus had said. 33 And sure enough, as they were untying it, the owners asked them, "Why are you untying that colt?"

34 And the disciples simply replied, "The Lord needs it." 35 So they brought the colt to Jesus and threw their garments over it for him to ride on.36 As he rode along, the crowds spread out their garments on the road ahead of him. 37 When he reached the place where the road started down the Mount of Olives, all of his followers began to shout and sing as they walked along, praising God for all the wonderful miracles they had seen.

38 "Blessings on the King who comes in the name of the Lord! Peace in heaven, and glory in highest heaven!"

39 But some of the Pharisees among the crowd said, "Teacher, rebuke your followers for saying things like that!" 40 He replied, "If they kept quiet, the stones along the road would burst into cheers!"

41 But as he came closer to Jerusalem and saw the city ahead, he began to weep. 42 "How I wish today that you of all people would understand the way to peace. But now it is too late, and peace is hidden from your eyes. 43 Before long your enemies will build ramparts against your walls and encircle you and close in on you from every side.
44 They will crush you into the ground, and your children with you. Your enemies will not leave a single stone in place, because you did not

recognize it when God visited you.[b]"

45 Then Jesus entered the Temple and began to drive out the people selling animals for sacrifices. 46 He said to them, "The Scriptures declare, 'My Temple will be a house of prayer,' but you have turned it into a den of thieves."47 After that, he taught daily in the Temple, but the leading priests, the teachers of religious law, and the other leaders of the people began planning how to kill him. 48 But they could think of nothing, because all the people hung on every word he said.
After listening/reading the gospel, picture the scene. Imagine the crowds. What do you see, smell, notice about the things happening around Jesus. How are you feeling? What do you notice? Take some time to consider this and talk to Jesus about how you are feeling. You might journal about this.
It's Palm Sunday this Sunday at the start of year three of the Pandemic and as a war rages in Ukraine.  Are you cheering today or feeling more like jeering this Palm Sunday? No emotions are wrong. We are loved by Jesus just as we are. Talk to Jesus about where you are today.
"Hosanna," an Aramaic word that means "O, save (bring the victory), Lord!" The crowds along the road were looking for salvation from the Empire of Rome. What "elements of empire" would you like to be saved from today? What areas of your life, or problems you see around you would you like to be delivered from today? Talk to Jesus about this.
How does it make you feel to know that Jesus weeps? He weeps for Jerusalem and for everyone who doesn't recognize him and the peace He gives. Who in your life needs to know this peace? Pray for these people. Maybe it's you today! ask Jesus to give you more of his peace and eyes to see Him at work.
What things are getting in the way of people experiencing God, the church, and prayer? What things need cleansing? What is blocking, or cluttering up your temple court today and separating you from God? Talk to Jesus about this and allow Him to cleanse you!
Notice where you are today.
Be compassionate and curious.
Know that however you are
Up or down
Confused or confident
Jesus sees you & loves you!
Jesus invites you to go slowly into Holy Week and experience his last week with him.
Here are some ways to get you started:
PRAY Through the Week with Art:
Palm Sunday Slide Show of Art by James Tissot
Asian and African Art for Holy Week
LISTEN AND WATCH: You might  also create your own Holy Week Play List
ACTION: Take a walk outside and imagine Jesus arriving in your city or neighborhood. Imagine the streets lined with people cheering. Imagine the city leaders or the leaders of churches getting upset. FIND A STONE/ROCK along your walk to use as a daily reminder to praise Jesus and to remind you to pray for your city & neighborhood.

We are invited to walk with Jesus in his last week of life…take a walk and be with Jesus outside…what do you notice? Watch for signs of life. Breathe. Notice the clouds, the sunshine, or stars. Listen to the wind, the birds, even the traffic.

Jesus is with us in all the mess of our lives. In the Message Bible, Eugene Peterson starts the passage before the Palm Sunday/Triumphal Entry into Jerusalem in Luke 19:28 with the heading "God's Personal Visit." Jesus came to Earth as one of us, TO each of us and FOR each of us. I am grateful that Jesus knows our pain and weeps with us. I am grateful that Jesus understands our suffering and  longs for each of us to know his love and peace.

Jesus, We enter the week slowly with you. Help us to walk with you daily. AMEN
©lillylewin and freerangeworship.com
---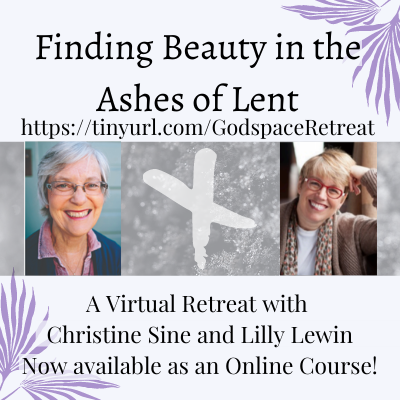 Lent continues, the season is still full of possibility and promise. Are you finding ashes and desiring beauty? Now available as an online course, this virtual retreat will help you to lay out your garment of lament and put on your garment of praise. Gather your joys and release your grief with Christine Sine and Lilly Lewin! Click here for more info!