We've been exploring the LOVE of God this Lenten Season…Asking "How do we fall more in love with Jesus between now and Easter?"…and looking at how we find beauty from the ashes of life.
Are you feeling like you are finding beauty amongst the ashes of life these days?
Are you able to experience the love of Jesus a little bit more each day or each week?
As an extreme extrovert and an enneagram 7, the last two years of the pandemic have taken their toll on my mental health. I've always been prone to anxiety and depression but my 'sunny' personality can often hide how down I am and my 'sevenness' tends to reframe things into a positive light so I'm sometimes caught off guard by my depressive seasons. In working with my therapist this week, she noticed that my depression is less than it was last fall, but it's still there, and still causing me to sit in ashes rather than sitting in the love of Jesus…my words, not hers.
There are so many layers with the pandemic, politics, racism, war in Ukraine, etc…
I've been feeling lost, confused hopeless; not hopeless really, just lost…lacking direction and purpose since most of my creative work has yet to reappear in person.
I need the reminder that I am deeply loved just as I am, right where I am right this very minute! Maybe you need this reminder too.
This Lenten season in our house church gatherings, at thinplace, we are looking at passages in the Bible that show us the love of God. This week we looked at the Parable of the Prodigal Son, or better named, the Parable of the Loving Father…
Find something in your house that represents a party or celebration…a party hat, a gift bag, a festive glass or even some confetti.
NOW READ THE PARABLE IN LUKE 15
15 Now the tax collectors and sinners were all gathering around to hear Jesus. 2 But the Pharisees and the teachers of the law muttered, "This man welcomes sinners and eats with them." 11 Jesus continued: "There was a man who had two sons. 12 The younger one said to his father, 'Father, give me my share of the estate.' So he divided his property between them.

13 "Not long after that, the younger son got together all he had, set off for a distant country and there squandered his wealth in wild living. 14 After he had spent everything, there was a severe famine in that whole country, and he began to be in need. 15 So he went and hired himself out to a citizen of that country, who sent him to his fields to feed pigs. 16 He longed to fill his stomach with the pods that the pigs were eating, but no one gave him anything.

17 "When he came to his senses, he said, 'How many of my father's hired servants have food to spare, and here I am starving to death! 18 I will set out and go back to my father and say to him: Father, I have sinned against heaven and against you. 19 I am no longer worthy to be called your son; make me like one of your hired servants.' 20 So he got up and went to his father.

"But while he was still a long way off, his father saw him and was filled with compassion for him; he ran to his son, threw his arms around him and kissed him.

21 "The son said to him, 'Father, I have sinned against heaven and against you. I am no longer worthy to be called your son.'

22 "But the father said to his servants, 'Quick! Bring the best robe and put it on him. Put a ring on his finger and sandals on his feet. 23 Bring the fattened calf and kill it. Let's have a feast and celebrate. 24 For this son of mine was dead and is alive again; he was lost and is found.' So they began to celebrate.

25 "Meanwhile, the older son was in the field. When he came near the house, he heard music and dancing. 26 So he called one of the servants and asked him what was going on. 27 'Your brother has come,' he replied, 'and your father has killed the fattened calf because he has him back safe and sound.'

28 "The older brother became angry and refused to go in. So his father went out and pleaded with him.
29 But he answered his father, 'Look! All these years I've been slaving for you and never disobeyed your orders. Yet you never gave me even a young goat so I could celebrate with my friends. 30 But when this son of yours who has squandered your property with prostitutes comes home, you kill the fattened calf for him!'

31 "'My son,' the father said, 'you are always with me, and everything I have is yours. 32 But we had to celebrate and be glad, because this brother of yours was dead and is alive again; he was lost and is found.'" LUKE 15: 1-2 and 11-31 NIV
You've heard this parable many many times,
What did you notice today that you haven't noticed before?
With whom did you identify when you first heard it? Who do you identify with today?
How have you felt like the youngest son?
How have you felt like the oldest son?
What do you notice about the Father?
When the son returns home, the father has an instant response! It is to celebrate his son and throw him a party! And not just a small party, but one with music and dancing. A party loud enough that the oldest son hears the ruckus and wants to know what is going on.
How does it feel to be celebrated by God even when you don't feel worthy, even when you've blown it to the extreme?
How do you need God to throw you a party today? What would that look like? Feel like? Take time to really imagine the party/celebration.
Hold that element/item of the party; the hat, gift bag or box, the party favor that you found and imagine it!
Imagine a party that God/Jesus throws for you… just for you because God loves you so much!
What does this look like?
Is it outside or inside?
What is the mood… quiet or loud, mellow or raucous?
What are you wearing? Informal, formal, casual or dressy? Costumes?
Imagine the food… what kind of food is being served at your party?
A picnic, bbq, something fancy? A sit-down dinner or a buffet? A bunch of courses or just appetizers or just desserts?
What are you drinking?
What kind of music is playing?
Listen to it playing
Notice the colors, the decorations …the lighting…string lights, candlelight, strobe lights? A combination?
Jesus is throwing this party just for you! In your honor…because he loves you so much! Because you are worth celebrating!
How does this make you feel? It might feel uncomfortable at first because you aren't used to being celebrated…and maybe you are used to planning & throwing parties for other people but not having someone host the party just for YOU! With all the details in mind, knowing all the things that would make you happy!
Jesus knows you intimately
He knows your needs, your wants, your desires. Jesus knows what makes you happy and brings you joy.
At this party, you are surrounded by these things & these people.
Be with Jesus at the party. Allow the love of God to surround you!
Actually feel the embrace of God.
Take time to write down, journal what this party would look like and be like.
The party Jesus would throw for me would be outside on a crisp fall afternoon and last into the early evening. Sunflowers and zinnias in old splatter-ware pitchers and in mason jars on the tables and there would be baskets of crayons to color on the butcher paper table cloths. The vibe would be "casual elegance."
I'm wearing jeans and a nice sweater, a new one that Jesus gave me even though I came home smelling like pigs! There is a fire pit with Adirondack chairs around it and some rocking chairs just for fun. There is good wine, and dark chocolate for dessert. And supplies for making s'mores around the fire. The music is mellow but fun…jazz and blues, Etta James and Eric Bibb and later a sing-along with guitars.
The party might even be by Lake Michigan or on puget sound on a sunny day! Lots of fresh veggies, cheese and good bread….maybe some grilled seafood as a main. And Jesus would be sitting there at the table, smiling at me with his great love reminding me that this is home and this is what his love really looks like for me.
Use that element/item of the party to remind you this week that Jesus wants to celebrate you and to help you remember that you are so worthy to be celebrated!
Keep it out where you can see it. And remember that whatever you see as the most broken area of your life, or the biggest failure, you are STILL WORTHY TO BE CELEBRATED! You are a CHILD OF GOD, Welcomed into God's home!
image at top: The Prodigal Son by Pierre Puvis de Chavannes (1824-1898) in the National Gallery in Washington, DC
©lillylewin and freerangeworship.com
---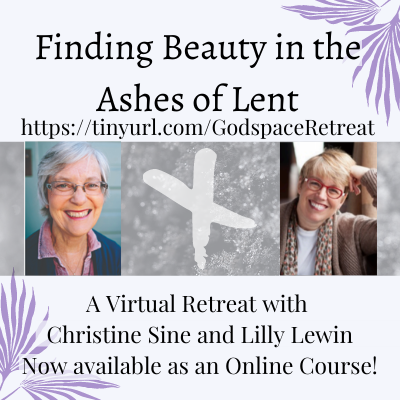 Lent continues, the season is still full of possibility and promise. Are you finding ashes and desiring beauty? Now available as an online course, this virtual retreat will help you to lay out your garment of lament and put on your garment of praise. Gather your joys and release your grief with Christine Sine and Lilly Lewin! Click here for more info!