As you may know if you have read a previous blog of mine, we have a new garden. I suspect this garden will have many lessons to teach me, some of which no doubt will be more easily learnt or welcome than others. It will be transformed in time, but before it becomes even a fraction of what it could be, what we hope it can be, there is a lot of work to be done.
Some of this labour involves removing things, cutting away at what is dead – where there was once life, but now there is no more. To grow new things, for colour to come again, space needs to be created. I find it difficult to cut down shrubs and plants in this extreme way – it is very different from pruning where I know the apparent wound will lead to new growth – the kind Jesus warned us was a part of the life of faith.
So as I cut way the old growth – again and again, trying not to think of what the plant once was – I reflected how apt this was at a time of my life following retirement from a church community I loved and a major move, things had – have – felt a little adrift. This is not to minimise the beauty of where I now live or – most importantly – that the move was family-driven, and they are more precious than I can say. But spiritually it felt like a time of Lent, even before the season arrived.
In the end, all the bush was cut away. Just the root to remove. But it simply would not be budged. I tried everything, all the usual tricks a gardener possesses. Nothing worked. This root simply refused to be extricated from the soil. Stubbornly, it was determined to remain.
So I stopped, and looked. Perhaps rather than a problem to be removed it was a message to be heard. And I heard a gentle voice remind me that, for me as well as this corner of the garden, even though everything might be stripped away, there is a root there, which goes very deep, held firm in the soil of the love of God. Some things are solid, even when all else seems to have been lost.
In time, of course, I will need to remove that root. But by then the garden, and the Gardener, will have something new to show me.
---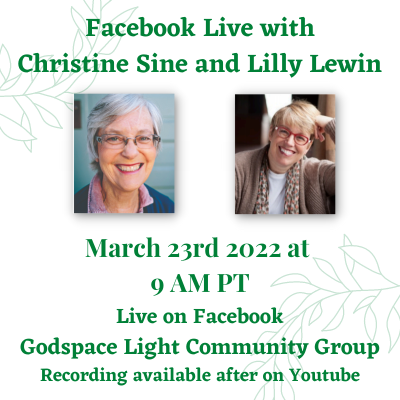 Join Christine Sine and Lilly Lewin on Wednesday, March 23rd 2022 at 9 am PT (check my timezone) for our next FB Live happening on our Godspace Light Community Facebook Group! Can't make it? No worries–we upload the sessions on our youtube channel so you can still enjoy the lively discussions and interesting topics. And catch us live for the next session–happening here!