This week, I am at the Abbey of Gethsemani nestled in the rolling hills of Kentucky for my annual silent retreat. It's actually been two years since I've been to the Abbey due to covid19. My husband and I were here in February of 2020 just before the world changed forever. I've spent some time looking back at the past two years…considering where I've been and what I've been feeling and learning.
One of my traditional practices for this time away is to look back through my phone at the photos I've taken over the last year…
What do I notice? What sparks my attention? What has God been up to in my life?
In taking the time to look back through my photos, I've noticed how much we didn't know at the beginning of the pandemic…how long it would last, just how we'd all be affected and changed. I noticed the holiday pictures of tables for two and take away meals rather than family gatherings and cooking. Lots of walks outside in my neighborhood and in nature.
I noticed how my house became more messy as I spent more and more time there without in person hospitality to get me to do real cleaning.
I noticed the piles of books grew larger behind my desk.
Also I noticed how I learned to lead creative prayer and worship from my living room rather than on the road. Our house church went online and expanded to a second night and second group. I marvel at how God was able to use Zoom to build community and God's kingdom even though we were all over the world and not able to meet together.
I also noticed that my frustration grew as the pandemic went on and on…and as conflict around masks and vaccinations grew. My anxiety grew too. I so longed for everyone to be safe and well. I longed for people to pay attention to the vulnerable and to the health care workers who were on the front lines day in and day out. I spent time praying around my neighborhood and praying for our country and its leaders.
Two words seemed to fill the last two years for me…Exhaustion and Grief.
Exhausted by all the emotions…the emotional roller coaster of uncertainty and the multiple variants…the changes of work, relationships, rhythms…and in Nashville, we had a tornado and a bombing to add to the land of covid.
I've grieved the loss of innocence and innocent lives.  Still grieving the brokenness all around us in the systems of injustice that we now see so much more clearly than we did before. Grieving my inability to change things and my participation in the systems that have caused so much pain.
I've spent a lot of time confessing my sins this week…especially my judgment of others. How much I need Jesus to heal me!
Jesus led me to Isaiah 61…a chapter that has always inspired me since I was a young follower. And now, I need these words more than ever!
The Spirit of the Sovereign Lord is on me, because the Lord has anointed me to proclaim good news to the poor. He has sent me to bind up the broken-hearted, to proclaim freedom for the captives and release from darkness for the prisoners,[a] 2 to proclaim the year of the Lord's favour and the day of vengeance of our God, to comfort all who mourn, 3 and provide for those who grieve in Zion –to bestow on them a crown of beauty instead of ashes, the oil of joy instead of mourning, and a garment of praise instead of a spirit of despair.
BEAUTY FOR ASHES! I sure have felt the ashes of the last two years!
And honestly, I was feeling the ashes of life even before the pandemic hit the fan!
Everyone's experience of these last two years has been so different. I've had friends move, change jobs, lose friends and loved ones to the disease and to conflict caused by the pandemic. Everyone has some kind of ashes they are in or ashes they've been in recently.
I believe we all need BEAUTY for ASHES right now!
What does that look like for you? Maybe take time to look back at your last couple of years … or if that feels overwhelming, just the last couple of months.
Consider the things that have felt scorched in your life during the pandemic…
Consider what life was like for you in the "before times" … and how they are now … What do you notice?
What needs to die and pass away?
What needs to be resurrected?
READ Isaiah 61 in the Message…
The Spirit of God, the Master, is on me
because God anointed me.
He sent me to preach good news to the poor,
heal the heartbroken,
Announce freedom to all captives,
pardon all prisoners.
God sent me to announce the year of his grace—
a celebration of God's destruction of our enemies—
and to comfort all who mourn,
To care for the needs of all who mourn in Zion,
give them bouquets of roses instead of ashes,
Messages of joy instead of news of doom,
a praising heart instead of a languid spirit.
Rename them "Oaks of Righteousness"
planted by God to display his glory.
We get bouquets of roses instead of ashes! That sounds like what we all need right now! A bouquet from Jesus!

This week, build a fire and consider the Ashes you've experienced. How do you need Jesus to turn them into a Crown of Beauty instead of Ashes? Are you willing to let Jesus turn the ashes into something beautiful in your life?
Buy yourself a rose or two, or even a whole bouquet! Let these roses be a reminder of the great love and hope of Jesus! That Jesus can turn even ashes into things of beauty for each of us!
And Join us on Saturday February 26th for our Lenten Retreat "Finding Beauty in the Ashes of Lent" where we will look deeper into Isaiah 61 and how we can participate in the shalom of God as we journey towards Easter.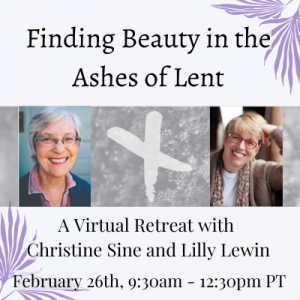 ©lillylewin and freerangeworship.com
---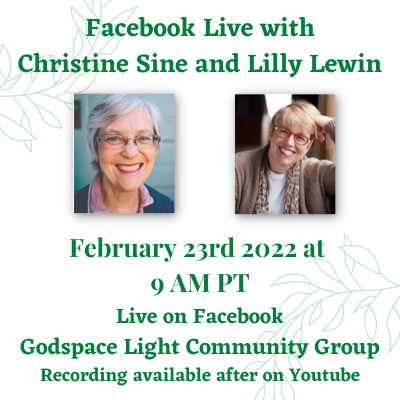 For our next FB Live, Christine and Lilly will talk about Celtic Christianity! Join Christine Sine and Lilly Lewin on Wednesday, February 23rd 2022 at 9 am PT (check my timezone) for our next FB Live happening on our Godspace Light Community Facebook Group! Can't make it? No worries–we upload the sessions on our youtube channel so you can still enjoy the lively discussions and interesting topics. And catch us live for the next session–happening here!