by Melissa Taft
You may have noticed a lot of posts about beauty these days. Perhaps we are all longing, in these times of unrest and disaster, for hope. It has been a hard couple of years all around – both personally for many and also globally. We have grieved collectively for the fires and the earthquakes and the deaths and the upheaval. We are collectively experiencing trauma and the remembrance of trauma, and it can be difficult at times to look forward. When the future is clouded or dark, how can we continue on in hope?
While I personally believe that embracing the hard, feeling one's feelings, and holding grief is necessary and human, I also believe that one of the best ways through to healing is by equally embracing the beauty – and holding grief in tension with gratitude. It is possible to experience wonder, joy, beauty, happiness, and hope while also acknowledging grief, difficulty, and being in the ugly trenches.
Please don't misunderstand – this is not meant to be "toxic positivity." I am a bit of a "Pollyanna," but there is a difference between telling the downtrodden that they should figure out how to be happy in their place anyways, and between offering true hope. One is a command or a guilt trip, and the other is an offering of what exists – leaving space for those in desperate places to partake as they can. So often as Jesus prepared to heal, He first met people where they were and acknowledged them with empathy. He truly is the God-Who-Sees, and He never shamed people for their circumstances or sorrow. If you are in a hard place, there may not be a human 'silver lining' you can see – and that's okay.
Maybe right now it's hard for you to see beauty – that's also okay. I would like to invite you, if you can however, to partake of the hope and beauty that God offers to you. He offers beauty in many forms and many ways, to all. I imagine that you may seek it in your daily life, whether realizing it or not. How often do you scroll Instagram or Facebook and stop on a video about something beautiful that has happened, or watch a feel-good movie? Share a humorous image? It's clear after all that we seek out heart-warming stories – whether real or fictional – and have since time immemorial.
That's why I believe in the power of Beauty – it grounds us and it connects us while lifting our spirits no matter what circumstance we find ourselves in. My grandma Robbie, whom I've written about before, truly believed that beauty could save the world. She believed that God is Beauty, and that His Kindness leads us to Him. When God promises that He "knows the plans (He has) for you, plans not to harm you but to bless you and give you hope and a future," it isn't about your ability to bootstrap yourself into hope. It's about the hope and future He already has available for you.
I loved Christine's Meditation Monday about seeking beauty over ugliness. One of the practices she encourages is to write down three good things each day. It's interesting to see how that little practice can grow seeds of gratitude and provide relief in the midst of difficulty. Many of you seemed to resonate with that post as well–and little wonder! We are heading into two years of Covid times and there has been much grief and sorrow and ugliness.
But there has also been beauty and opportunity for hope. John van de Laar's post on How Beauty Can Save Us powerfully reminds us of how beauty transforms difficult spaces – recalling the artists of Sophiatown. Steve Wickham invites us to consider how Joy is possible and brings possibilities even in the "belly of grief." Elaine Breckenridge's relatable narrative about Covid upending rituals and the gifts she found in the midst of it – God's Gifts in Creation – resonated with many who also had to pivot and find a current normal.
My current normal is rather frantic – I am in a season of difficulty, transition, and change. I hang on to these things, then, with an eager heart. My Grandma Robbie had another tip – put something fun on the calendar. "If you always have something to look forward to, you can keep going," she was fond of saying. I invite you to put something on the calendar today to look forward to. Even if you create it out of thin air. Even if it's silly or small. Find something to look forward to. Perhaps the weather will be clear enough to enjoy a sunset; mark it down. Find the bits of beauty God has scattered through your life, and let them be breadcrumbs of wonder leading you to hope.
Photo by Sharon McCutcheon on Unsplash
---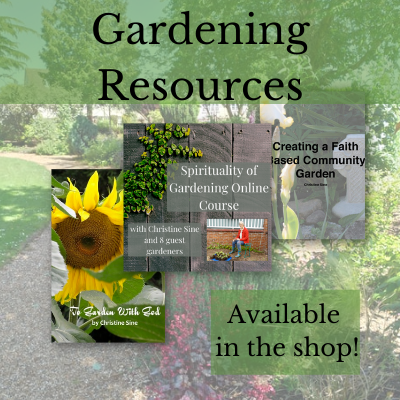 Whatever season your garden is in – winter, summer, spring, or fall – there is something to enjoy and tasks to accomplish. And there is spirituality to put into practice! Find God and community through the richness of soil and the shared values of growth. We have many resources available to help – click here to explore!