by Melissa Taft
As January eases into February here in the northern hemisphere, our sacred rhythms hold a necessary tension between the slumbering rest of Winter and the preparation for the new life of Spring. In the southern hemisphere, we have begun the preparations for harvest and the slowing down of winter. Wherever we are, it is time to rest, but also time to grow and prepare. The Church Calendar still celebrates the Christmas miracle in some traditions, but for most, at least in the northern hemisphere, Christmas has waned and we are in the wintering period before the next series of high events–Lent and Easter. While Lent–the Advent of Easter–is still more than a month away, many of you have begun preparing for it.
And so we too prepare–updating our resources and creating new ones. For example, we are thrilled to announce that Lilly Lewin and Christine Sine are partnering up once again for an online retreat focused on Lent! There will be more details in the weeks to come, but for now, please save the date–Saturday, February 26th from 9:30 am-12:30 pm.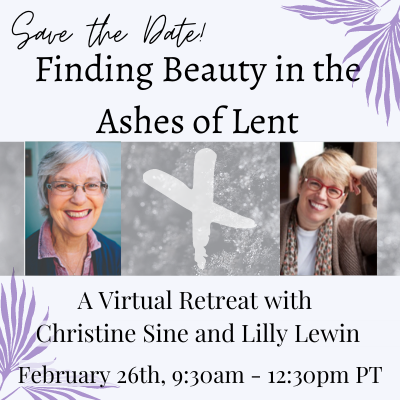 There are several resources available now in the Godspace Shop–including a free download on activity ideas for all 40 days of Lent. Additionally, the post Resources for Lent has been updated for 2022 and will continue to be updated as we find new and interesting resources to add. And of course, our master list Lent & Easter Resource Page has been helpful to many of you. We are working to update that as well, so stay tuned and check back through the season. We will be sure to have new things to add and there will be new posts to come, so you may want to bookmark and check in frequently!
---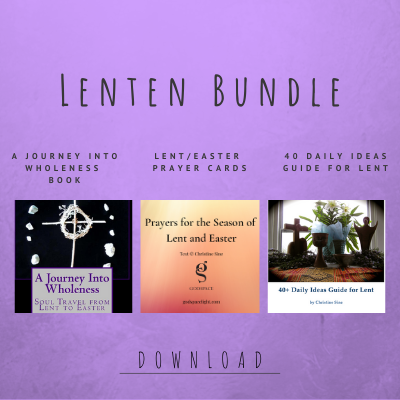 Enjoy beautiful prayer cards, an inspirational devotional, and 40 daily ideas guide for Lent — in a convenient downloadable bundle form! For all the details, click here!