At this time of year everyone posts their favourite books from the last 12 months. Part of the reason, I suspect, is that most of us don't have much brainpower left after our Christmas festivities.
I love reading what inspires my friends but must confess I hate ending up with another long list of must-read books – and from someone who loves reading as much as I do that is quite a statement. So this year I will keep it simple and hopefully not add much to your reading list. There are only three books on mine. These are the books that were most impactful for me. I have read them all, or at least parts of them, several times. Because it's such a short list, I expanded it to include my three most inspiring quotes from the year as well as the three posts I most enjoyed writing. Hope you enjoy it. Feel free to add your suggestions in the comments or on Facebook.  I would love to know what inspired you this year – not just books but quotes and blog posts you read.
My Three Best Reads of 2021
Howard Thurman: With Head and Heart: The Autobiography of Howard Thurman. – I did not review this book but do mention and quote from it in the post Six Tips for a Happier Life 
Diana Butler Bass: Grateful: The Transformative Power of Giving Thanks (No re3view but quoted from in Making Gratitude a Lifelong Habit)
Curt Thompson: The Soul of Desire: Discovering the Neuroscience of Longing, Beauty and Community (See God is Creating Beauty in Us)
My Three Most Inspiring Quotes of 2021
From Coley Arthur Riley @blackliturgies: 
In Advent we put all our hope in the blackness of a womb. As we wait, we remind ourselves that darkness (which is far too often reduced to a trite symbol for sin and death) actually has the unique capacity to bear the divine. In Advent we reclaim the holy dark.
From Two Hands: Grief and Gratitude in the Christian Life by Lynne Baab.
The work of the mature person is to carry grief in one hand and gratitude in the other and to be stretched large by them. How much sorrow can I hold? That's how much gratitude I can give. If I carry only grief, I'll bend towards cynicism and despair. If I have only gratitude, I'll become saccharine and won't develop much compassion for other people's suffering. Grief keeps the heart fluid and soft, which helps make compassion possible. (Lynne is quoting from The Wild Edge of Sorrow: Rituals of Renewal and the Sacred Work of Grief.) (Read more about her book here )
From I Wonder; Exploring God's Grand Story: An Illustrated Bible by Glenys Nellist.
No one heard the Word. The birds didn't hear it. The trees didn't hear it. The mountains didn't hear it … because they had not been created yet. The Word came soft, like a whisper when there was nothing. The Word came into an empty world where it hovered and hung over the darkness of the deep. And just for a moment, there was nothing but silence. And when the time was just right, God's voice echoed into the silence and whispered the world into being. (Read more in Glenys Nellist's post here)
The Three Most Fun Posts I Wrote
The most fun posts I write are rarely the most popular but they often expand my knowledge in unexpected ways. If we can't have a little fun in our work then I don't think it is worth pursuing.
NOTE: As an Amazon Associate I receive a small amount for purchases made through the appropriate links above. Thank you for supporting Godspace in this way.
---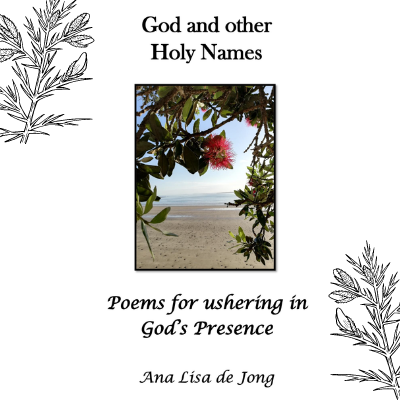 Enjoy this NEW free resource from Ana Lisa de Jong – A collection of poems written in the last year, (most yet unpublished) to draw us to reflect on the Holy gift of God, both in the trinity and in the gift of the Christ Child – Emmanuel, God with Us.