by Sue Duby
No other morning on the calendar holds such delight. Wonder. Surprise. Giggles. Pajamas 'til noon. Coffee and chocolate chip scones by the fire. Ribbons, piles of wrapping paper and of course half-eaten "for Santa cookies". Satisfied sighs (and maybe a few sighs of exhaustion!). That morning of mornings … Christmas.
My favorite one as a young girl may very well mark the beginning of my love for investigating, discovering, sleuthing, and figuring out mysteries. Triple star on my wish list that year were new clothes for my doll. Somehow, a few weeks before the big morning, I realized my Mother had been tucked away in the bedroom during school hours, hand-sewing those clothes. And somehow, I discovered where the work-in-progress lay hidden. Under her dresser. Almost daily, I crept into her room, quietly pulled out the secret box, examined the clothes, and tucked it all away before being discovered.
Though knowing what was coming, I still found myself full to the brim of excitement for the big morning. Then and only then, would the finished project be mine to open, mine to embrace, and mine to keep. It proved to be a grand morning indeed!
I never confessed my deception to my Mother, but I'm sure my squeals of delight gave her the satisfaction of a job well done. Looking back, I realize the sacrifice of her time and energy to give me joy … and how her gift, in a very personal way, said "I love you so much!" For that, I'm so grateful.
As the years go by, we now have every-other-year quiet Christmas mornings. Where kids and grandkids celebrate with their in-laws. Where Chuck and I still enjoy coffee and pastries by the fire. Where only two stockings spill over with surprises. Where the magic still hovers over us. And we remember … why anticipation fills us in all those December days.  Because He came and He is near.
For to us a child is born,
    to us a son is given,
    and the government will be on his shoulders.
And he will be called
    Wonderful Counselor, Mighty God,
    Everlasting Father, Prince of Peace.
Of the greatness of his government and peace
    there will be no end.   Isaiah 9:6-7 NIV
Anticipation is guessing or being aware of what will happen. Of preparing for something upcoming. Of looking forward to an event. And so it is with those of Advent. Waiting. Letting our hearts be tenderized, ready to receive. Expecting fresh wonder in the ways of His affection and love.
Jesus. The one "given." Bestowed, entrusted, committed to us. God's intentional, thoughtful, sacrificial, love-laced, forever gift to us. Speaking deep, loving relationship. Provision for us. A way to the Father.
Our "weight-bearer." "The government will be on His shoulders." So many worries, unfixable struggles, confusing times, and mysteries. Yet, He promises that "rule and dominion" will be on HIS shoulders … not ours. Such freedom in trusting His word to do just that … carry it all for us, as we just follow Him.
Anticipation of refreshment in seeing who He is in new ways, as the year closes and a new one begins.  
Wonderful

Counselor. Not just one with a few good ideas and clever thoughts. But a marvelous, extraordinary giver of life-changing wisdom and direction. 

Mighty

God. Not just one of many gods. Not just so-so in strength. But STRONG. Able to fight our battles. To stand firm in any situation. To be trusted … always.

Everlasting

Father. Not just for some of our lives, grateful as I am for my own Dad's 94 years. No need to wonder when His timeline will finish. But forever. Before I was born. All my life here. After I'm gone. No expiration on His care. He is Father.

Prince

of Peace. Not just a peace-making ambassador, who comes and goes. Not just a skilled negotiator, nor a savvy politician. But the chief overseer of peace.  The one who rules over all. Who promises His peace will absolutely reign one day. The one we can trust to bring perfect peace.
As the coming days unfold, may we anticipate His birth with wonder. May we remember His promises for today and all days to come. May we exhale, knowing He desires to be our weight-bearer. And may we continue to trust His love-laced wisdom in directing our future steps.
---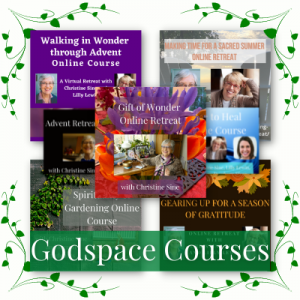 Looking for some inspiration or a last-minute gift? Consider one of our courses! Most offer 180 days of access, perfect for working through a virtual retreat at your own pace. Find retreat with one of the Advent courses; perfect for a weekend Christmastime activity. Prepare for a coming season, or revisit Wonder. You can find them all right here! And did you know? We offer discounts if you have purchased a course or virtual retreat from us before or are buying for a group. Email us before check-out for the code!