words and music by Carol Dixon
John 1 v 1-5; 9-14 [English Revised Standard Version]
In the beginning was the Word, and the Word was with God, and the Word was God. 2 He was in the beginning with God. 3 All things were made through him, and without him was not any thing made that was made. 4 In him was life,[a] and the life was the light of all people.. 5 The light shines in the darkness, and the darkness has not overcome it. 9 The true light, which enlightens everyone, was coming into the world. 10 He was in the world, and the world was made through him, yet the world did not know him. 11 He came to his own,[b] and his own people[c] did not receive him. 12 But to all who did receive him, who believed in his name, he gave the right to become children of God, 13 who were born, not of blood nor of the will of the flesh nor of the will of man, but of God. 14 And the Word became flesh and dwelt among us, and we have seen his glory, glory as of the only Son from the Father, full of grace and truth. 
One of my favourite Advent Bible passages is the beginning of John's gospel above – The Word of God becoming a human being. I love the idea of God, the Creator of the Universe communicating with creation, speaking the Earth into being. Then when the creatures he had given life to failed to hear, sending part of himself as a living Word to humanity as a tiny baby so that God could speak to us in a language we would all understand.
Some years ago when I worked as the Moderator's secretary for the Northern Synod of the United Reformed Church I wrote an Advent hymn based on John chapter 1 and it was sung during the opening worship at the very first Ecumenical Synod in the UK which we were hosting. During each verse of the hymn representatives from all the denominations processed into the hall carrying different symbols –  Bible, Candle, Bread,  Wine, Cross, etc and finally the Synod banner covered with embroidered squares from every United Reformed Church in the area. It was a very powerful and moving experience.
'In the beginning' is an 'echo' song with a cantor and congregation (as it was sung originally) but it works equally well as a simple song with 2 voices. I hope you enjoy singing it this Advent.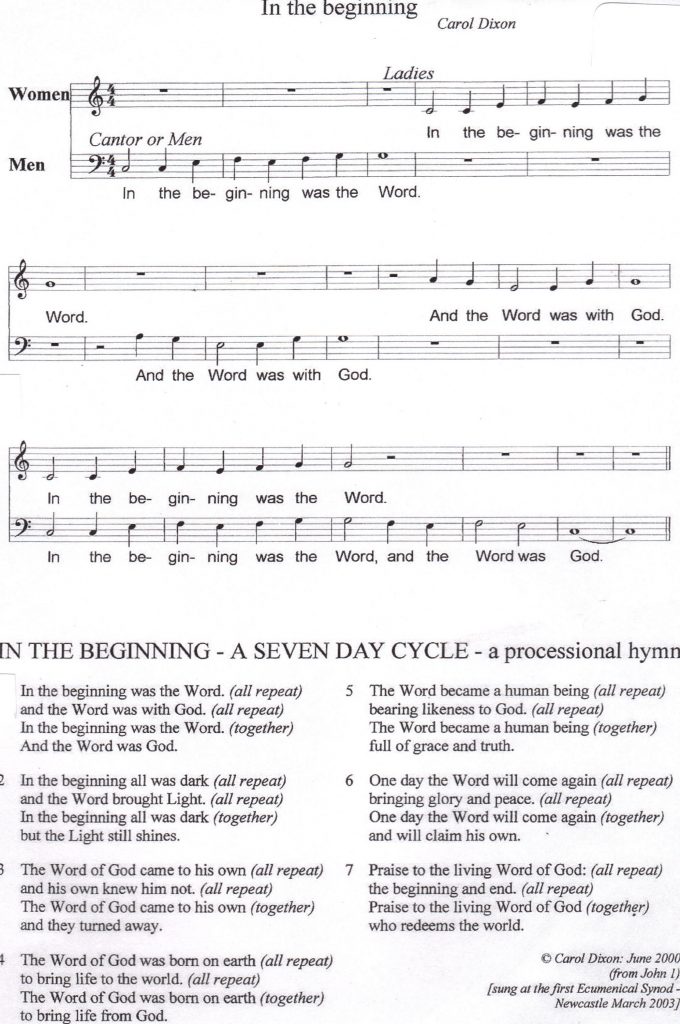 Listen to the song below:
featured photo by Unsplash ©Greg Rakozy @grakozy
---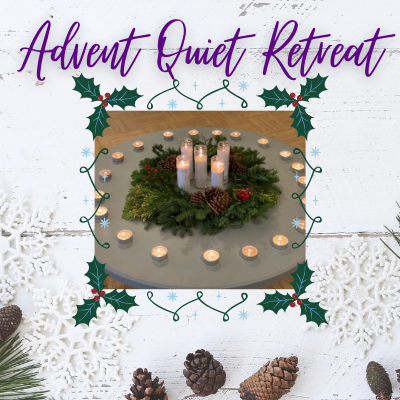 Breath prayers, scripture readings, walking meditations, creative and contemplative activities, and unstructured time for quiet reflection help us rekindle the wonder of Advent. Enjoy the wonderful opportunity for inner reflection and renewing silence that this free downloadable Advent retreat invites us into as the season of prayerful expectation unfolds.
This retreat is best done with a group—so gather with friends or family, or a church small group.