by Tom Sine
Prep now for an Omicron Crisis Christmas!
On Monday, the UK reported its first death from the Omicron variant, and on Wednesday it reported 78,610 new cases of the coronavirus, the highest number of daily cases since the pandemic began.
CNN reported on December 15th that "Omicron is spreading faster than any other variant." Many of our hospitals simply won't be able to deal with the rapid spread. For the sake of all those you care about, don't hesitate a minute longer. Get vaccinated today or get your booster today! The lives you save for Christmas 2021 could be your own or those you love! Also, create careful celebrations.
Christine and I normally have 40 to 50 people over for our annual Christmas Party for many years. However since the coming of COVID that has not been possible.
Last week we invited 7 good friends over, for a festive Christmas dinner, who had all had their shots and boosters. The day before the event one friend called and shared that she had been vaccinating people for the last two weeks and was concerned that she might have been exposed to the virus.
Out of concern for aged hosts, she opted to re-schedule when she was "safer," which Christine and I appreciated. Just as the other three were arriving we got a call from our 7th guest. Mark was in bed with what was likely a bad cold and bowed out too.
However, Christine and I and our 3 other guests had a great time. In fact, it appeared they even felt responsible to eat for our two other friends…who missed out.
Even though this Christmas 2021 and we all want to be with family and friends, a number of people paid a much higher price than they expected Christmas 2020. Christine and I urge you for the sake of family and friends to consider the cautions listed below that the CDC recommends.
For those that are up to date on your shots, here are the CDC Guidelines of how to celebrate safely:
CDC Guidance for Celebrating Holidays in 2021 Published October 4, 2021
With the coronavirus pandemic continuing into a second holiday season, the U.S. Centers for Disease Control and Prevention appeared to have released updated guidance over the weekend for those looking to celebrate safely.
"The content is in the process of being updated by CDC to reflect current guidance ahead of this holiday season," CDC spokeswoman Kristen Nordlund said in a statement. "The page had a technical update on Friday, but doesn't reflect the CDC's guidance ahead of this upcoming holiday season. CDC will share additional guidance soon.
"Attending gatherings to celebrate events and holidays increases your risk of getting and spreading COVID-19," the guidance read. "The safest way to celebrate is virtually, with people who live with you, or outside and at least 6 feet apart from others."
But for those who wish to still gather indoors when outside is not an option, the CDC recommended bringing fresh air in.
"If celebrating indoors, bring in fresh air by opening windows and doors, if possible," its holiday celebrations guidance stated. "You can use a window fan in one of the open windows to blow air out of the window. This will pull fresh air in through the other open windows."
It was unclear which portions of the guidance would remain for the 2021 season.
Here is what the CDC recommended before the page became inactive.
For "safe celebrations":
Host a video chat party with family and friends to share in the celebration…a Zoom visit.

Plan a special meal with people who live with you inspired by the holiday or event.

Have an outdoor celebration with everyone at least 6 feet apart.

Watch virtual events and celebrations.

Drive or walk around your community to wave to neighbors from a safe distance.

Take food or gift to family, friends, and neighbors in a way that does not involve contact with others, such as leaving them at the door.

Throw a virtual dance party and collaborate with friends and family on a playlist.

Celebrate outside with neighbors and friends.

Attend a virtual ceremony or celebration.
For making in-person celebrations safer:
Get vaccinated when you are eligible.

Know when to 

wear a mask

.

If you are not fully vaccinated and aged 2 or older, you should wear a mask in indoor public places.

In general, you do not need to wear a mask in outdoor settings.

In areas with 

high numbers of COVID-19 cases

, consider wearing a mask in crowded outdoor settings and for activities with close contact with others who are not fully vaccinated.

Outdoor activities are safer than indoor gatherings.

Have conversations ahead of time to understand expectations for celebrating together.

Do not attend or host a gathering if you are sick or have symptoms of COVID-19.

If celebrating indoors, bring in fresh air by opening windows and doors, if possible. You can use a window fan in one of the open windows to blow air out of the window. This will pull fresh air in through the other open windows.

C.D.C. Guidelines for Celebrating Holidays in 2021 The Chicago Health Department October 4, 2021
WISHING YOU AND YOURS A JOYOUS AND SAFE CHRISTMAS & THE OPPORTUNITY TO REACH OUT TO THOSE WHO ARE STRUGGLING AS WE RACE INTO 2022!
Photo by Andre Ouellet on Unsplash
---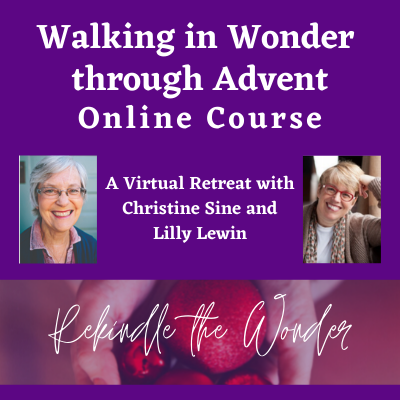 Are you ready to rekindle the WONDER of the season? Join Christine Sine and Lilly Lewin in this virtual retreat as they walk you through practical and fun activities focused on Advent Wonder. Sign up for 180 days of access to work through enriching discussions and engaging exercises at your own pace. Or give it as a gift! If you have purchased courses from us before or plan on purchasing in bulk, email us for a discount code.