by Laurie Klein
We are all baked from the same clay.  —Old Dutch proverb
*ADVENT, 2000: THAILAND*
Did I mention I hate red dirt? Scientists tell us that dirt, no matter its color, is devoid of life. Dust, however, teems with mites. And garden loam? Fill two hands with healthy soil and you hold more living organisms than the planet's entire population.
Am I teeming with possibility? Not in this village setting. So many unknowns erode my hopes. Faced with a headwind, I'll crumble. 
The show must go on
Daily, EYC rehearses his program. Nightly, I wash his choir's white gloves. I have performed as well as directed casts in multiple art forms and venues. Now I'm the laundress. Socks and gloves, socks and gloves. 
Shame elbows ego. Chagrined, I ask for prayer. 
"We love you," teammates say. "All is grace," the Advocate adds. "Nothing to earn or prove." 
I try to absorb this. An image from Isaiah rises: Jesus, as "a root out of dry ground . . . a tender plant" —despite the unlikely place he was planted. Born into poverty, peril, and obscurity, the messiah not only survived, he flourished with scant encouragement. Despite limited resources and religious and political hazards. 
I'm weary and sad. I feel less forsaken, but still displaced. 
I begin to fathom "no room in the inn." 
"Uncle"
And then an idea knocks at my door. EYC prefers working with the Advocate. Fine. I will create a life-size creche. 
Using abandoned scrap lumber, a teammate frames in a roofline and walls. He guy-wires the makeshift stable to one side of the Advocate's house. 
A Lost and Found pillowcase crammed with straw and mounted atop upended bricks makes a fine swine. "Marry a man who loves a pig," the local grannies advise. 
This creche—my brainchild—will be awesome. And culturally relevant. Or I'll eat my socks.
Ideas cascade. Orphaned tube socks become winsome doves, with stray-button eyes and cardboard beaks. 
If I can find black gloves, I'll stuff them with sand, whimsically whisker them with dental floss: two worshipful rats, plump from gleaning harvested rice.
Oh, it is joy-pure-joy repurposing castoffs!
Surrounded by palm fronds, stick-figures with coconut heads stand in for the holy family. They wear two of the traditional costumes sewn by the woman I met in the clearing.
Curious, bedazzled, the village kids handle everything. In their delight, they topple my birds and beasts and figures. Best to zip-tie and guy-wire all of them to the stable. The props, not the children. 
Finally, something I can control. Here is the tender shoot amid long, hard days. 
I begin to understand Mary, who sheltered the growing child under her heart.
Showtime
The party lasts all day. Guests keep arriving. Western games, prizes, and snickerdoodles intrigue them. Thai entrees satisfy hunger. 
The program begins at dusk, lit by a rented light tree. The novelty draws people closer. 
During the open mic session, the temperature drops. A shivering kid lights a fire. Others heave armloads of straw, willy-nilly. The blaze widens. What are they thinking? I corral two youngsters, steer them toward safety. More little arsonists take their place.
Why don't my teammates intervene? Smoke billows. Flames leap. The blaze spreads, scorching the patchy, red dirt yard. 
But the sign language choir with gloves captivates the crowd. Rapt, they applaud, oblivious to encroaching fire. (To be continued . . .)
FRIENDS, FRIENDS . . . THIS IS HARD GROUND 
*ADVENT, 2021* 
CHRISTMAS BECKONS, BUT THE PANDEMIC CONTINUES TO ROAR, wreaking unspeakable grief and suffering, worldwide. Parents and workers grapple with burnout. Myriad venues remain closed. Countless talents and giftings languish. Fears multiply, fanned by fiery partisan rhetoric. 
Is it Advent? Already we feel spent. Uprooted. Displaced. Perhaps, alienated.  
Gaze inward. The heart is a house with many rooms. The patchy yard surrounding it may resemble a desert: spiritual hardpan, lifeless dirt. How might we cede control, trust Christ to restore the desolate?
How might God be calling us to press onward and upward, through hardscrabble ground?
***
Editor's Note: This is part II of Laurie Klein's Advent*ture in Asia Series. You can find Part I here. Stay tuned for part III!
Photo by Nabil Boutebiba on Unsplash   
---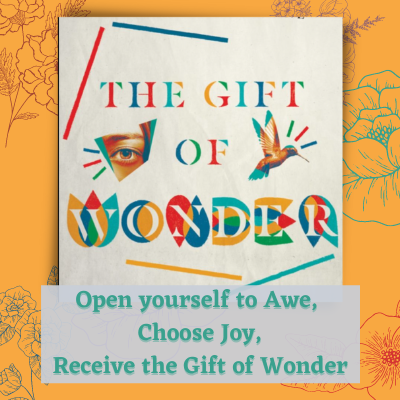 Perhaps more now than ever, Awe and Wonder are important practices for a thriving life. Follow along with Christine in her latest book as she explores what childlike characteristics shape us into the people God intends us to be. Be encouraged to develop fresh spiritual practices that engage all our senses and help us to live a new kind of spiritual life that embraces the wonder and joy that God intends for us.
"Can you imagine a God who dances with shouts of joy, laughs when you laugh, loves to play, enjoys life, and invites us to join the fun?"