words and featured photo by Melissa Taft
My grandma Robbie was a savvy gift shopper. With five kids, their spouses, 24 grandkids, and eventually a growing number of grandkid spouses and great-grandkids–not to mention a sister, niece and nephews, and friends–she had to be! For she delighted in finding ways to show love and care through her ministry of thoughtfulness throughout the year. She would start Christmas shopping for the next year as soon as Christmas had ended the previous–sometimes even before. Gifts were her language of love, and she enjoyed finding treasures for her precious ones.
Grandma Robbie had a flair for entertaining and decorating, and a firm belief in giving practical AND beautiful things–that one should build a life full of memories and treasures. That is why I, at the tender age of 7, received a framed Charles Burton Barber painting that year for my birthday. While Grandma did not often give toys, she did give us investments in our future in the form of beautifully bound classic literature or a Bible, piano lessons, trips to the theater and museums, and objects for our eventual adulthood. The painting hangs in my home to this day.
When her grandkids began to marry, she started a new tradition of family gifts instead of personal ones at Christmas time. Each family received two gifts–one on December 1st and one for Christmas. The Christmas gift generally was something the family could enjoy together such as a museum membership or something useful like a new set of pretty potholders and dish towels. Something to be used and enjoyed throughout the year.
The December 1st gift was to be opened and enjoyed right away–meant to prepare our hearts for the coming season and build a collection of treasures. Sometimes it was an ornament, sometimes a devotional or poetry readings, sometimes Advent candles, sometimes another sort of decoration. One year it was lovingly baked Christmas cookies, arranged on a decorative holiday tray for our reuse. Always, a gift meant to be enjoyed in the present and then reused each Christmas. Grandma Robbie passed away a few years back, and whenever I use again the Advent devotional she gifted me or set out the coasters and Christmas tins or serve guests off of the mistletoe platter, I think of her and she is present with me. A legacy of love, giving, beauty, and practicality that carries on through me.
As I look forward to the upcoming season where a ministry of gifts shines, I'm always on the lookout for good deals, good gifts, and ways to invest into people. I have taken on my Grandma's mantle of the December 1st gift, at least for our branch of her family. As a brand new and excited member of the Godspace Light community, I have been impressed and delighted with the resources available here and I wanted to highlight a few of my favorites!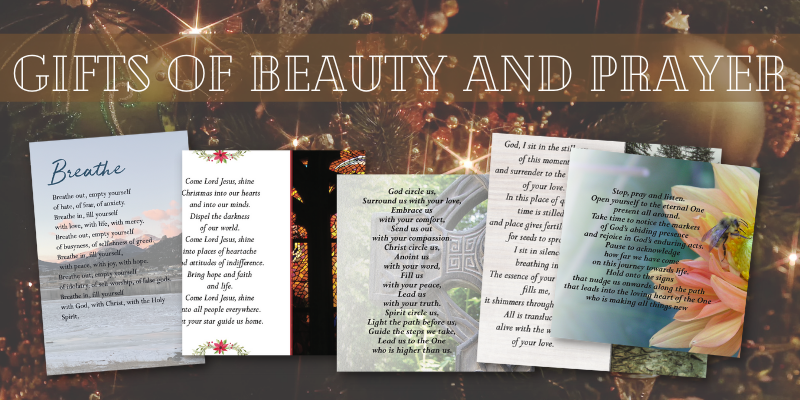 I fully believe that beauty is a spiritual practice. Not as the world defines it or the magazines tell us to aspire to, but as God defines it–God is beauty. And when we take practical things and celebrate beauty, I truly believe–as my Grandma did–that it is transformative in all the best ways. I personally have enjoyed the Breath cards in my prayer times. Prayer cards make a lovely gift–bonus, they are definitely stocking-stuffer sized! I love that there are beautiful images to focus on as well as the prayers. You can find prayer cards for a whole variety of occasions and holidays in the Godspace shop—from Advent and Celtic prayer cards to everyday moment prayer cards to prayer cards that complement other resources, such as the Gift of Wonder prayer cards. Most are available in a single set or a set of 3, or are able to be downloaded, or bundled with another resource–a great way to save.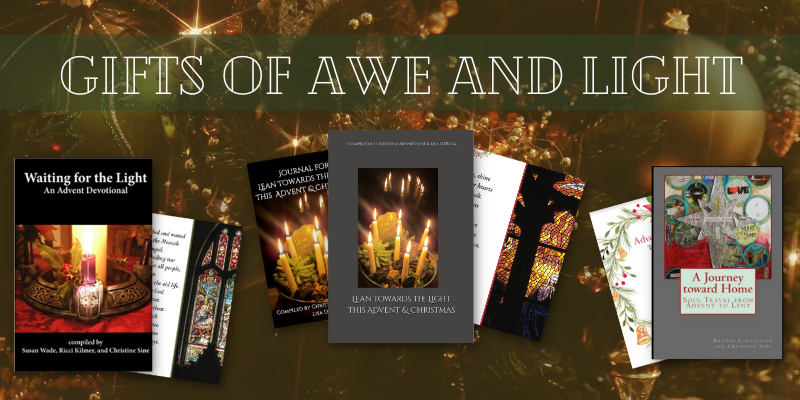 The bundles do save money *and* make a nicely rounded gift–and it's not too late to purchase an Advent/Christmas devotional or bundle! I rotate through Advent devotionals from year to year, including the one my Grandma gave me. I find it to be such an anchoring practice through the hustle and bustle of the season, particularly for the devotionals I have long used. There's something comforting about returning year to year to the traditions of the season, the same songs, the same stories. Yet each year brings new light and revelation and joy,  and an opportunity to expand my collection–I have this year, adding Lean Toward the Light this Advent and Christmas! There are several devotionals available, and if you bundle them with the lovely Advent Prayer Cards, you can save as well.
In fact, there is a *SALE* this week on most Advent bundles! Today through Saturday, 12/4, check out our shop to see the deals. A Journey Toward Home: Soul Travel from Advent to Lent comes bundled with Advent Prayer cards, as does Waiting for the Light: An Advent Devotional. I have been delighted with the timeliness in particular of Lean Toward the Light This Advent and Christmas Devotional and Journal, and can see it will be a favorite in rotation. In particular, the newest addition to Godspace's advent journals comes available in many forms and bundles–including a convenient download and bundles with the Advent Prayer Cards. Sometimes an event makes a lovely gift investment, so you could also consider the accompanying Lean Towards the Light Advent Retreat.
Speaking of retreats, one of the ways Grandma invested in her family (and taught us to do the same) was by balancing the material with the experiential. One year she paid for my ballet lessons–which was as much a gift for my parents as it was for me–and gave me a little ornament of a ballet slipper with the card explaining. Another time she sent me extra birthday money specifically to be used on an upcoming trip, another time tickets to a concert. Sometimes the experience was with her, other times I got to enjoy it on my own or with friends. Especially in these pandemic times, sending someone on a virtual experience can be an easy way to encourage loved ones.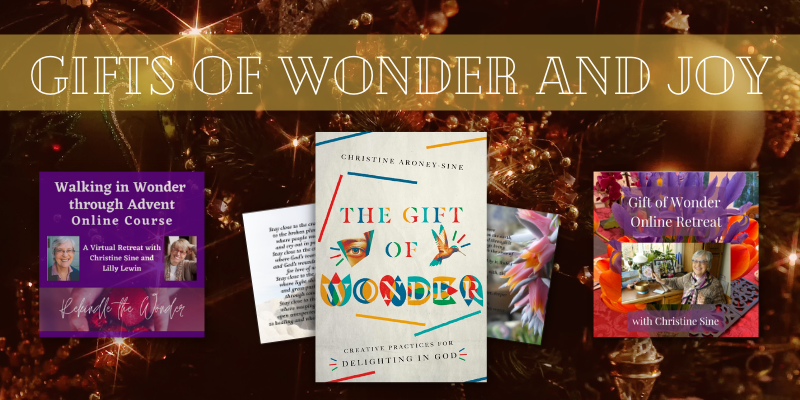 I was honored to be a small part of the latest retreat Walking in Wonder Through Advent–now put together as an online course–and found it both profound and nourishing for the season. If you are in a 'dry and weary land' heading into Advent and Christmas, I highly recommend it. Now is a good time–it is on *SALE* through Saturday! Use the code 'advent' when you check out to take $10 off– a savings of 25%.
Any of our online courses/retreats make wonderful gifts; an experience with plenty of time to work through rather than a one-time set date on the calendar makes for a flexible long-distance way to give care. One such online course is an accompaniment to Christine Sine's latest book, The Gift of Wonder. Join Christine as she leads you through The Gift of Wonder in a lovely retreat format–or send it along with a copy of the book. In fact, there are several great resources related to the book, including Gift of Wonder Prayer Cards–which come in bundles with other resources too!
Of course, you can find many other resources in our shop–including free ones–that make wonderful gifts, but you may also want to check out our Christmas resource page for more ideas. And if I have inspired you to go forth and gift, I am merely carrying on the legacy that was gifted to me by a wonderful woman of God–my Grandma Robbie.
As an Amazon Associate I receive a small amount for purchases made through appropriate links. Thank you for supporting Godspace in this way.
---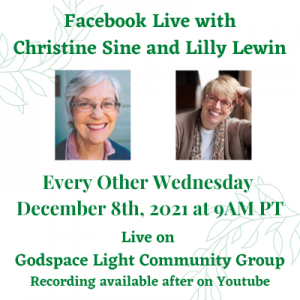 Join Christine Sine and Lilly Lewin on Wednesday, December 8th at 9am PDT (check my timezone) for our next FB Live happening on our Godspace Light Community Facebook Group! Can't make it? No worries–we upload the sessions on our youtube channel so you can still enjoy the lively discussions and interesting topics discussed. And catch us live for the next session–happening here every other Wednesday!