Table Talk by Laurie Klein
"What time is it?"
"What's for dinner?" 
"Why am I here?" 
Ancient, universal questions: Silently or aloud, we still ask them.
Questions like these arise in A River Runs Through It, by Norman Maclean. The story he tells offers reasons to mourn, to remember, to pause and give thanks. Inspired by his tale, here is a new table grace, litany-style. 
Perhaps you're hosting the feast this year. Or you'll be a guest. Or maybe you'll serve strangers for eight+ hours (Thank you!). You might be a patient, a prisoner, a retirement home resident. You could be on your own, raiding the cupboards, or redeeming a Doordash or Grubhub card. 
Whatever your circumstances during this season of feasts, large and small, you might enjoy using this litany-grace. Designate one person the Leader. Invite those present to read the bolded responses. If you'll be alone this year, read both parts. Use different voices! Arrange to read with someone by phone or via Zoom. 
Wherever you are, may the images and stories referenced below delight your imagination. 
ALL READ: "Eventually, all things merge into one, and a river runs through it. The river was cut by the world's great flood, and runs over rocks from the basement of time. On some rocks are the timeless raindrops, under the rocks are words and some of the words are theirs. I am haunted by waters . . ."                  —Norman Maclean
LEADER: It's also true that, eventually, all things merge into One because God's Table runs through it. The first table was conceived by grace for those in the Garden, and it extends, literally and figuratively, across our world. Come to the table prepared by God, our timeless Host. The invitation stands, long as there are clocks and long after their chimes shall cease.
ALL: All good things—time as well as eternal salvation—come by grace.
LEADER:
We remember today the Periodic Table of the Elements and earth's bounty.

We remember the multiplication tables and the multiplied loaves and fish.

We give thanks for every table of contents in every book that has helped us find our way.
ALL: All good things—provision as well as eternal salvation—come by grace.
LEADER:
We remember "Wisdom has also set her table."  

We remember the psalmist's table prepared by God, in full view of his foes. 

We give thanks that "It is not the one who reclines at table who is greatest, but the one who serves."  
ALL: All good things—wisdom as well as eternal salvation—come by grace.
LEADER:
We remember Martha, lovingly arraying her table for Christ. 

We remember the Canaanite woman, shrewdly arguing "Even the dogs feast on the crumbs from the Master's table. 

We give thanks for the worried mother at Cana; the Son who was willing to help; the wine steward's awe; and all those oblivious, thirsty, hungry guests, who, like so many today—ourselves included—show up for the food.
ALL: All good things—hope as well as eternal salvation—come by grace.
LEADER:
We remember the Temple tables, upended by Christ.
ALL: All good things—both those actions we understand and those that perplex us—come by grace.
LEADER:
We remember the woman who anointed Jesus, pouring out her all.

We remember the meal at Emmaus, Jesus revealed in the sharing of bread. 

We give thanks for Jesus presiding over his last earthly table: wine and bread, blessed. Broken.  
ALL: All good things—reconciliation as well as eternal salvation—come by grace.
LEADER:
We remember God's call to set a table for the strangers among us. And we anticipate the forthcoming Marriage Supper of the Lamb, all of us together, feasting . . .
ALL: Blessed be God, our Host, in whom all things merge, eventually, into One. From the first shared meal in the Garden . . . through this moment we share now . . . until well beyond what we mean by forever, may we be haunted by Love.
*
(With thanks to woodworkers and fly fisher-folk everywhere, theologian Leonard Sweet, and author Norman Maclean who also said "All good things—trout as well as eternal salvation—come by grace.")
"At the table, where food and stories are passed from one person to another and one generation to another, is where each of us learns who we are, where we come from, what we can be, to whom we belong, and to what we are called." ― Leonard Sweet, From Tablet to Table: Where Community Is Found and Identity Is Formed
Photo by Diego Lozano on Unsplash
As an Amazon Associate I receive a small amount for purchases made through appropriate links. Thank you for supporting Godspace in this way.
---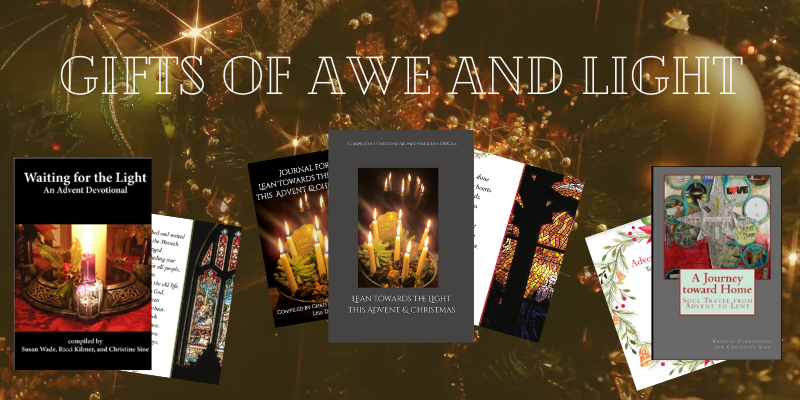 'Tis the season to celebrate the Reason–the Light of the World born in a humble manger. Explore Advent and Christmas alongside Christine Sine and others in one of our Advent devotionals, bundled with beautiful Prayer Cards! Waiting for the Light: An Advent Journal + Prayer Cards is more than a devotional; it is a complete guide to the Advent and Christmas season, providing liturgies, weekly activities, and daily reflections to equip and nourish us all through the season. Lean Towards the Light This Advent & Christmas is our newest resource, perfect for the times we are living in, and comes in several bundles, including downloadable forms and bundles that include a journal to enrich your quiet time. A Journey Toward Home: Soul Travel from Advent to Lent + Prayer Cards approaches the rich seasons of Advent to Lent playfully, yet with yearning and determination, providing daily reflections from many theological and cultural perspectives, shared family activities, and recipes that will enrich the season for all seekers. All these Advent resources and more can be found in our shop.