Thirty-two years ago today, a great wall that divided East and West Berlin was brought down. 
This Wall divided families and many died in their attempt to escape East Berlin. The first of these deaths was reported to be a young woman, who desperately tried to jump from her apartment window, at the eastern side of the Berlin Wall, to the western side of the four-foot-wide wall. A 20-year-old man was recorded as the last person to try to escape the East German dictatorship. He was shot by an East German guard.
The Berlin Wall was constructed in August of 1961, as part of the Iron Curtain, a political boundary that divided Europe into two distinct sections. The East was under the influence of the Communist Soviet Union and the West represented the democratic countries during the Cold War, which lasted from the end of WWII until 1991 and the dissolution of the Soviet Union. In actuality, the Wall was built to stem mass defection from the East to West. The Wall's purpose was to 'keep people in their place.' 
The Cold War began after World War II, between the USA and Russia and their respective allies. George Orwell had coined the term in a 1945 essay called You and The Atomic Bomb. As he explored the essence of a world living under the shadow of nuclear war, he cautioned of "a peace that is no peace," calling it "a permanent Cold War." 
Today, crowds loudly protest for their rights, saying they are afraid of losing their freedom. This is much different than the rights and freedom sought by the East Germans. Yet we are seeing many families here separated not by any physical barrier but by their personal beliefs and opinions. Many of these claim Christianity as their religion. 
What exactly does Jesus say about our personal rights and freedom? 
31 To the Jews who had believed him, Jesus said, "If you hold to my teaching, you are really my disciples. 32 Then you will know the truth, and the truth will set you free."  John 8: 31-32 
Jesus' message was one of peace and love. It was not one of freedom wrest away from others or kept only for us. "13 You, my brothers and sisters, were called to be free. But do not use your freedom to indulge the flesh rather, serve one another humbly in love. 14 For the entire law is fulfilled in keeping this one command: 'Love your neighbor as yourself.'"Gal 5:13-14
This is not just a new covenant idea. The Psalmist wrote: "I will walk in freedom for I have sought out your precepts." Psalm 119:45 
And what about our rights? Jesus did not mince words. 
39 But I tell you, do not resist an evil person. If anyone slaps you on the right cheek, turn to them the other cheek also. 40 And if anyone wants to sue you and take your shirt, hand over your coat as well. 41 If anyone forces you to go one mile, go with them two miles. 42 Give to the one who asks you, and do not turn away from the one who wants to borrow from you.43 "You have heard that it was said, 'Love your neighbor and hate your enemy.' 44 But I tell you, love your enemies and pray for those who persecute you… Matt 5:39-44
For me, to go from this instruction of Jesus Christ to thinking I have a right to take a war-like stand against one who is merely different from me is a tremendous leap. Throughout his teachings Jesus continually helped and loved the "other." He asks us to give up our rights in their favor. 
5 In your relationships with one another, have the same mindset as Christ Jesus:

6 Who, being in very nature God,
    did not consider equality with God something to be used to his own advantage;
7 rather, he made himself nothing
    by taking the very nature of a servant,
    being made in human likeness. Phil 2: 5-7 
Those under the age of 75, living in North America, have always lived in peacetime here. Unless we have served in wars abroad, it is difficult to imagine what the constant threat of war does to humankind. And yet given Orwell's notion of "a peace that is no peace" I am not at all sure we are not in a state of a cold war now. 
As Christians, we are to be peacemakers. 
10 For,

"Whoever would love life
    and see good days
must keep their tongue from evil
    and their lips from deceitful speech.
11 They must turn from evil and do good;
    they must seek peace and pursue it.
12 For the eyes of the Lord are on the righteous
    and his ears are attentive to their prayer,
but the face of the Lord is against those who do evil." 1 Peter 3:10-12 
We do well to recall that these words of scriptures were written in warning to Christians, who were also commanded not to judge lest they be judged. 
On this World Day of Freedom, let us practice our freedom to follow in the steps of our Lord. Let us not build walls with hatred and rage. Let us meet in the open meadows of God's love and peace.
---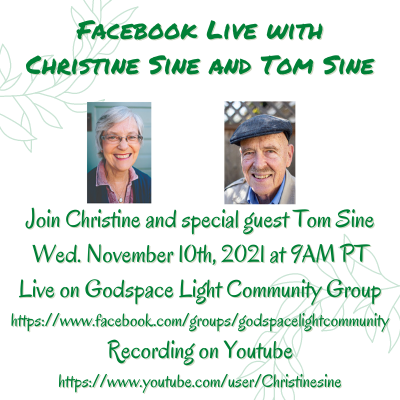 Join Christine Sine and Tom Sine TOMORROW! Wednesday, November 10th at 9am PDT (check my timezone) for our next FB Live! Can't make it? No worries–we upload the sessions on our youtube channel so you can still enjoy the lively discussions and interesting topics discussed. And catch us live for the next session–happening here every other Wednesday!