art and thoughts by Keren Dibbens-Wyatt
Autumn is my favourite season. I am grateful for the slowing down of nature that mirrors my own, the slight chill in the wind that freshens everything, the leaves that die dancing, knowing they will become the nutrients that feed Spring.
But mostly I am grateful for the change in colours. For someone housebound who views most of the alterations of time through windows, and in the changing light, it is the softness of hues which ease my heart. Spring and Summer can be too brash for me,  showing off their bright greens and zesty life. When you spend most of your life struggling with a dearth of strength and energy, these seasons bursting with the things you lack can feel hard.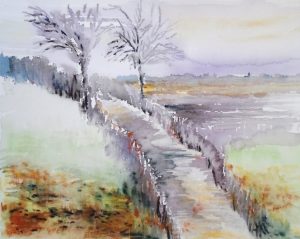 Instead, I prefer the burnishing of nature, as though all has been polished to bring out its true value and the deep shine that was there all along beneath the vibrancy. As an artist too, it is the soft, sweet light of chestnut and mist that enthrall me. I am inspired more at this time of year than ever, knowing that the world is finally in tune with my own dozy, curled up slowness. I don't feel like playing catch up or pretending that I am more than I can be at this time of year. Everything can just hold up and take a breath. For this I am grateful.
Contemplation isn't limited to one season, of course, but there seems to be a richness of harvest this time of year that speaks more to my listening heart and my artist's imagination. Perhaps, like one of my favourite subjects to draw and paint, I am hoarding up treasure for the long, cold months ahead. The squirrel St Francis spoke of knew that gathering sacred things was a holy endeavour, and that everything imparts God's grace.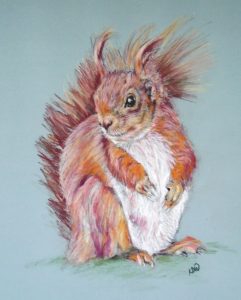 ---
It's here! As promised, Gearing Up for a Season of Gratitude is now available as an online course! Inspired by the celebrations of Canadian Thanksgiving at the beginning of October and American Thanksgiving at the end of November, we designate October and November as gratitude months on Godspace Light. Lilly Lewin and Christine Sine will encourage you to get ready by providing a collaborative retreat process that will help us enter this season of gratitude with joy and delight in our hearts. This course provides a fun process of interaction, creativity, and reflection.
How do we approach the world with gratitude and delight even in the midst of the most challenging situations? What if gratitude is more than an emotion? What can we do to bring more gratitude into our daily lives? These are some of the questions we grapple with as we look ahead to the changing seasons. What are your questions about gratitude? Join us and explore them in this interactive mini-retreat "Gearing up for a Season of Gratitude".