Yesterday was the feast day of St. Francis of Assisi. During the weekend, across denominational lines and throughout the world, his life and legacy were celebrated. Annual pet and animal blessings were held. St. Francis is so compelling that you can walk into a Lowe's or a Walmart store, or any number of plant nurseries, and buy a statue of his likeness. Where do we see him most? In gardens and adorning birdbaths. There are numerous accounts of him preaching to birds. 
Francis straddled the 12th and 13th centuries, dying in 1226.  Born into a wealthy family, he was a wild youth fond of partying. He served in the military for a short time. While on the road it is said that he met a leper whose appearance had a profound effect on him. During that time, he fell sick, had dreams and visions, and experienced a conversion to Christ. Following a break with his father who disowned him, Francis renounced his father's wealth. Taking off his clothes, he handed them to his father declaring his marriage to "Lady Poverty." 
What is often overlooked or forgotten about Francis is his total identification with poverty. For years he was homeless by choice, caring for street people who had not made that choice. He ministered to the sick, especially lepers. Perhaps we need to be planting statues of Francis in places where the urban poor are. Statues of Francis placed near soup kitchens and homeless shelters would remind us of his identification not just with animals but with "the least of these."   
Francis, like Jesus, cared about reforming and mending a broken world. One biographer says of St. Francis, "His life and his relationship with the world – including animals, the elements, the poor and sick, as well as princes and prelates, women as well as men, represented the breakthrough of a new model of human and cosmic community." (Richard Rohr)
A new model of human community and cosmic community. Such a vision might be called God's shalom. Theologian Walter Bruggeman says that shalom is the central vision of the Bible in which "all of creation is one, every creature in community with every other, living in harmony and security toward the joy and well-being of every other creature." To care about the well-being of every other creature was at the heart of the vision of St. Francis of Assisi. 
Murray Bodo wrote a spiritual and imaginative biography of Francis and said this, "God was everywhere and God's presence charged creation with a power and glory that made everything shine with beauty and goodness in Francis' eyes." (The Journey and the Dream.) 
For Francis, the Earth was alive. And the earth is alive. It is a community of life dependent on other life forms for existence. All living organisms on the planet breathe, inhale and exhale the same air. We share the other elements of water, earth, and fire. The Earth does not belong to us, we belong to it. 
I think if Francis was among us today, his central message would be one of repentance.  He would remind us to think and walk in a new direction, letting go of the idea that humanity is higher, greater, and more valued than or separate from the rest of creation. He would remind us that not only is creation good; it is sacred because it is a manifestation of God.  He would invite us to better care for God's beautiful creation, this Earth, our fragile island home.  
"Earthrise," the first known picture of the Earth from the vantage point of the moon, was taken by astronaut William Anders on the Apollo 8 mission in 1968. We now have the ability with our own eyes to see a world without borders, a radiant but vulnerable gem floating in space. Yet, without the ability to view the Earth from this perspective, Francis had a cosmic awareness of the inter-dependence, the "Oneness" of all living things.   
Although the feast day to celebrate the life of Francis has come and gone; his vision remains. There is always time to honor his legacy by a mindful practice of seeing life through his eyes. Consider contemplating the sacredness and wonders of our cosmos, the galaxies, stars, and the planets. Spend time with each of the elements, plants and animals. Give thanks for the ways they nurture and care for us. Practice listening to the Earth, and seeing God in creation and in all of humanity. I close with this prayer as I can imagine Francis reciting it.    
"Earth-maker God, as the hand is made for holding and the eye for seeing, you have fashioned us for joy. Grant us your vision that we may find it everywhere— in the sunlit faces of our world, in the wild flower's beauty, in the lark's melody, in a child's smile, in a mother's love, in the face of a steadfast man.  Our society is ever restless always craving one more thing to do, seeking happiness through more and more possessions. Teach us to be at peace with what we have, to embrace what we have been given and received, to know that enough is enough until our striving ceases and we rest content in you alone." 
Amen.
---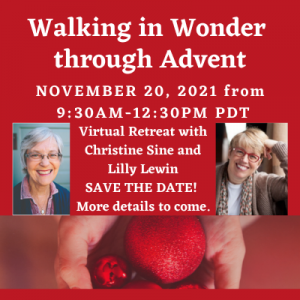 Come walk with us in Wonder through the Advent season. Join Christine and Lilly for a virtual retreat on November 20th, 2021 from 9:30 am-12:30 pm PDT. Save the date and watch this space for more details to come!