by Lisa DeRosa,
We are pleased to announce and introduce the journal that is used in conjunction with the Lean Towards the Light this Advent & Christmas devotional that we published last year and updated for this year. The journal is a great tool to use with the devotional. Each day has a reading of either a liturgy, reflection, poem, or prayer that correlates with the journal which includes scripture, questions, and suggested activities.
There are many ways to experience these resources that we are offering for the season of Advent. For example, we are offering the Advent devotional and journal as a bundle pack (available as a download) as well as bundled with the Advent Prayer Cards (as a download too). The Advent Prayer Cards are sold as 1 set, 3 sets, or downloadable PDF.
---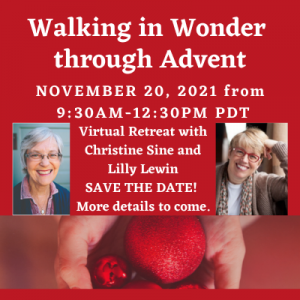 Come walk with us in Wonder through the Advent season. Join Christine and Lilly for a virtual retreat on November 20th, 2021 from 9:30 am-12:30 pm PDT. Save the date and watch this space for more details to come!