guest post by Glenys Nellist,
I'll never forget the day I was introduced to a curriculum called Godly Play… I was sitting in a circle, on the floor of a carpeted Sunday school room, along with a group of children as we listened to the storyteller. She told the Bible story slowly, her eyes downward, focused on twelve little wooden characters as she moved them up the mountain. There was a lot of silence. The children listened. They watched, and they wondered. Wondering is a very real part of this kind of environment, where biblical stories are retold, but not explained, and little minds are at work, making meaning out of mystery.And as the storyteller asked the 'wondering questions,' the children knew they did not have to answer—because these were just things to ponder. There were no prizes to be earned for the correct response, no popcorn to be won, no gimmicks to entice involvement. Only the wondering…
I wonder how the twelve disciples feel being called to be with Jesus?
I wonder what they said when they told the news of the Kingdom of God?
I wonder how the people felt when they heard it?
And into the space and silence, a little boy ventured a one word response…
Happy
Hmm.. I wonder why they would feel happy? asked the storyteller.
Maybe because it's good news, he said, smiling.
And then it was my turn to wonder…. how does he know that? How does one so young know that the kingdom of God is good news?
Unless, of course, the kingdom belongs to him?
I left that beautiful lesson that morning, but the lesson never left me. Ever since that day, I have dreamed of writing a Storybook Bible that would include those wonderful, wondering questions. I Wonder: Exploring God's Grand Story is the realization of that dream.
Each of the thirty stories contained in this illustrated children's Bible is followed by three I Wonder questions, that invite children to marvel at the great mysteries of the Bible and ponder what their part might be.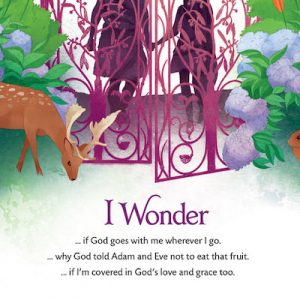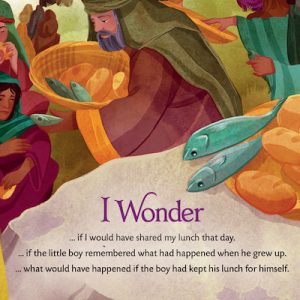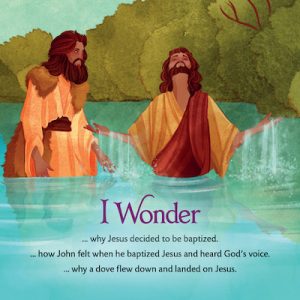 It is my hope and prayer that the words of I Wonder will touch young hearts everywhere and call them into God's grand story.
For children's ministers and parents who are interested in using I Wonder, check out this free, downloadable Activity and Resource Pack that includes a simple Montessori-based lesson plan which can be adapted for all thirty stories; along with Conversation Cards, Bible Character templates, activities for older and younger children, bookmarks and bookplates. A separate Coloring Sheet Pack is also available.
Watch the video below:
Would you like to win a copy of this new Bible? Simply leave a comment below and/or leave a comment in the Godspace Light Community Facebook group. This giveaway is sponsored by Zonderkidz and is open to US residents with a physical street address, no PO boxes. The winner will be announced on Tuesday, October 5, 2021.
---
Bio for Glenys
Glenys Nellist was born and raised in a little village in northern England. The author of multiple children's books, including the bestselling 'Twas the Evening of Christmas, The Wonder That is You, and four popular series: Love Letters from God, Snuggle Time, Good News, and Little Mole, her writing reflects a deep passion for helping children discover joy and hope in the world.
---
Check out the next blog post about I Wonder on September 30th by Mindy Baker: Blog | Mindy Baker Books
---
Want to experience more of the awe and wonder that God offers us? Check out the Gift of Wonder Online Retreat by Christine Sine. This retreat allows for 180 days of access for only $39.99 so you can move through the sessions at your own pace.