by Christine Sine,
Last week, Lilly Lewin, Lisa DeRosa and I had a wonderful brainstorming session for our upcoming retreat Making Time for a Sacred Summer. We got more and more excited as the Zoom call progressed and we delved into our memories of summers past and what had made them special for us. "I think shells on the beach, Lilly thinks suntan lotion", I commented at one point, awed at the broad array of summer symbols that can gain spiritual significance for us when we stop and think about them. We talked about the spontaneity of summer spirituality and how the stirring of our senses draws us closer to God.
What we realized is that the pathway between the stirring of our senses and the creation of spiritual practices that add meaning to our summer experiences and connect us in special ways to God is not always obvious. We all need help to shape our experiences into practices of refreshment and renewal. We need to stop, listen, learn, and create. That is what we will focus on in the upcoming retreat: journalling, praying and forming new tools that will help make this into a very spiritual summer.
Last week, I commented that the pandemic has changed the way we viewed sacred space and sacred time. We are hungering for intimate times with God. We all need refreshment. We all need to refuel after a crazy year.
What this last year has taught me is that God can convert any seasonal symbol into a spiritual practice. As I worked on my Meditation Monday: Don't Turn Away When the Blossoms Fade. I realized that even petals strewn on a path or blossoms dying on a tree can be sources of inspiration.
So I invite you to join us for a very special start to the upcoming season. Allow us to help you plan for a sacred summer or a sacred winter and enrich your relationship with God.
Virtual retreat experience on June 5, 2021 from 10am to 1pm Pacific Time (Convert time zone here)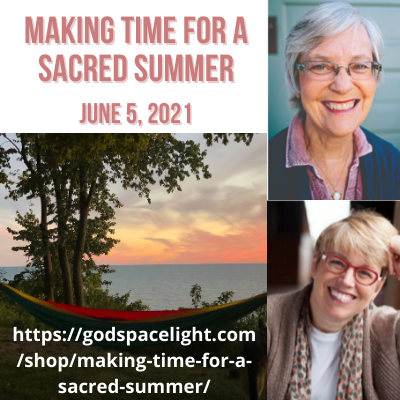 ---
Feature photo above by Lilly Lewin.