By Lilly Lewin
EASTER CUP PRAYERS…
We are entering the 5th week of Easter. Eastertide runs til May 23rd this year when we celebrate Pentecost and pouring out of the Holy Spirit.
This week at thinplaceNASHVILLE, our house church community, we got outside and actually sat by the water at the "beach" and reflected on John 21 and Jesus cooking breakfast for his disciples.
It's one of my favorite passages! I use it in my workshops to teach experiential worship… how to take a passage of scripture and make it interactive and multi-sensory. Each time I listen to or teach from this passage, I learn something new!
At thinplaceNASHVILLE, we practice Lectio Divina , listening to the passage read by three people and we use three different translations so we hear familiar passages in fresh ways. Lectio Divina enables the Holy Spirit to be the teacher and each person who listens receives the "sermon" they need to hear for that day.
Our house church meets on Sunday and Tuesday nights via Zoom. With two different groups, I have the gift of listening and learning from the passage twice each week. This week I was reminded of my need to drink from the CUP OF PROVISION and the CUP OF INVITATION.
NOW GET YOUR CUP TO PRAY WITH THE CUP OF PROVISION

In JOHN 21, some of the disciples have gone fishing and fished all night, catching NOTHING. Then they notice Jesus on the beach and he invites them to fish on the other side of the boat. Jesus doesn't just give Peter and his friends some fish, he provides an ABUNDANCE FISH! And not just fish, LARGE FISH! More than enough for them to have some to eat, and have some to sell to provide for themselves in the days ahead.
THE CUP OF PROVISION might also be called the cup of ABUNDANCE…
Do you and I remember that Jesus provides for us?
Do you and I remember that Jesus is the God of abundance, not scarcity?
HOLD YOUR CUP.
How has Jesus provided for you this week? This year? Take time to be thankful. Consider all the ways Jesus has provided for you throughout this last year in the midst of the pandemic.

How do you need Jesus to provide for you this week, and in the months ahead? Talk to Jesus about this.
Jesus already had fish cooking on the fire… he already had breakfast prepared for the hungry disciples who'd been up all night. He gave them breakfast and the abundant provision of the 154 BIG FISH.
Think about a time when Jesus already had breakfast ready for you. A time when you got somewhere or something happened that you just knew that Jesus had this all prepared ahead of time. How does it feel to know that Jesus knows what you need?
Are we drinking from the cup of abundance today or the cup of not enough?
As you drink from your cup today, continue to thank Jesus for his provision and make your cup a cup of abundance each day this week.
THE CUP OF INVITATION
All of John 21 takes place after the trauma of the crucifixion with the uncertainty of what happens now that Jesus is resurrected. Peter returns to what is familiar, what makes sense, and what might make him some money too. He wasn't sure what he was supposed to do next.
Maybe you are feeling like Peter and the disciples, it's been a really long, weird season of COVID. Maybe you, too, are uncertain about what to do next.
HOLD YOUR CUP and talk to Jesus about where you are and how you are really doing and feeling. What do you notice? What are you confused or frustrated about? What are you wondering about as you look ahead to the next season? Give Jesus these things to hold.
After breakfast, Jesus reminds Peter of his purpose. Jesus reinstates Peter after his betrayals. Jesus invites Peter to fish for people again… this time inviting him to feed his sheep. He reminds Peter of his calling. And says, FOLLOW ME.
Consider what Jesus has called, invited you to do in the Kingdom of God. Take time to thank him for this. How has it changed over the years? 
What or how do you need to REDISCOVER the INVITATION OF JESUS IN YOUR LIFE?
How is Jesus inviting you to FOLLOW him again?
As you drink from your cup this week, Pray and ask how you are being invited on a new adventure with Jesus!
REMEMBER as my friend Pastor/Professor Frank Ponce says,
"Jesus has provision for the NEW REALITY he is inviting you into" and Jesus has abundant provision for the next leg of this adventure!
©lillylewin and freerangeworship.com
---
Sign up to join us for this virtual retreat experience Making Time for a Sacred Summer with Christine Sine and Lilly Lewin!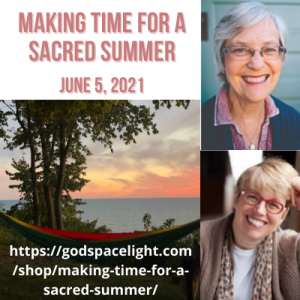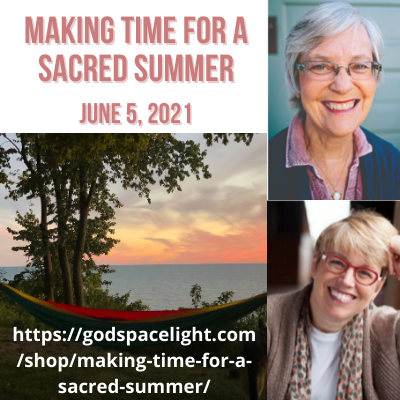 ---
Note: As an Amazon Affiliate, I earn an amount on qualifying purchases. Thank you for your support for Godspace in this way.