by Carol Dixon, photos by Carol Dixon unless specified,
People these days often refer to trees as the lungs of the planet but I wonder if they realise how they can heal human beings too.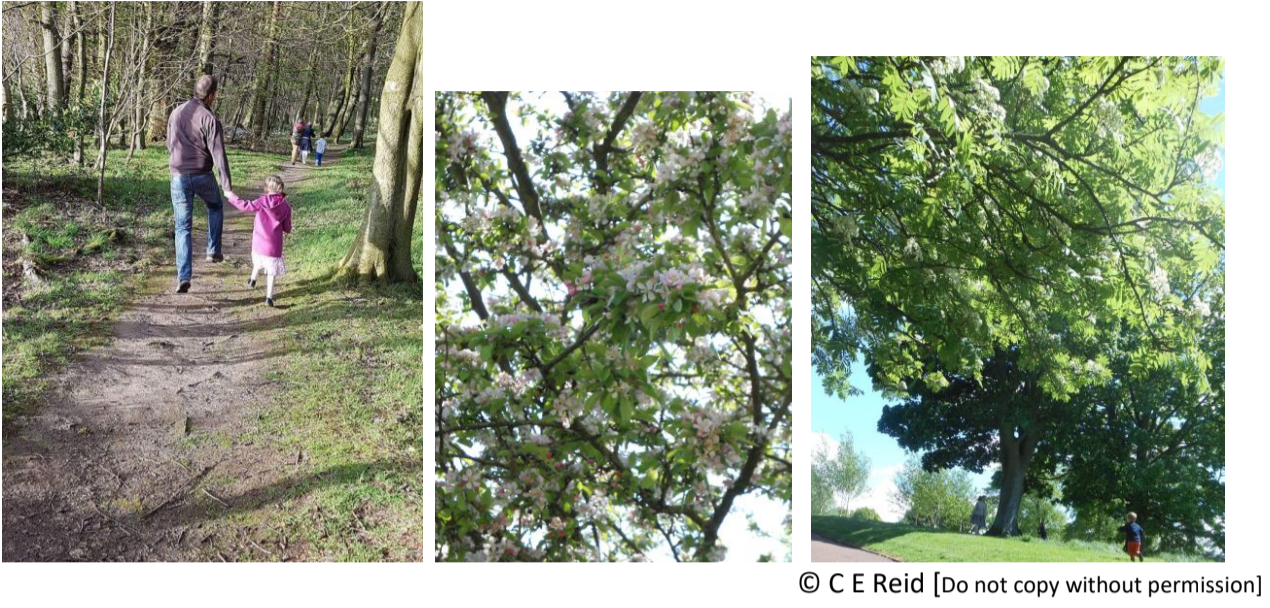 When I was young, I spent a lot of my time in woods near my home. Sometimes I was with friends as we climbed trees, made dens, swung on homemade swings hung from branches, or played hide and seek. At either times I would go on my own and search for acorns, look at the intricate patterns on different leaves, feel the bark on the tree trunks, or my favourite pastime of all – lying on the grass looking up at the sky through the tree canopy, seeing the sun dancing through the leaves and listening to the birds singing. Even now as an adult walking through woodland, I love listening to the rustle of the leaves and the murmuring of the breeze in the branches, as though the trees were whispering to each other – and I enjoy sharing these magical moments with my grandchildren.
I didn't know it then but when I wandered through the trees soaking up the variety and beauty of the woods, I was 'forest bathing', an activity that has become very popular in the UK in the past few years and has been advocated for health & healing. For those who haven't come across it before, it is a way of submerging yourself in nature to promote mindfulness and well-being. The Japanese practice of – literally, forest bath – is reputed to have the power to counter illnesses. It is an opportunity for people to take time out, slow down and connect with nature. Although people have been taking walks in forests for centuries, new studies believe that such activity may reduce blood pressure, improve concentration & memory and aid sleep, and a chemical released by trees and plants, called phytoncides, was found to boost the immune system.
An advocate of the practice states 'We are designed to be connected to the natural world, to "listen to the wind and taste the air". When you embark on forest bathing make sure you have left your phone and camera behind. You are going to be walking aimlessly and slowly. You don't need any devices. Let your body be your guide. Listen to where it wants to take you. Follow your nose. And take your time. It doesn't matter if you don't get anywhere. You are not going anywhere. You are savouring the sounds, smells and sights of nature and letting the forest in. People initially think they've been doing this all their lives: going for a walk in the woods. But it might be a brisk walk, or you might be worrying about where the dog has got to. A better way to frame forest bathing is mindful time spent under the canopy of trees for health and
well-being purposes.'
Some trees are very special and leave a lasting impact. There have been many special trees in my life: In Alnwick Garden in my home town, is the very old tree I used to visit with my grandmother who told me that she played beside it as a child. (I even wrote a story about it for my grandchildren).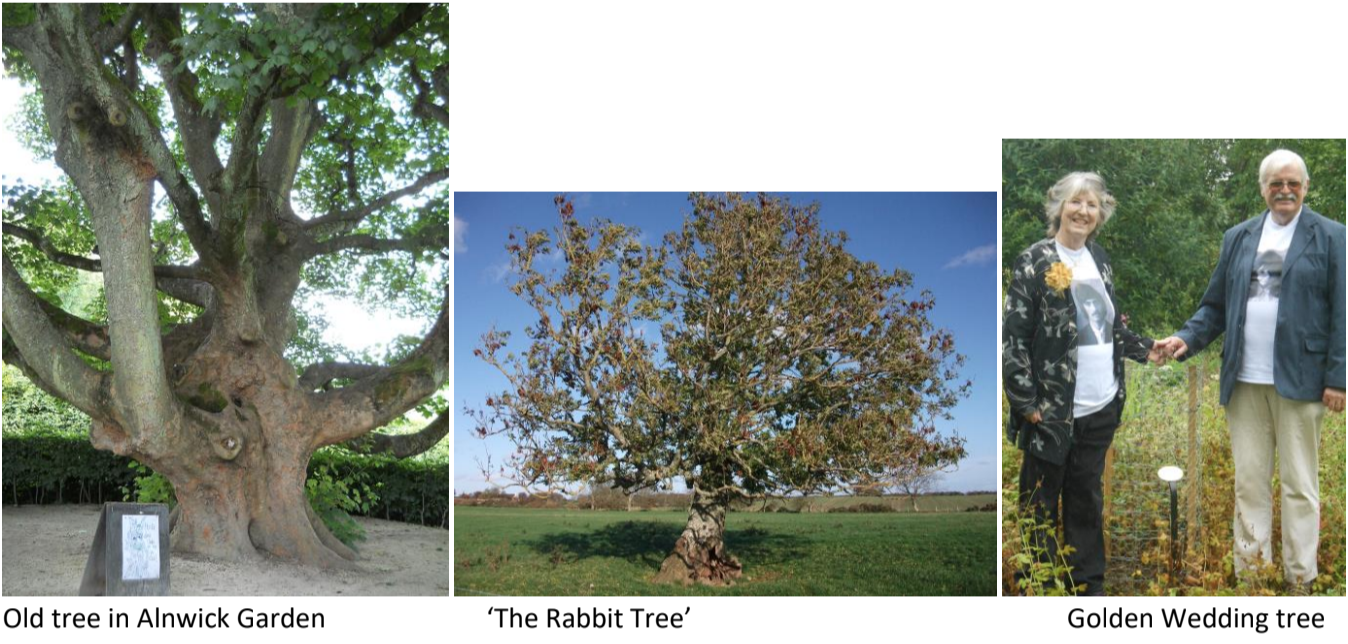 There is also the ancient oak over 400 years old that grows beside the Rock Mill burn on the farm where my husband grew up, the copper beech he planted as a small child with his mother and the Rabbit Tree, an old hollow tree where he and his brothers used to watch the rabbits running up the inside to sit on the branches (I didn't believe him until I saw it for myself when we were courting!) Last year, we celebrated our Golden Wedding by planting a tree beside the lake nearby where we got engaged over 51 years ago.
Regardless of what season it is there is something to savour. I love the burgeoning buds on the tips of branches in spring, the variety & glorious profusion of trees in full leaf in summer, the myriad colours of autumn trees as you crunch through the fallen leaves looking for conkers and sometimes my favourite of all – the stark beauty of tree silhouettes against the winter sky. The whole life cycle of trees fascinates me. I belong to an ecumenical prayer fellowship called the Companions of Brother Lawrence who try to practice the presence of God in everyday life. One of my favourite stories about him is his conversion which happened through seeing a bare tree in winter blossoming into full bloom in spring. This is how he
described it: "In winter, seeing a tree stripped of its leaves and considering that within a little time the leaves would be renewed and after that the flowers and fruit appear, he received a high view of the Providence and Power of GOD which has never since been defaced from his soul. This view had perfectly set him loose from the world and kindled in him such love that he could not tell whether it had increased in above 40 years that he had lived since." (from Brother Lawrence, The Practice of the Presence of God)
Trees have been important to human beings all through history and are mentioned in the Bible from the very beginning in the Creation story in Genesis where we read of the Tree of life and the forbidden tree of knowledge of good and evil in the Garden of Eden, to the end in the book of Revelation which tells of the tree whose leaves are for the healing of all nations that flows by the river of life. What a beautiful picture that conjures up.
Some years ago, I wrote a reflection on the wonderful amazing power of a tree from its 'birth' from a tiny seed to the great towering giant it becomes over the centuries. It was called Faith in a nutshell – a meditation on a beechnut (Good Ground – Reflection on new growth in old places – Godspacelight). Recently, I have been reflecting on it again – on the mind-blowing thought that from just a small seed such a majestic tree could come. For me, thinking of the tiny seed buried in the earth, battling its way out of the darkness, and the small fragile sapling surviving winter gales to become a strong and sturdy tree is such a hopeful symbol of our lives, strengthened by the Holy Spirit rising from difficulties and despair to new life, healed and restored by God. The woods are even a good place to weep in times of sadness and feel the embrace
of the encircling trees which have stood through many storms over the centuries. As we walk with Jesus through the austerities of Lent, we can look forward to the re-creation of our lives and our world, currently imprisoned by the coronavirus pandemic, finally free to meet and mingle with one another again. Truly an Easter blessing.
The woodland nearest to where I live is relatively new. It was planted about 15 years ago on the site of a former opencast mine by lads from a young offenders' prison in the area. Each day during lockdown as I walk among these young trees, I rejoice that this former industrial site has blossomed into a place of beauty and I give thanks for those young men, most of whom are now free having served their sentences, whose hard work helped to transform a waste land into something restful and renewing for our village to enjoy.
Birch Copse
Walking from the sombre shadow
of towering trees, the encroaching
curtain of darkness parted,
revealing a slash of light;
a grassy glade, peppered
with forget- me- knots
beckoned; tiptoeing
into the secret space,
I trod tentatively,
as if entering an unfamiliar
holy place, where angels'
feet had brushed the ground,
heard the rustle of wind,
or wings, and found
just what I needed –
a welcome time of rest,
and re- creation.
©Carol Dixon (Published on Places of Poetry website 2019)
It isn't always possible to walk among the trees and when I am stuck in the house for whatever reason I like to listen to a piece of music called 'Pachelbel – Forest Garden' by Robert J. Hemmer and imagine myself taking a walk with Jesus through a wood and I feel so much better afterwards. If you can't go outside and walk in woodland or talk to a tree you may like to lose yourself in a forest for a few moments as you listen.
(there is a natural break after 8 minutes if you haven't time to listen to it all)
---
Take advantage of this sale now through March 17th.