by Joy Lenton
We feel raw and vulnerable when we encounter a need for healing in ourselves, whether it concerns our physical or mental health. The healing process has as many variations as any dis-ease we might suffer from. Thankfully, our unlimited God isn't limited in what He will heal in us.
He expects us to exercise our faith and pray for healing for ourselves and for others. We will be heard and answered even if it might not look like it sometimes, because the extent and timing are very much in God's hands.
God impressed the words below on me in prayer. I'm sharing them to offer you hope from the sense of bleakness, hopelessness and despair which delayed healing can engender.
Prayer Whisper: A place of healing
"The centre of My Presence is a Place of Healing. It is where you are energised, equipped, rested, restored, renewed, and guided into My Truth. The more you seek My face and spend time with Me, the better enabled you are to face the challenges in your life. As I saturate you with My grace, you will receive the fruit of the Spirit to gradually transform you more and more into My image. 
It is a place of refuge from the pain, struggle and strain which living in this world brings. A place of healing is also found as you share your personal journey with others and encourage them with the work I am doing in your life. Then, as they share their stories, you can learn and grow together in celebration of all I am doing to help and bless you.
Wounded souls can find refuge and hope in learning about My work in the lives of others, so they will be strengthened for their own walk of faith. Healing is a process. No two people will experience it in exactly the same way or measure. It requires something from the person needing it as well as the touch of The Healer Himself.
You must believe I am the One who heals you. You must come without prejudice, resentment or unbelief, and with hands wide open in child-like faith to receive. For only those who sense their need of healing are able to see Who provides it for them."
Sensing the healing process
If we look hard enough, we can trace degrees of physical, emotional or spiritual healing from God in our own lives. It might be incomplete but it still makes a great difference to how we think and live.
Healing 
it's a mystery
all I had to offer you
was broken shards
you made it a thing of beauty
a shimmering stained glass
now it reflects
the light of your presence
hidden deep within
this life of mine is hid in Christ
because I trust in him
sometimes I sense
a pricking of the pieces
in my heart
where your healing takes place
though incomplete in parts
at times like that
I am apt to hurt, forget
this mending process
is ongoing and prolonged
it can take years and years
but if I stay calm
and trust in change itself
the rest will come
trailing your peace and joy
just as darkness yields to sun
© joylenton
When we don't get healed 
And if we or our loved ones, friends and family are not healed? There's a holy purpose in that too. Because when we are weak, we can better appreciate the inner resilience and strength which Christ provides. When adversity hits, we discover how spiritual fruit develops out of our greater dependence on God.
Being physically or emotionally healed is a glorious gift, but sometimes the greater gift lies in the inner healing we receive as we're equipped to live with the challenges we face. All of us are broken, only some more obviously than others. Each wound is a potential entry point for the healing, life affirming presence of Christ.
The 'Healing' poem was originally shared at poetryjoy.com
---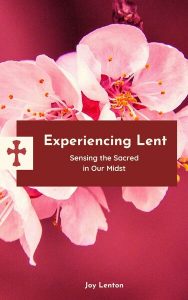 PS: If you're still looking for a helpful resource for Lent, then Joy's latest book 'Experiencing Lent: Sensing the Sacred in our Midst' could fit the bill. As an eclectic mix of poetry, devotional reflections and prayers, it will aid you in sensing the sacred in your midst. Here's a quote from the introduction:
During Lent, we gradually move from fasting to feasting. From ashes to beauty. From confession to celebration. From sorrow to joy. From darkness to light. How might it look to experience Lent in a new way through the lens and immediacy of poetry?

I would like to take you on a poetic journey of the heart that honours the tradition of Lent and expands on it. One that you can follow sequentially, use periodically for a personal retreat, or dip into whenever you need. Here you will find a mix of the personal and universal, as well as biblical stories being shared."