By Lilly Lewin
I've actually seen several Christmas trees in windows as I've walked and prayed for our neighborhood since Halloween. I'm personally not ready to put up the tree (I just finally decorated for Fall and Thanksgiving!). But I am ready to start on the pilgrimage of Advent. I am ready to Lean towards the LIGHT! This weekend begins Celtic Advent. Celtic Christians start the Advent journey early beginning on November 15th and continuing on to the regular four weeks of traditional Advent in December. Celtic Christians use the 40 days before Christmas to prepare their hearts for the arrival of the LIGHT OF THE WORLD, just like the 40 days of Lent prepares us for Easter. With all that is going on right now in our world, I think we need more time to ponder the Light who is Jesus and we need more opportunities to bring LIGHT into our world.
I love that Christine's book Lean Towards the Light this Advent & Christmas starts this week too. Order it and join us on the journey this year!
Isaiah 9:2-7
The Message (MSG)
The people who walked in darkness
    have seen a great light.
For those who lived in a land of deep shadows—
    light! sunbursts of light!
You repopulated the nation,
    you expanded its joy.
Oh, they're so glad in your presence!
    Festival joy!
The joy of a great celebration,
    sharing rich gifts and warm greetings.
The abuse of oppressors and cruelty of tyrants—
    all their whips and cudgels and curses—
Is gone, done away with, a deliverance
    as surprising and sudden as Gideon's old victory over Midian.
What do you notice about this passage? What does the Holy Spirit highlight for you?
How have you been walking in darkness this week? What things have caused you to live in the land of deep shadows? Talk to Jesus about this? 
As an act of confession, write these things down on a piece of paper and then burn them in your fireplace, fire pit or in pyrex bowl outside. Let the LIGHT of JESUS shine in these dark places.
The LIGHT bursts into the darkness and it's cause for great celebration!
Where have you experienced the small or big joys and celebrations this week? Maybe it was a change in weather or funny video someone sent you… it doesn't have to be super spiritual to be a glimpse of God's LIGHT! Create a THANK YOU/Gratitude window in your home with POST IT NOTES. Write down the things that are bringing you joy, the places you've seen or experienced LIGHT and other things your are grateful for and create a stained glass window with post it notes.
What could you do to experience more "festival joy" this week or the days ahead as Advent begins? Take some time to think, pray and plan with Jesus. You might plan something with your spouse, your roommates or your children.

The people living in darkness
have seen a great light;
on those living in the land of the shadow of death a light has dawned." Matthew 4:16
"I am the light of the world. Whoever follows me will never walk in darkness, but will have the light of life." JESUS    
How do you need the LIGHT of JESUS to dawn in your life this week? Talk to Jesus about this.
CREATE YOUR OWN ADVENT WREATH OR CANDLE TRAY
Create an Advent wreath or candle tray. I've used all sorts of candles. The tray above has 7 candles for the 6 weeks before Christmas and a Candle to represent JESUS THE LIGHT. Light these each night starting with Celtic Advent on Sunday, Nov. 15th and then when the first week of Advent starts on Sunday, Nov. 30th, take away the two extras and you will have the 4 traditional candles and one representing JESUS THE LIGHT left on the tray.

BRING LIGHT TO THE WORLD

FIND A MAP OF THE WORLD and begin to Pray for Places to see and experience the LIGHT OF THE WORLD. You can print out a map you find on the internet, find one at a store, or even buy a shower curtain with the map of the world to use as a table cloth to remind you to pray for the LIGHT OF JESUS to shine in dark places. You can use tea light candles to add your map to highlight specific places you are praying for or you can use glow in the dark stars if you have younger kids or just want some fun! Print out a map, write down your prayers on the map, or draw on it with bright colors, bringing the LIGHT of JESUS to those countries you are praying for today. You can keep your map out throughout Advent adding candles and/or stars and praying for more places to celebrate and know the LIGHT and LOVE OF JESUS.
TASTE SOME SALT
3. TASTE SOME SALT and LIGHT ANOTHER CANDLE… Jesus said, "You are the salt of the earth. But what good is salt if it has lost its flavor? Can you make it useful again? It will be thrown out and trampled underfoot as worthless. You are the light of the world–like a city on a mountain, glowing in the night for all to see. Don't hide your light under a basket! Instead, put it on a stand and let it shine for all.
Matthew 5:1-15
Put out some salt, a box, a salt shaker, a small bowl of salt. Taste a bit each day to remind you to bring flavor of Jesus to your world. When you see a salt shaker, let it be a reminder to bring the FLAVOR OF JESUS to your family, friends, coworkers, housemates etc. As you taste the salt and/or see a SALT SHAKER/CONTAINER pray for someone you know who needs the love and LIGHT of Jesus this Advent.
PLAY SOME MUSIC
Play or LISTEN TO MUSIC. There are three songs below about salt and light. Take some time to listen to other music that brings you joy and helps you see the LIGHT. Create your own playlist of songs to help you experience more JOY and LIGHT in the days ahead.
If you are leading worship this Advent or leading a group online, join me for a workshop next Friday, Nov. 20th via Zoom at 2pm Central Time TITLE: FreerangeWorship Workshop: Creating and Experiencing Sacred Space Worship in Unfamiliar Times. We will experience online worship together and I'll give you ideas for Advent, Christmas and Healing post-election. Message me for the details. And check out the Advent and Christmas Sacred Space Kits that are great for worship if you are able to meet in person and can be created in a COVID-safe way.

Also, check out Christine's Advent Retreat that can be experienced on your own time. And mark your calendars and join us for BLUE CHRISTMAS on December 8th. It will be a multi-sensory gathering of friends from all over the world acknowledging the many emotions of the season, especially in 2020!
So many ways to help you experience more of the LIGHT of JESUS in this crazy time. Don't try to do all of them. Pick one or two that will help you connect more with JESUS and others this season. Even just simply lighting a candle each morning with your coffee and asking Jesus to bring his light to your day is enough!
For those who lived in a land of deep shadows—




    

light! sunbursts of light!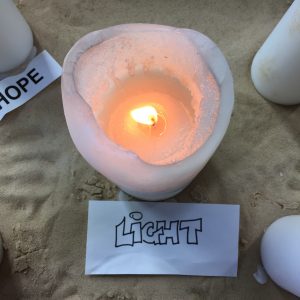 ©lillylewin and freerangeworship.com