Last week's FreerangeFriday post was an example of the liturgy we use at thinplaceNASHVILLE and I'm continuing that this week along with an invitation to join us on Friday's at 1pm central time via Zoom. If you need a break in your day, or you are feeling tired or burned out, or just want to experience a more interactive way to worship online, come join us. You also can use the hand out thinplaceWKofJUNE14AGAIN for your own devotions, or with your church community or small group. This week's gospel reading is Matthew 10: 24-39 in the lectionary. We decided to combine this week and next's readings and listen to, and reflect on Matthew 10: 24-42. Grab a cup of cold water and your hairbrush and pray with all your senses!

OPENING PRAYER CANDLES (Pray /repeat after leader)
Lord we ask you to fill us with your Hope
Lord, fill us with your Peace
Lord fill us with your Joy
Lord, fill us with your Love
And Lord Help us to see your Light! AMEN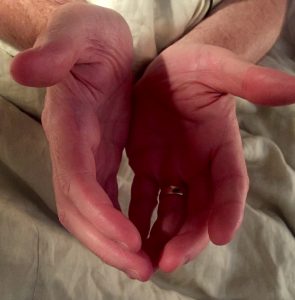 GIVING STUFF TO JESUS to HOLD FOR US: (body prayer practice)
We are all carrying many heavy things today… let us give them to God to hold and carry for us. Cup your hands in front of you and imagine all the heavy things your are holding…feel the weight. Now give these things into the hands of God to hold and carry for you today. And know God will hold them and be in charge of them, you don't have to carry them anymore.
Praying the Psalm together
Psalm 86:1-11  A Prayer of Faith (from the Passion Translation)

King David's prayer
1 Lord, bend down to listen to my prayer.
I am in deep trouble. I'm broken and humbled,
and I desperately need your help.
2 Guard my life, for I'm your faithful friend, your loyal servant for life.
I turn to you in faith, my God, my hero; come and rescue me!
3 Lord God, hear my constant cry for help;
show me your favor and bring me to your fountain of grace!
4 Restore joy to your loving servant once again,
for all I am is yours, O God.
5 Lord, you are so good to me, so kind in every way[a]
and ready to forgive,
for your grace-fountain keeps overflowing,
drenching all your lovers who pray to you.
6 God, won't you pay attention to this urgent cry?
Lord, bend down to listen to my prayer.
7 Whenever trouble strikes, I will keep crying out to you,
for I know your help is on the way.
8 God, there's no one like you;
there's no other god as famous as you.
You outshine all others and your miracles make it easy to know you.
9 Lord Almighty, you are the one who created all the nations;
Look at them—they're all on their way!
Yes, the day will come when they all will worship you
and put your glory on display.
10 You are the one and only God.
What miracles! What wonders! What greatness belongs to you!
11 Teach me more about you, how you work and how you move,
so that I can walk onward in your truth
until everything within me brings honor to your name. AMEN

We listen to it in three voices and in three translations, The New International Version, The Message, and The Passion Translation.
Matthew 10:24-42
The Message (MSG)
24-25 "A student doesn't get a better desk than her teacher. A laborer doesn't make more money than his boss. Be content—pleased, even—when you, my students, my harvest hands, get the same treatment I get. If they call me, the Master, 'Dungface,' what can the workers expect?
26-27 "Don't be intimidated. Eventually everything is going to be out in the open, and everyone will know how things really are. So don't hesitate to go public now.
28 "Don't be bluffed into silence by the threats of bullies. There's nothing they can do to your soul, your core being. Save your fear for God, who holds your entire life—body and soul—in his hands.
29-31 "What's the price of a pet canary? Some loose change, right? And God cares what happens to it even more than you do. He pays even greater attention to you, down to the last detail—even numbering the hairs on your head! So don't be intimidated by all this bully talk. You're worth more than a million canaries.
32-33 "Stand up for me against world opinion and I'll stand up for you before my Father in heaven. If you turn tail and run, do you think I'll cover for you?
34-37 "Don't think I've come to make life cozy. I've come to cut—make a sharp knife-cut between son and father, daughter and mother, bride and mother-in-law—cut through these cozy domestic arrangements and free you for God. Well-meaning family members can be your worst enemies. If you prefer father or mother over me, you don't deserve me. If you prefer son or daughter over me, you don't deserve me.
38-39 "If you don't go all the way with me, through thick and thin, you don't deserve me. If your first concern is to look after yourself, you'll never find yourself. But if you forget about yourself and look to me, you'll find both yourself and me.
40-42 "We are intimately linked in this harvest work. Anyone who accepts what you do, accepts me, the One who sent you. Anyone who accepts what I do accepts my Father, who sent me. Accepting a messenger of God is as good as being God's messenger. Accepting someone's help is as good as giving someone help. This is a large work I've called you into, but don't be overwhelmed by it. It's best to start small. Give a cool cup of water to someone who is thirsty, for instance. The smallest act of giving or receiving makes you a true apprentice. You won't lose out on a thing."
QUESTIONS TO CONSIDER and Journal from this week:
After reading or listening to the psalm and the gospel passage, what do you notice that you haven't noticed before? What is God speaking to you about TODAY as you read these passages? Take time to read them again, use different translations to hear it in fresh ways.
What questions do you have? What questions come up as you read the passage. Talk to Jesus about them.
How are you in need of help today? What are you crying out to God about today? What prayers do you want God to listen to right now?
How can you see God as your hero? (from the Psalm)
Considering all that is happening in our world right now, what things that are in the dark, do you want to be brought into the Light?
"Stand up for me against world opinion and I'll stand up for you before my Father in heaven." How can you stand up for Jesus and his kingdom work in the world right now? Pray about this and ask Jesus to show you.
Have you ever denied Jesus in front of people? Talk to him about this and if you still are carrying any guilt or shame, give this to Jesus to carry for you and ask him to forgive you.
"Well-meaning family members can be your worst enemies." Do you have conflict with anyone in your family? Talk to Jesus about this. Take time to pray for your family members or friends with whom you have conflict, being reminded we are called to LOVE OUR ENEMIES and pray for those who persecute us.
"So don't worry. For your Father cares deeply about even the smallest detail of your life. How does it feel to know that God the Father, Creator God, cares so deeply for you that God knows the number of hairs on your head?
RESPONSE: HOLD your cup of water in your hand… What things have been "cups of cold water" for you this week? Name them. What things have given you refreshment in the midst of this crazy season? Take time to thank Jesus for these things. Who are the people who've provided "cups of water"for you during the middle of covid19? Spend some time praying for these people to be refreshed by Jesus.
RESPONSE 2: How can we give away cups of water?
How can we give more "cups of cold water" to people in the days ahead? What does this look like in the middle of covid19 and the Black Lives Matter movement? Ask Jesus to show you! Make a plan. What are some practical ways you can do this in your neighborhood and with your friends and family?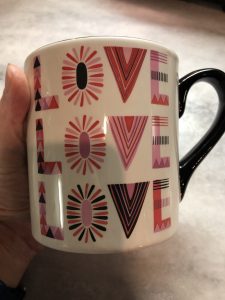 CLOSING PRAYER:
Lord!
Give us grace today to love as you love.
Help us to love with extravagance.
Give us hope today for ourselves and others.
Heal our hurts and our hearts today,
So we can serve and help those around us.
Help us to know that you are enough.
And help us live today and everyday in thankfulness.
For all you've done and for all you bless us with.
In the Name of the Father, the Son, and the Holy Spirit. AMEN
HOMEWORK: Ways you can respond to and worship with this passage throughout the week!
PRAY WITH THE BIRDS: Watch for Sparrows/ Birds this week! Allow the birds to remind you of God's great care and compassion for you! Remember that Jesus cares about the details of your life! You are worth more than a MILLION CANARIES!
PRAY WITH YOUR HAIRBRUSH: As you comb, brush, "do" your hair this week, take time to thanks Jesus for his care for you! Allow Jesus to love you as you do your hair. He knows and loves you so much that he counts the number of hairs on your head! Pray for yourself to receive this gift of love and pray for someone else who needs to know this care and love of Jesus.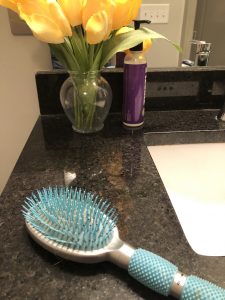 PRAY WITH ART: The ART above is by my friend Jill Hicks "common yellow throat" Use it as a reminder that Jesus is caring for you and watching over you! Create your own art work in response to this passage!
LISTEN: Listen to Father Richard Rohr's sermon on this same passage! He can say more in 6 minutes than some people can say in 6 hours!
WATCH: Watch my friend Scott Erickson's sermon on Hope (starting 20 minutes into the video) it's great!

LISTEN AND SING: Listen to this beautiful version of "His Eye is on the Sparrow". Learn more about the song here.