by Lisa DeRosa
Celebrating Earth Week!
As you know, Wednesday is the 50th celebration of Earth Day and we had hoped to be able to get together and celebrate but COVID-19 changed all that. However, even though we are physically distant, we can still celebrate.
First, we can get out and walk in God's good creation, enjoying the sights, here in the Northern Hemisphere of spring blossoming all around, in the Southern Hemisphere of autumn colours and the slow approach of winter. Even for those who live in densely urban areas, there are still opportunities to enjoy the beauty of what is around you – the freshness of a landscape with little pollution, the delight of weeds pushing up through concrete and creating gardens. So get outside, take some deep breaths and enjoy.
Second, we can join one of the virtual celebrations going on around the world. On Sunday, we entered into both the celebration and lament of Earth Day this year by watching this inspiring interfaith celebration at the National Cathedral in Washington, DC. You can check out some of the possibilities for Wednesday on Earth Day.
Here on Godspace, we want to help you enter into the celebrations too.
You can check out our growing array of Creation Care and Earth Day resources. And this week, we have several inspiring posts on Godspace for you to read so I hope that you will check back each day to enjoy those.
Earth Week Sales in the Godspace store!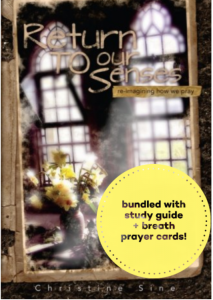 The Gift of Wonder Retreat!
Don't miss out on the webinars that connect paid enrolled retreaters! We will begin these sessions in two weeks time, so please sign up and pay for the retreat to receive the updates about the retreat webinars. Please note, if you are just previewing the course, you will not be enrolled in the webinars.
To sign up, please click on the page below: