By Carol Dixon for St Cuthbert Day, March 20th —

March 20th is St Cuthbert's day and on the Holy Island of Lindisfarne, just off the Northumberland coast, this is a day of celebration when all the churches come together in a procession to Cuthbert's Isle, a small islet just off the main Island, accessible at low tide for an act of worship where the saint himself prayed.
Most of what we know of St Cuthbert comes from the 7th century monk, the Venerable Bede, who wrote an account of St Cuthbert's life at the monastery of Jarrow on the North East Coast of England.
Cuthbert grew up in the Scottish Borders close to Melrose Abbey. Bede tells us that on the night that Aidan died in 651 Cuthbert, having seen 'wonderful lights' in the sky which he took to be a vision of angels, made his way to the abbey and offered himself as a monk. After his training he was sent to Ripon where he served as guest master, offering hospitality to any visitors who arrived from the highborn to the very poorest, treating each person with the same reverence as though he was receiving Christ. Eventually he was appointed Abbot of Lindisfarne but the business of the Island interfered with the life of prayer to which he felt called and he was granted permission to absent himself from the community and live as a hermit on the Inner Farne, just a few miles out to sea. As preparation for this solitary lifestyle, we are told that he had spent many hours alone on St Cuthbert's Island – the rock just offshore from Holy Island, cut off at half tide, and today marked by a large cross.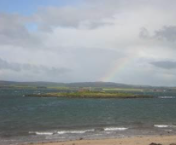 Towards the end of his life Cuthbert was called back to the community to become the Bishop of Lindisfarne, but it is clear that his heart remained with the solitary life, and the company of the birds and the creatures that still are a feature of the Farne Islands today. Bede records a number of delightful legendary stories about the saint, such as the otters and eider ducks (locally named 'cuddy ducks' after St Cuthbert) which came to warm and dry his feet after he has been praying in the sea all night. He spent his active last years as a bishop, caring for the poor, and offering himself as a soul friend to all who called on him. 
Cuthbert returned to the Inner Farne to die. His body was brought back to Lindisfarne for burial; and within a matter of years his tomb had become a place of pilgrimage. A century or so later, repeated Viking raids led to the monks exhuming his body and fleeing for safety; and for more than a hundred years Cuthbert's coffin was carried around the north of England, looking for a final resting place. That turned out to be Durham, where eventually the great Norman cathedral was raised over Cuthbert's shrine.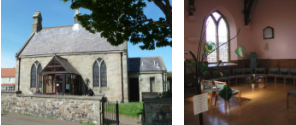 A few years ago I celebrated it by writing a song about this favourite Northumberland saint for our little church on Holy Island that bears his name with words based on St Cuthbert's Holy Island Mission Statement which reflects the life of the saint. (Music below, alternative tune: Sussex Carol)
We follow the example of St Cuthbert by offering:
A place to be apart with God,
A simple hospitable welcome,
A place of prayer & renewal,
A place where strangers feel at home.
CUTHBERT – song for St Cuthbert's, Holy Island

St Cuthbert, humble shepherd saint
and hermit on the inner Farne,
who lived a simple life of faith,
praised God,  and kept his folk from harm.
On Holy Island he worked and prayed
that all might come to God and be saved.
He blessed the cuddy ducks and seals,
and priests and pilgrims called him friend.
The poor and needy sought him out,
for help and hope, their lives to mend,
learned to set time apart to pray,
care for others and follow Christ's way.
Still in St Cuthbert's church today
we dedicate our lives again:
and strangers come and feel at home,
as all are welcomed in Christ's name.
Praise God for saints who served of old!
May we who serve today be as bold!  
A full account of the Life of St Cuthbert is ' Fire of the North' by Canon David Adam, former vicar of St Mary's, Holy Island and well-known author of many inspirational books of prayers.
Key Dates:
St Cuthbert   634 – 687
Venerable Bede   673 – 735
Synod of Whitby   664 (when Roman church practices replaced Celtic church customs in England)
Lindisfarne Gospels written  687-721 (by Eadfrith, who succeeded Cuthbert as Bishop of Lindisfarne)
Viking raid on Lindisfarne     793 (church on Lindisfarne sacked and monks killed or taken into slavery)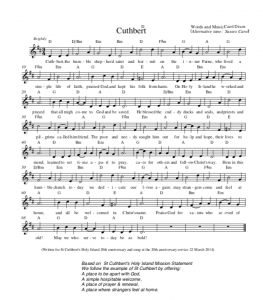 In case you are interested in all of the songs on the CD are all written & sung by Carol and one of them 'Cuthbert's Isle' (set to a traditional Northumbrian Air) I performed in the Guest Hall at Alnwick Castle for the pilgrims traveling from Canterbury to Iona to celebrate the lives of St Augustine & St Columba in the late 1990s.  The songs are: Holy Island hymn, Cuthbert's Isle, In steps of saints, & A day on the Island.  They were recorded in St Cuthbert's church, Holy Island. If you are interested in purchasing a CD or MP3 files, your donation will go towards St Cuthbert's ( price £5 + £2.50 postage for those in UK or can be e-mailed). E-mail Carol, at carol.dixon@talktalk.net for inquiries.