By Carol Dixon —
Cocooned in God's eternal love,
With confidence I face this day,
Uplifted by the peace of Christ
Within me as I rise and pray.
God's power holds me as I wake,
God's spirit blesses as I bathe,
Christ sits at table while I eat
And walks with me upon my way.
My Lord is in each daily task,
In every person that I meet,
In random thoughts and idle chat,
He comes to me in all I greet.
God's presence warms each shop and home,
With each kind word Christ welcomes me;
Should I forget that he is there,
Then signs of God around I see.
I see him in the rolling hills,
In drifting clouds across the sky,
In snail trails on the city streets,
In sound of raindrops, raven's cry.
In children's laughter, old man's smile,
In work-worn hands I glimpse God's care,
In tear-filled eyes, companion's kiss;
In all creation, God is there.
Cocooned in God's eternal love,
I lay aside my cares this day;
Christ's peace will keep me through the night,
Within me, as I rest and pray.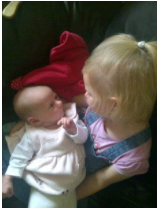 For me, the heartbeat of God transforms everything in life.  As a Companion of Brother Lawrence I try to practice the presence of God in everyday life as Brother Lawrence, the 15th century Carmelite lay worker in a monastery in France did.  As you can imagine seeing God in all things doesn't always work for an earthbound person like me.   Sometimes though I do hear the heartbeat of God in the ordinary and when I do, I want to sing about it.  I am delighted to say a few years ago God gave me a hymn that I revisit from time to time when I need to tune into God during the course of the day (music below).
Sometimes I hear the heartbeat of God in the beauty of creation, in the lovely countryside around me in Northumberland.  At other times it comes to me through the love of my family, especially my grandchildren. I heard it loud and clear when I saw the photo of my 2nd granddaughter holding her baby sister.
Today you might like to think what kind of extraordinary ordinary things draw you into the heart of God and listen to the comfort of God's heartbeat  like the baby in the womb hears the heartbeat of its mother so that, whatever circumstances you find yourself in, you can face the day in tune with God.