With fall in full bloom here in Seattle and winter approaching, this time of the year continues to remind me to slow down and begin to rest. For some of you in the southern hemisphere, summer is budding and even with a busier schedule, maybe that means you need to find the places to rest.
With a new season, we wanted to offer Christine's book, Rest in the Moment to you again. The twelve meditations in this beautiful full color book are designed to provide moments of refreshment throughout the day or week. The blending together of prayers, reflections, questions and photos invite us to pause, reset and refresh ourselves. Rest is such an important part of the rhythm of our lives, not just a weekly rest of Sabbath, but pauses of rest throughout the day to reset our focus and renew our connections to God. We all need times when we pause for refreshment and renewal. Just as the night calls us to rest after a busy day and the winter calls us to rest after busy seasons of planting growth and harvest, so too does God beckon us to rest after hours of busy work.
Order yours today as you enter into a new rhythm and season and our prayer is that it will be a tool to help you reflect for Godly pauses in your new season of life.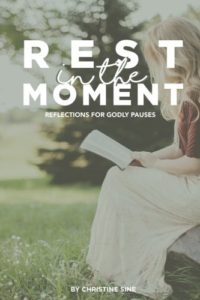 Rest for the Moment Hard Copy – $19.99
Rest for the Moment Digital Copy – $9.99