Be Prepared for the Advent & Christmas this year!
Godspace friends, – a big thank you to those of you who have preordered our new Advent cards with or without the Advent devotional books we have available. We posted these orders yesterday and really appreciate these pre orders as they help us know how many cards to order!!! And your orders help us cover the costs associated with keeping Godspace up and running so that we can provide more resources in the future. We also have this available as a pdf download for those (like me) who like to have them on their phone for on the go prayers.
We also offer many other free resources for Advent and Christmas (like the ever popular Advent in a Jar.) Our prayer is that these tools enrich your holiday season and help connect you and your family to God in a deeper way. Visit the Godspace Shop for more and below are links that we would love for you to check out! They also make for excellent gifts for your loved ones!
Advent Prayer Cards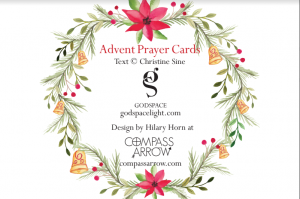 This set of 12 cards will help you reflect on the Advent and Christmas story. They begin with Celtic Advent so there are 6 for Advent, 1 for Christmas Eve, 4 for the Christmas season and 1 for the Eve of Epiphany. Each card consists to a prayer and image on one side and a short reflection on the other. And they are stunning if I do say so myself. Hilary does an amazing job. For more details:
1 Set of Prayer Cards » $12.00
3 Sets of Prayer Cards » $30.00
Advent Bundles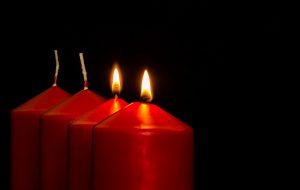 Advent Bundle 1 includes the Advent Prayer Card Set and a copy of Waiting for the Light: An Advent Devotional.
Advent Bundle 1 » $24
Advent Bundle 2 package includes an Advent Prayer Card Set and a copy of A Journey Toward Home: Soul Travel from Advent to Lent.
Advent Bundle 2 » $24
Check Out Our Other Prayer Cards.
Don't forget that our prayer cards make great gifts for the upcoming season. We now have 4 sets as well as the new Advent cards for you to choose from.
Celtic Prayer Cards (My favourite because I took most of the photos on Iona) One set: Three sets; Download
Pause Throughout the Day: One set; Three sets; Download
Prayers for the Day One set; Three sets; Download
And if you can't make up your mind order our Bundle of 3 different cards
Gift of Wonder cards One set; Three sets; Download; Bundle with book.