by Christine Sine
This week I began my gratitude scavenger hunt. Yes I know I am a bit early for the "Season of Gratitude" that I talked about but I don't think that we can ever express too much gratitude.
What Am I Grateful For In My Life?
So this week I started with "What am I grateful for in my life". My original plan was to fill up a page in my new gratitude journal with items I am grateful for. The trouble is that there are so many that I think I will have the whole book full before I am done. And I didn't even need to go on much of a scavenger hunt.
I started with general aspects of my life – resilience, health, faith, talents, achievements, love of nature, risk taking and many more soon filled the first page.
Then I moved on to memories – such a special area of gratitude, so many memories from my childhood, my days at university, on the Anastasis, through 28 years of marriage. I am so grateful for the many blessings in my life.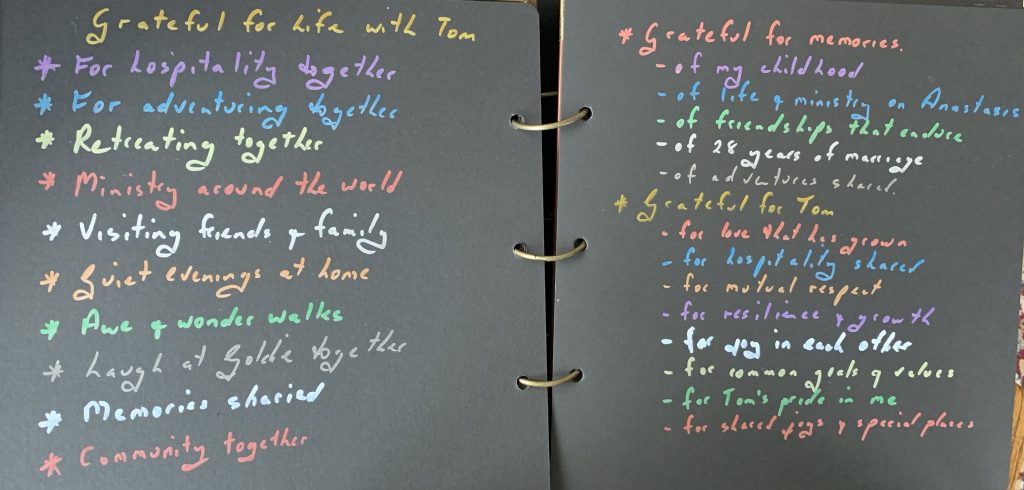 Next I thought about my relationship with Tom – again I am overwhelmed with gratitude – for love that has grown, for hospitality shared, for joy in each other and for the delight of adventuring together, retreating together, doing ministry together and laugh together at the antics of our silly dog Goldie to name but a few.

Who Has Made My Life Better?
Now I am stuck – my question "Who has made my life better?" has resulted in such a list of friends, family, mentors, and spiritual companions that my heart is overflowing.
Now its time to do a collage but how can I possibly put all this together? I can't so I decided to cheat a little and put together a collage of photos from the last year – just a few of the people who make my life better in so many ways.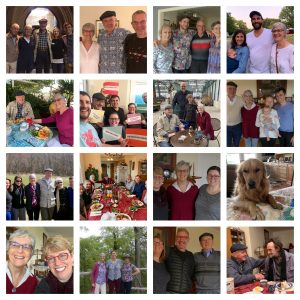 OK so this doesn't really look like the list of suggested instructions for a scavenger hunt that I gave you last week but this is meant to be a focus on gratitude not on the scavenger hunt.
Have You Started Your Gratitude Season Yet?
So have you started your gratitude season yet? What have you thought about this week that you are grateful to God for?