By Jenneth Graser —
I pray to become
like a child
to inherit the kingdom.
A child rolling down
a green hill,
feeling how easy it is
to talk with God.
Where life is happening
only now.
Forgetting what is over
and done with.
Remembering what is truly
important.
Like yummy things
and big hugs.
Innovate-create
my every idea
into being.
To take it as it comes.
Colour outside the lines
and draw,
make, stick, cut, sprinkle!
Could I get my fingers
into paint
and my feet
into puddles?
Could I believe
that clouds are actually
giants and angels?
And fall asleep
when my head
hits the pillow
flying high in my dreams
through the night
into mornings made of
wisdom and miracles?
Waking up like a child
into brand new
gratitude
and simple
beginnings
like, "Wow!"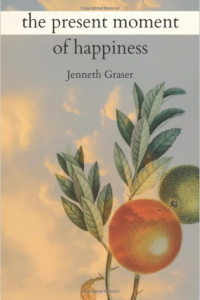 If  you've been a fan of Jenneth's poems, like we have — check out her newly published book of poetry called, The Present Moment of Happiness. This volume of 50 poems is a call to courage, as you embrace the wisdom that abides within your story. Her poetry explores how painful shifts in the seasons we go through can lead to even greater expansion when we trust the process.  Featuring 50 poems in 5 themes: live in the moment, hope, love yourself, believe, grateful dreaming.  Jenneth writes from the inspiration of her own challenging experiences tangibly, making her poetry accessible to everyone on a spiritual journey.