A Reading Life Differently post by Barbie Perks —
I've been so excited to be writing these entries (See Reading Life Differently Part One, Two & Three), I'm hoping that you who read them are also feeling that sense of excitement for me! Although many miles/kilometres separate us, we can share in the same heartbeat of the Holy Spirit working in our lives. If God chooses to use my words and experiences to touch and encourage someone, what a blessing that is!
Coming to a new country meant that I had to take farewell of other things I had been involved in and grown attached to. One of those was a Precept Bible Study I had run for a good number of years. I was unable to find a trained Leader to take it over, and none of the group were willing to step up and share the leadership role. Some have moved on to other groups, some are dealing with their own difficult circumstances at this point in life. Whatever it is, the season for this particular group of ladies has come to an end.
The second group I ran, however, has risen to the challenge of leadership and decided to share and rotate leadership of the group. They have stepped out of their comfort zones, and into a period of real growth as they study and wrestle with the Word to prepare the lessons each week. They will enter a new period of dependence on God for insight and wisdom, and will discover wonderful truths about leadership for themselves.
Seasons come and go, don't they? We are so used to the natural seasons of spring, summer, autumn and winter that we don't really take much notice of them, beyond complaining about the heat or the cold. This Godspacelight website is pretty much the exception to the rule – your writers delight in season changes and I love it.
People keep asking me what I am going to do with my time, even those I have just met. I'm happy to say I am enjoying this time of quiet and reflection, waiting on God to lead me.
Ecclesiastes 3 1-8 is such a beautiful reminder that there is a time and a season for every activity under the heavens. A season for every activity.  A list of activities follows, and as I read each one, I see that of course, each is a season that comes and goes as the years go by. Sometimes, seasons overlap and we have to walk or wade through those with the help of good friends and loving family.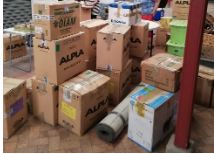 I have been through the season of uprooting and moving (v2b), the season of deciding what to keep and what to throw away (v6b) – and oh, was that not a difficult couple of weeks! 25 years of living in the same home and raising children leaves one with a lot souvenirs to sort through. My oldest son repeatedly said that he was so thankful I was doing the work now and not leaving it to him to do one day.
Presently we are also in the season of anticipating the birth of a second grandchild and the upheaval that will bring as the family settles and expands. Those early months are never easy, but we do know that it is a season and it will pass. At the same time, we have friends who have lost either a spouse, or a son, or have had bad news about cancer recurring. The times for mourning and weeping overlap with the times for celebration and laughing. And God gives us the grace to be fully present with each person in these seasons. I wonder, is that a part of the image of God that we are all created in? God is fully present within us in the person of the Holy Spirit, through each of the seasons we enter and exit. I find that a very comforting truth to hold on to.
Which season do you find yourself in today? If it's a difficult or challenging season, can you look forward to when it will end? Can you find the beauty in this season (V11) and celebrate it?
I remembered this song which basically helps us to memorise these verses.  It's not a Christian song, but the repeated phrase Turn Turn Turn could be a reminder to repent and change the way we think about our seasons….. this might be worth thinking further on. What do you think?