On Friday, my first copies of The Gift of Wonder arrived on our doorstep – well in advance of the March 19th launch party. As you can imagine I am very excited about this and it seems that many of you are too. Unfortunately some of you are wondering what on earth this book is all about so we have just added a list of the chapter headings to the Gift of Wonder page to give you an idea of what I talk about in the book.
Just a couple of other reminders as the launch date approaches
Don't Forget The Launch Party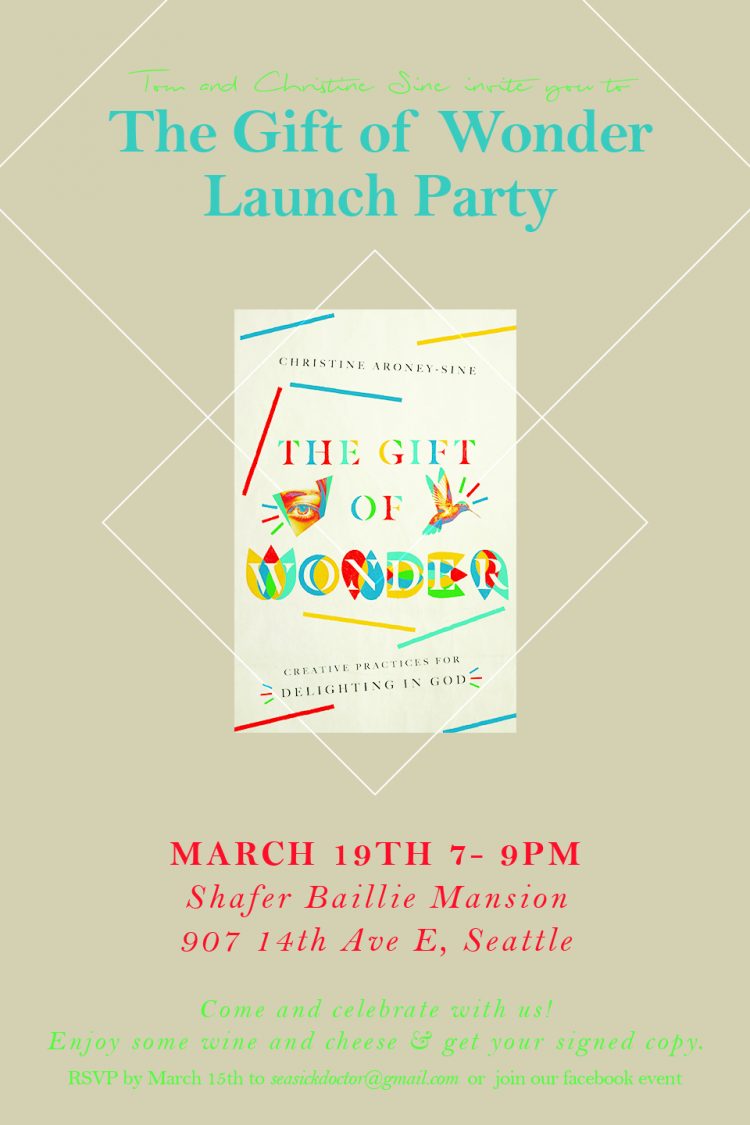 If you live in Seattle don't forget to RSVP for the launch party March 19th so that we can have plenty of food, wine and fun activities to share with you – as well as books and the special prayer cards that are available only at my speaking events or through the Godspace website. It will be a fun evening and the Shafer Baille mansion where we are holding it is spectacular. Your RSVP will mean you know how to get there and where to park.
Still Time to Pre-Order Your Book
Don't forget to pre-order your book there are only a few more days to do that. If you want to get it along with the prayer cards this special deal is only available through Godspace, and I can even sign the book for you if you like. Check out the Gift of Wonder page for all the options and for the endorsements and chapter headings that hopefully will help you make up your mind!
Join Me In Austin Texas or at Inhabit.
I am really looking forward to my first speaking opportunity at the New Story Festival in Austin Texas in a couple of week.s There is still time to sign up for this exciting event and don't forget to use my special code NSF1187. You will get a $20 discount and I will get a contribution toward my travel expenses.
I will also conduct a seminar at the Inhabit Conference here in Seattle April 26 & 27. Tom and I enjoy this conference every year and I highly recommend it to all of you.