Week 4 of Advent from John Lewis' book, Finding the Treasure in Christmas: A Guide to celebrating Advent for Families — 
Special Activities:
Put up your star or angel at the top of your tree. Hang an angel ornament on your Christmas tree, mantel or shelf (If you have already put these up, point them out).
Read a suggested story from the New Guideposts' Christmas Treasury, in Appendix II.
Watch: Rudolf (Theme: Rudolf 's bright nose acts as a star to guide his team); A Christmas Carol (theme: the three spirits act as stars to guide Scrooge to the truth); Miracle on 34th Street (theme: it takes the gift of faith to see and believe); The Polar Express (theme: again, it takes the gift of faith to see and believe).
Read:
Light the fourth Advent candle, which is the "Angel" or "Star" candle. Read Matthew 2:1-11; Luke 2:8-16 as you do. Listen for how the star, scribes, and angels helped others find Jesus.
Reflect:
The Magi lived in a time when people looked to the stars for answers. They trusted them enough to travel thousands of distant miles to following a star that came from the East. When they arrived in  Israel, they did not know exactly where God's divine gift would be found. They naturally first stopped and asked for help in Jerusalem, Israel's prestigious and historic capital. The priests in Herod's court shared with them the prophesied location where their King would appear: "in Bethlehem of Judea."
These Eastern experts of the stars would have been shocked: Why would Jesus be found here in a little backwater town and not in the religious center of Jerusalem? Why would the ruler of the universe make His entry into their world as a poor baby boy?  Yes, the Magi-like us all- would never have discovered Jesus on their own. They needed help, to find the location of the King, and to also get past their own perceptions of what He should be like.
But the Magi were not the only ones who required assistance to see clearly. Angels had to tell Mary and Joseph about the divine conception, the baby's destiny, and their need to flee to Egypt. Not even the shepherds would have discovered Jesus on their own.  And centuries later, we still need help to overcome our misperceptions that often blind us to the truth (Isaiah 9:2). Personal speculations alone cannot lead us to find Jesus in our own Bethlehems, but here is the good news: the God who sent angels that first Christmas still wants to help us find and delight in His Son. God no longer uses stars but His indwelling Holy Spirit to point us to Jesus. As the church comes alive in seeing Jesus, the mission of the star becomes ours as well: we point a waiting world to the only One who can still bring a new hope to the human heart (John 15:26). And when one of the least or lost discovers their place in God's family, the angels still rejoice.
Do/Discuss:
Put together a little treasure hunt to find a Christmas treat. Make the clues hard enough that the kids will need a little help and clue from you on one or more of them. After they find and eat the treat, remind them that without your help, they may not be eating!
Share: How did a person, relationship and/or circumstances this past year help you see divine truth or experience Jesus more? Or, how did God use you as a star or angel in someone's life to help point him or her to Jesus?
Sing: 
"Hark the Herald Angels Sing"
Pray:
Lord, when we are lost, You see our need. You know our blindness and send us stars to bring us to Jesus. Thank You so much for the family, friends, circumstances, and "stars" You have used to guide us home. We ask You to point us to Christ through the Spirit as You guided the Magi that first Christmas. Lord, where we see others still lost, others who have never looked up and seen Your star or heard angel's voices, may we be stars pointing to You. Give us courage. Amen.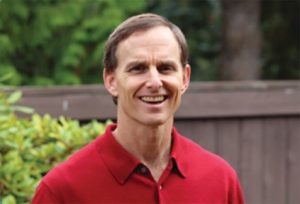 John Lewis
lives in  Tacoma, Washington and is a father of three grown children and husband of one Christmas-loving wife. He is the director of 
Kingdom Story Ministries
and passionate about seeing the next generation of Jesus followers grow and stay faithful over their life time. Building meaningful and enduring traditions during the Advent season, the month before Christmas, was certainly one way their kids found long term faith roots. Those 15 years of trial and error, singing carols and squirming in their seats, reading and sharing, putting up the tree, lights, ornaments and star one week at a time, they were well worth the effort. Though far from perfect, we offer to you our flexible approach and variety of ideas for developing Christ centered Christmas traditions. May your kids, year after year, grow anticipate the faith element of Christmas alongside all the fun of the season; may their roots run long and deep for the challenging life they have ahead of them.