Tom and I are hosting our annual Open House on Saturday. If you are in Seattle feel free to drop by!
One of my favourite recipes for this event is Scottish shortbread. I make at least 4 batches each year for the open house as well as for gifts. I only make shortbread at Christmas time, a tradition well in keeping with my Scottish heritage which linked shortbread with the Yule season (Christmas to New Year's, called the Hogmaney). It was carried by "first‐footers," those who visited from house to house in the wee hours of New Year's morning. For good luck this first footer should be a dark haired person — a tradition I know my grandmother rigorously adhered to.
Memories and traditions are both very important at this time of year & this is one that though not explicitly "spiritual" is a rhythm of life that always gives me a wonderful sense of connectedness – to God and particularly to those who have gone before me. It also provides a very special connection to my mother who made shortbread every Christmas throughout my childhood & whom I always miss at this time of year.
Maintaining our spirituality is not just about reading the bible & praying it is also about rhythms like this that provide important anchors for our lives. What traditions do that for you at this time of year?
The Perfect Shortbread Recipe?
Surprisingly when I went looking for a recipe on line that I thought my grandmother would approve of I was horrified to see how there were so I thought "Time to post my own recipe" There are 2 secrets to good shortbread – there is no substitute for butter, and a little rice flour gives a good crunch. I prefer this to cornstarch which makes it "short" but not with the same texture that I love in this recipe. I also like to use real sugar (castor sugar in Australia) rather than confectioner's (icing) sugar as I much prefer the texture. So here it is – passed down from my Scottish grandmother, a double quantity so that I never run out. It keeps well in the freezer too:
3 – 3 1/2 cups all purpose flour
1/2 cup ground rice or rice flour
2/3 cup sugar
1 lb butter
(Note: Officially, a US Cup is 240ml (or 8.45 imperial fluid ounces.) This is slightly different from an Australian, Canadian and South African Cup which is 250ml. So in U.S. you might need slightly more flour.)
Cream butter and sugar until light and creamy in a mixer or food processor. Stir in sifted flours in two batches. The mixture will become quite stiff. If your mixer cannot cope combine the ingredients by hand. Turn onto a lightly floured surface. Knead lightly until smooth.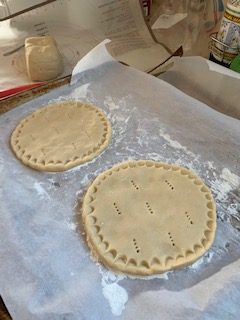 There are lots of ways to cook Scottish shortbread. I divide the mixture into quarters, and make 4 rounds in my 2 cookie sheets. (rounds are about 1/4″ thick) If you spread them too much shortbread will be crumbly. I prick the rounds with a fork and use the fork to decorate the edge. I cook at 300F for 45minutes to an hour until the shortbread is light brown. Cut immediately into wedges (the recipe says 8 but I cut into 12 ) Stand for 10 minutes then remove from tin to a wire rack to cool.
Alternatively mixture can be pressed into 2 greased 11×7 tins. Mark in squares and prick with a fork. Bake at 300F for 45 minutes. Cut immediately into squares but leave in tin for 10 minutes then cool on a wire rack.
I have also used Shortbread molds – I have several. They need to be well rubbed down with cornflour before pressing the mixture into them. This is really hard and very time consuming so to be honest I no longer use my molds. And guess what — the shortbread tastes just a s good.