Week 3 of Advent from John Lewis' book, Finding the Treasure in Christmas: A Guide to celebrating Advent for Families — 
Special Activities:
Take the baby Jesus from the Nativity set, wrap Him in a box, and put Him under the tree as the first gift. Remember, the starting place of Christmas is receiving the gift of Jesus.
Wrap and put some presents under the tree.
Put up your stockings, remembering the legend of Santa Claus (see Reflect below) and that traditionally gifts were put in socks hung to dry over the fireplace.
Read a suggested story from the New Guideposts Christmas Treasury, found in Appendix II.
Watch: It's a Wonderful Life(Theme: Our life is a gift to the world); The Toy that Saved Christmas/Veggie Tales(Theme: Christmas is not about getting gifts, but about giving, just as God gave Jesus); The Drummer Boy(Theme: We need to give the gift of ourselves to baby Jesus).
Read:
Read Isaiah 9:6; Luke 2: 8-12, 15-18 as you light the third Advent candle, which is the "Shepherd's Candle."
Reflect:
Santa Claus comes from the legend of Saint Nicholas, a bishop who lived centuries ago and who deeply loved God and people. He became famous for showing his gratitude to God by giving gifts to the poor in his city, and especially for the children. Legend has it he left his gifts in the stockings they had laid by the hearth or by their bed to dry overnight. His story has since captured the hearts of the world. Nearly every nation has some kind of tradition of giving surprises and goodies to children on Christmas. This tradition of giving and receiving presents, and of leaving out stockings to be filled on Christmas Eve, can all be traced back to Saint Nicholas. He freely received from Christ, so freely he gave (Matt. 10:18).
This same response of giving is wonderfully displayed in the first Christmas shepherds. In an obscure field, angels sang to these bedraggled and forgotten folk. Motivated by the mysterious gift of the Christ child, the shepherds eagerly spread the story of the angels' message, first to Mary and Joseph, and then to whomever would listen. Proclaiming God's gift to them became their gift to those around them.
However, it is easy to forget that the foundation of our holiday giving is the extravagant coming of Christ. As Jesus' followers, we can be tempted by store sales, helping prop up the economy, or merely following a cultural custom. Shouldn't we be motivated to give by something deeper? "We love because God first loved us," and God never loved us more than when He sent His only Son (John 3:16).
The meaning of Jesus' name –"God saves"– reminds us that it is in Jesus' very nature to give out of His abundance. Christ's two-step cadence of receiving and giving is equally woven into our nature. As those called by Love and those who have freely received God's "grace upon grace" (John 1:16); we are also called to give. Grace piled upon grace.
Our Christmas giving sets the course for how we should live all year long. Inspired by the eagerness of the shepherds, we should end the holidays ready to share thrilling story of Jesus.
Sing:
"Silent Night" (especially verse 2)
Pray:
God, You gave the greatest treasure in sending Jesus, Your Son. He came wrapped in such a way that most of the world did not know, and still doesn't know, that He is our long awaited King. Open our eyes to see the gift of the baby Savior, and through Him the gift of life.  Let our to each other this Christmas be our way of saying thank You for Your wonderful love, expressed most extravagantly in Your Son, Jesus Christ. Amen.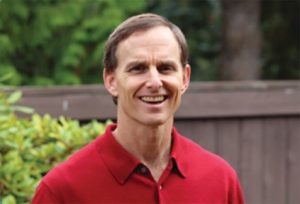 John Lewis lives in  Tacoma, Washington and is a father of three grown children and husband of one Christmas-loving wife. He is the director of  Kingdom Story Ministries and passionate about seeing the next generation of Jesus followers grow and stay faithful over their life time. Building meaningful and enduring traditions during the Advent season, the month before Christmas, was certainly one way their kids found long term faith roots. Those 15 years of trial and error, singing carols and squirming in their seats, reading and sharing, putting up the tree, lights, ornaments and star one week at a time, they were well worth the effort. Though far from perfect, we offer to you our flexible approach and variety of ideas for developing Christ centered Christmas traditions. May your kids, year after year, grow anticipate the faith element of Christmas alongside all the fun of the season; may their roots run long and deep for the challenging life they have ahead of them.